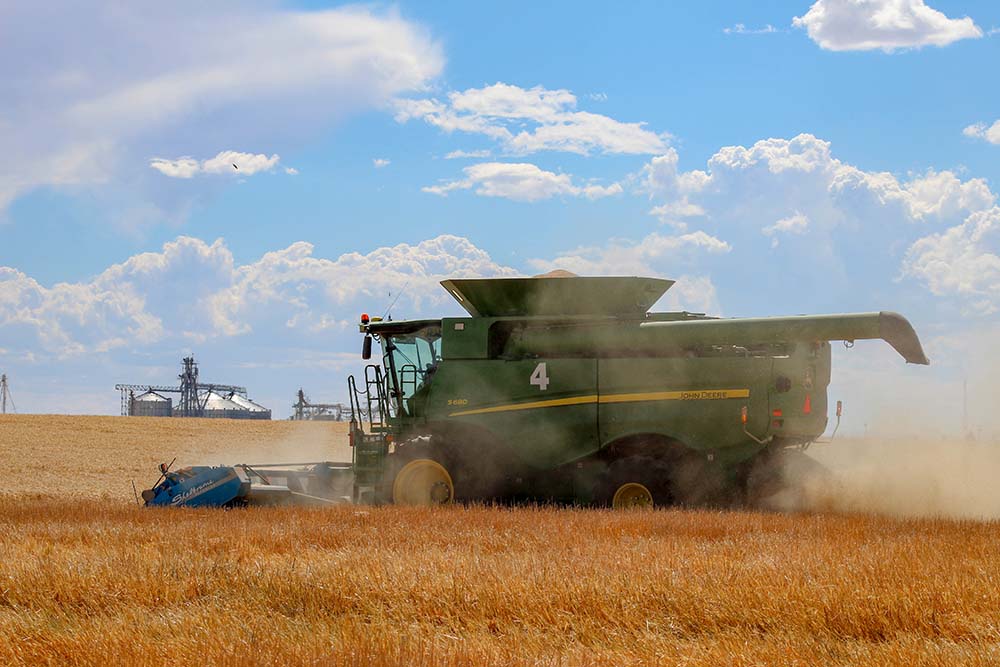 Details

Food/Agriculture
FARMINGTON, N.M. — Despite being profitable over the last couple of years, Navajo Agricultural Products Industry plans to change its business model.
A business enterprise of Navajo Nation that first launched in 1970 to operate the Navajo Indian Irrigation Project and create economic opportunities for tribal members, NAPI has focused traditionally on running a modern farm. It was founded to use the Nation's agricultural commodities and resources for profitable enterprises, to provide jobs for Navajo citizens, and to expand markets for forage and feed products sold under the Navajo Pride brand.
Like many organizations, NAPI is rethinking its operations because of the COVID-19 pandemic. As part of that process, NAPI is shifting its focus to becoming a food company producing a wider array of products instead of just raw materials for feed, said Executive Director David Zellar.
To that end, NAPI diversified their crops, such increasing bean and potato acreages and taking a "stronger position" on traditional foods like sumac and chiles.
Noticing shortages of food products beyond the Nation's borders, NAPI believed the timing was right to pivot its model to better meet those needs with Navajo Pride products such as flour and bread, even if embarking on that process meant taking an economic risk.
"There was never any doubt expressed by the NAPI Board that meeting the people's needs was more important than improving financial success," Zellar told Tribal Business News.
However, the farm has seen some financial success with its new strategy. While NAPI declined to disclose its revenues, the enterprise returned a $1 million dividend to the Navajo Nation in early October.
The contribution was the company's second dividend delivered to the Navajo Nation this year, which is a mark of success, said board chair Peter Deswood, III.
"Everyone has done a really good job of working collectively to ensure our mission and vision are carried out," Deswood said. "We want to make sure that the dreams of our ancestors are being carried out with this farm."
The 110,000-acre farm employs 296 people, stretching 30 miles east to west just south of Farmington, N.M. In the last year, NAPI produced roughly 658,000 bushels of winter wheat and tended 15,000 acres of alfalfa.
Beyond those two crops, the farm has also started what Zellar described as an "R&D project" to grow 57 varieties of organic potatoes with low glycemic output.
"We've been very fortunate that we've been able to deal with our issues here and we've been lucky with our choices in being able to return a dividend to the Navajo Nation," Zellar said. "I think the future is very, very bright for this company."
NAPI Crop Manager Elden Harry, who oversees wheat production, said the goal is to eventually produce 1 million bushels of wheat to run through a local flour mill, in turn producing Navajo Pride branded flour.
In addition, the farm is being more selective in what it grows as part of the transition from growing feed to producing flour.
"Before we were a big yield company — quantity over quality," Harry said. "Now we're switching our varieties up, so we're looking at baking and milling quality in our varieties."
The move plays into an expanding market. According to an August 2020 report from research firm Insight Partners, the global wheat flour market is projected to expand at a 2.8 percent compound annual growth rate from 2020 to 2027, when the market is estimated to reach nearly $220 billion.
Courtesy photo.
SEEKING MARKETS
Additionally, NAPI has generated off-reservation revenues via sales of its alfalfa crop. While much of the alfalfa goes toward local husbandry, the Navajo Nation also supplies supplemental feed for regional dairy farmers across the southwestern U.S.
Demand has been "steady" even amid the economic shock from the COVID-19 pandemic and its effects on the dairy industry by way of lower demand from restaurants, said Lee Anderson, crop manager and alfalfa overseer for NAPI. He attributes the trend to a good harvest of the crop for the past two years.
"This year and last year, it's been fantastic," he said. "We've been getting a lot of high-quality forage. We also have a great marketing team that's been able to put their minds together and adjust our baling."
Marketing has played a large role in NAPI's success as a whole. Director of Sales Vincent Cowboy credits the Navajo Pride branding on the company's products with helping the Nation reach markets well beyond its borders.
"Our number one goal is to be out there and be recognized globally," Cowboy said. "We would like them to recognize that we are Navajo and we are farmers out here. We are a big enterprise whose brand can go right up against places like Walmart. Even the name 'Pride' itself is out there on our products. We want them to know that we're not just a tribe, we are a business. We can do the same thing."
The Nation now offers products ranging from flour to roasted corn meal and chiles, all under the Navajo Pride brand.
"What we have done through Navajo Pride is try to take a stronger position on marketing those products first here on the Nation and then throughout the United States," Zellar said.
FINDING POTENTIAL
The last two years of success stand in stark contrast to 2016, where a problem with irrigation led to 80 percent less yield, Zellar said. The culprit was a "siphon breach" in the farm's water system, which proved catastrophic amid the Nation's characteristically dry climate.
"Water was diverted from our pipelines and our infrastructure and it just disappeared," Zellar said. "Of course, that had a significant effect on the bottom line of the company."
NAPI irrigates about 70,000 acres of farmland, Zellar said. Once repairs were made to the irrigation system, the farm began to recover.
After a few years of good profitability, NAPI continues to look ahead. The farm is considering designs to add a year-round greenhouse, which would allow for seedling development and research into microgreens "and other things," Zellar said.
"I think there was a lot of potential here, a good basis here, and I think we've made that grow," Zellar said. "We're trying to show people the farm is healthy, so people can see that it's healthy and be proud of what they've built here."