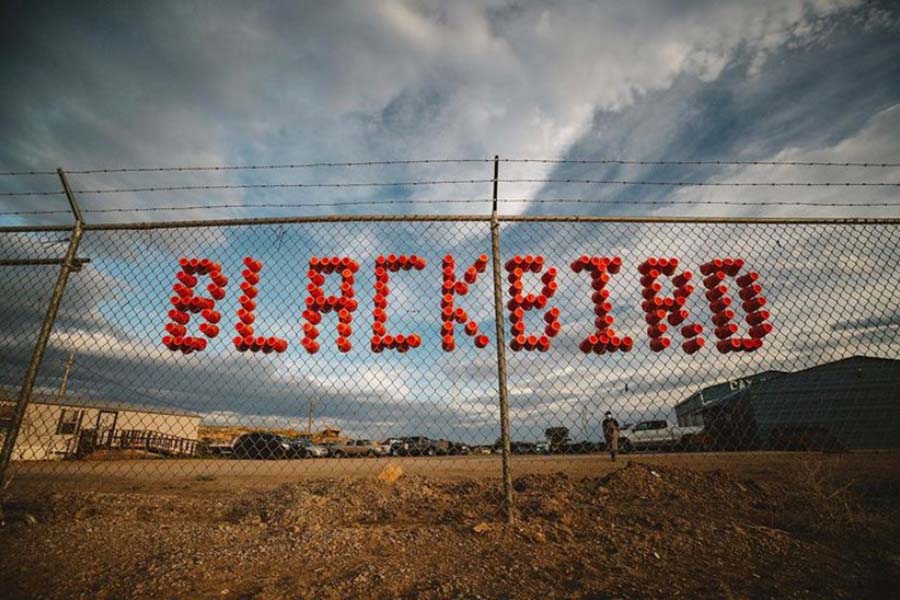 Details

By

JOSH SPANNINGA

Food/Agriculture
Restaurateur Bleu Adams has been involved for years in industry conversations regarding how Black and Indigenous voices are often ignored or not offered a seat at the table.
The founder of Black Sheep Café and Blue Poblano, both based in Provo, Utah, Adams has advocated for raising the profile of Indigenous people within the restaurant industry, including in roles with the James Beard Foundation, including its Chef's Boot Camp for Policy and Change. The New York City-based nonprofit's mission is to celebrate, nurture, and honor chefs and other people involved in America's food culture.
"In those discussions, we were talking about how Indigenous restaurateurs, food providers, and farmers are largely left out of the conversation," said Adams, who received a scholarship in 2017 in the Foundation's first Women's Entrepreneurial Leadership program.
Adams, who serves on the Leadership Committee for the fund, said its creation marked what seemed like an inflection point for Indigenous business owners.
"Somebody was listening, so this fund got put together pretty quickly," Adams said. "Our job was to let them know our experiences as indigenous restaurateurs and business owners."
ELEVATING INDIGENOUS AND BLACK VOICES
The leadership committee for the James Beard Foundation Food and Beverage Investment Fund for Black and Indigenous Americans includes:
Bleu Adams, executive director of IndigeHub and James Beard Foundation Women's Entrepreneurial Leadership Program fellow
Cheryl Day, baker and author, Back in the Day Bakery, James Beard Foundation Food and Beverage Industry Relief Fund Grantee
Carla Hall, celebrity chef and cookbook author
Raymond Lewis, President, RPL Consulting LLC (events marketing, public relations, and community relations firm)
Zella Palmer, chair of the Dillard University Ray Charles Program in African-American Material Culture
Michael Roberts, president and CEO of First Nations Development Institute
Sean Sherman, chef, author and activist; co-owner of The Sioux Chef; James Beard Foundation Leadership Award Honoree
Dana Thompson, co-owner and activist of The Sioux Chef; Executive director of the North American Traditional Indigenous Food Systems
Heather Dawn Thompson, principal of Native American Capital
For James Beard Foundation COO Kris Moon, the creation of the fund came as an acknowledgement of the uniquely difficult challenges Black and Indigenous people in particular have endured throughout U.S. culinary history.
"Black and Indigenous people often have portions of their cuisines and cultures appropriated, their hand in creating major American food and beverage items and dishes erased, and their images exploited to the benefit of their white counterparts," Moon said. "The James Beard Foundation and our fund donors recognize these facts and seek to highlight the merits and contributions of these communities."
To ensure money raised for the fund is used effectively, the James Beard Foundation has created a leadership committee made up of Black and Indigenous people to provide insight into what their communities need.
Adams, who also serves as executive director of IndigeHub, said her experience put her in a unique spot to address some challenges specific to Native restaurateurs.
"When they were putting together the criteria, we let them know if the criteria is set up and you have to have an EIN, you have to have a business license, you have to have a physical location, those are going to be real hindrances to a lot of Indigenous entrepreneurs," Adams said.
"And they were open to it. They actually modeled the application system so that they'll accept pictures, a menu, community recommendations. If you have some referrals that you can send in, those are all concessions they made for especially indigenous communities."
Michael Roberts, president and CEO of First Nations Development Institute and fellow member of the Leadership Committee, echoes Adams's sentiment.
"I think our big concern was that in many instances, especially in reservation economies, you don't have formalized businesses, or if you do they don't look like the kind of formalized businesses you might have in downtown Minneapolis or Saint Paul," Roberts said. "It might not be a storefront. It might be a food truck, it might be a stand-up restaurant or a food stand, but it's going to look a whole lot different than a Denny's."
RESERVATION ECONOMICS
Roberts also noted these less-formal types of food businesses are also prevalent in Black communities. For these reasons, the Food and Beverage Investment Fund for Black and Indigenous Americans split the grant applications into three business categories: businesses without a brick-and-mortar footprint, such as food trucks and supper clubs; brick-and-mortar restaurants without seated table-side service, such as counter-service cafes or restaurants; and brick-and-mortar restaurants with seated table-side service, such as a full-service restaurant or bar.
In many cases, businesses on tribal land opt for a less-formal structure because of how reservations operate.
"The way most Indigenous nations are set up, they're not set up for us to own our land, it's usually held in a trust," Adams said of the unique role the federal government plays with sovereign tribal nations.
That relationship and lack of land ownership also poses major hurdles for companies looking for financing.
"As we know, that's the basis for most loans, especially asset-based loans, so we're not going to have access to that," Adams said.
She also points to infrastructure as a barrier to many Native entrepreneurs. Adams is part Navajo, and has experience operating a restaurant on Navajo land.
"We don't have a lot of buildings anyway, and most of the buildings are rented by the tribal government," she said. "The scarcity of buildings pushes real estate to where you could be looking at anywhere from $30-$38 per square foot. That's comparable to downtown Phoenix or downtown Salt Lake, so it's just really unrealistic for people to be able to even afford a lease there."
SOVEREIGNTY MATTERS
Largely because of the lack of food options on reservations, tribal members often spend most of their money off the reservation, which can create a host of challenges for the tribal economy. In addition, food that is brought into the reservation through various institutions such as daycare centers, elderly care centers and executive offices often comes from major food distributors, which limits the quality and price of food that can be found on site.
"Oftentimes, all of these different institutions have their own contracts," Roberts said. "If you're able to figure out ways to consolidate those contracts, you consolidate your buying power and you can negotiate better pricing and better quality of product coming into your reservation."
Tribal communities also face health complications when their most easily-accessed foods are processed, preservative-filled items from large corporations. Many reservations are located in food deserts, oftentimes with options limited to gas station food and fast food outside of reservation borders.
"Diabetes, heart disease, all those kinds of things are byproducts of a poor diet. Not that Indians are choosing to have a real poor diet, they've been introduced to a real poor diet by the USDA commodity food program," Roberts said. "Like most other poor folks in the United States, they're in the position where they're buying calories with their food dollars because they have families to feed, and they're just buying the cheapest calories they can find.
"Indian people are aware of this and trying to find alternatives to unhealthy, imported food, and those alternatives create some look-backs into culturally appropriate foods and locally produced food."
While the challenges Native communities face can seem daunting, many on the Leadership Committee for the JBF Food and Beverage Investment Fund for Black and Indigenous Americans want to address these issues through the concept of food sovereignty. In other words, they're believers in the right of Indigenous peoples to produce healthy and culturally appropriate food through ecologically and sustainable methods within their own systems of agriculture.
Food sovereignty means reservations have access to healthy foods and don't need to rely on what could be an unsteady food source, which is especially important during emergency situations like a pandemic.
"When they're shutting down their communities and saying 'You're going to be in quarantine for 14 days,' most households don't have 14 days' worth of food in their reservation communities," Roberts said. "Furthermore, when we've seen some of these supply chain interruptions for things like fresh vegetables and meat, which we're probably already in short supply of, all of a sudden those breakages in the supply chain were becoming very acute in that people weren't able to find things like this."
Adams is just as passionate about food sovereignty for Indigenous people and reservations, and has even brought her concerns to lawmakers in Arizona.
"Access to food is where we start healing," Adams said.
WHAT'S NEXT?
Despite the challenges Indigenous and Black communities face, the James Beard Foundation remains convinced they can be overcome. The Foundation has secured initial contributions for the fund from the Willamette Valley Wineries Association and Chef Metal Jewelry, as well as additional pledges from corporate donors, other foundations and individual donors.
"We have secured pledges of more than $500,000 to date and are in the process of collecting those pledges so that we may begin providing grants," Moon said, noting the Foundation hopes to open the fund to applications by the first of the year.
Each applicant who is approved by the fund will receive a one-time payment of $15,000 to assist them in their efforts of building a successful business. Funds are to be dispersed evenly among six separate regions in the U.S. that each contain 16 percent to 17 percent of the total Black and Indigenous population in the country, and are available on a first-come, first-served basis.
More information on the fund is available at this link.