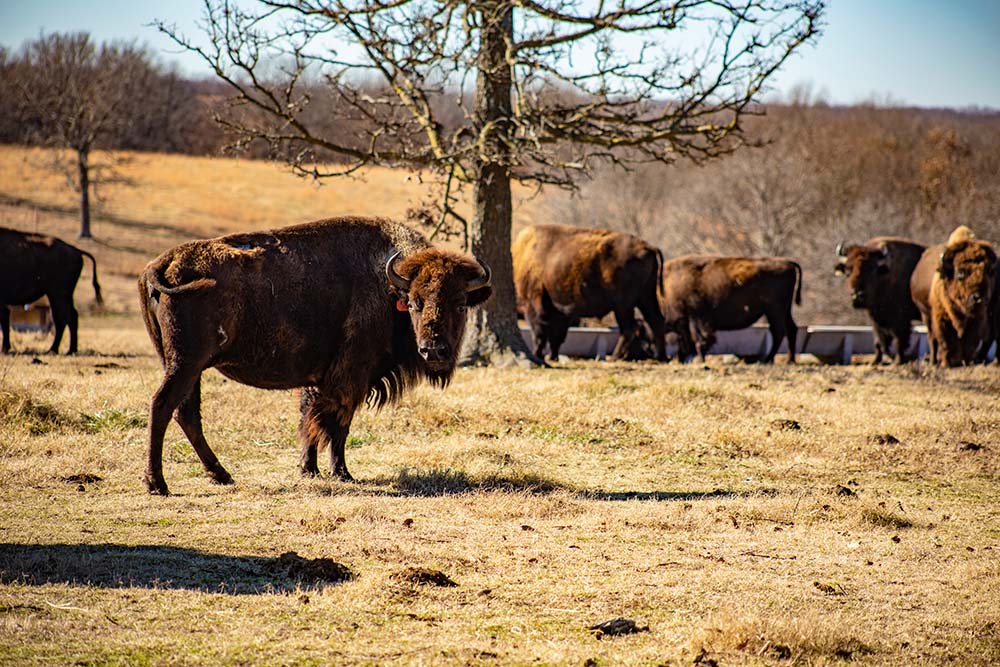 Details

Food/Agriculture
A remarkable arrival prompted Cherokee Nation Principal Chief Chuck Hoskin, Jr. and Deputy Chief Bryan Warner to visit Cherokee Nation Bison Ranch in early December.
The tribe's 160-strong herd had just welcomed twins, an incredibly rare occurrence among bison. The animals birth twins less than 0.5 percent of the time.
In fact, the addition of the new calves served as a symbol of "optimism and hope" for the Cherokee people, Hoskin said.
"They're cute little creatures," Hoskin told Tribal Business News. "Maybe it's a sign we're moving in the right direction."
The bison primarily serve as a food source for the Cherokee, whose ultimate aim is to include bison in their nutrition and low-income food programs.
The Cherokee are among a growing number of tribes across the country that have taken the step of reintroducing bison to tribal lands, their economies and their diets.
While some tribes have an interest in marketing the animals as a business enterprise, others mainly see bison as a way to address tribal health. According to Arnell Abold, executive director of the Rapid City, S.D.-based InterTribal Buffalo Council, many Native Americans have a genetic inclination toward bison meat, which she rated as healthier than chicken or beef.
"I think our bodies are connected to that," Abold said. "We know that bison meat is very, very healthy — and that is what we ate."
BUILDING HERDS, INFRASTRUCTURE
The InterTribal Buffalo Council grows its membership by two or three tribes each year. The council brings aboard new member tribes after they're voted in by the larger membership, thereby gaining access to funding and information resources to begin or grow their herd.
"There's constantly interest from tribes that want to start new herds or develop herds they've already started," said Megan Davenport, a wildlife biologist at the InterTribal Buffalo Council.
Typically, tribes begin with a feasibility study to examine available land to discern how many animals a given pasture or ranch might support, which varies widely and is affected by factors such as climate, soil quality and available nutrients, she said.
The study also helps determine what kind of infrastructure and equipment will be necessary, such as new fencing or water systems.
"Really good fences are important because buffalo are going to do what they want to do otherwise," Davenport added.
The Piikani tribe in Montana hopes to convert part of its beef processing enterprise to focus on bison, said Loren BirdRattler, the agricultural program project manager for the tribe, which is currently wrapping up its bison feasibility study.
"The tribe has been working for years to reintroduce bison to our tribal lands," BirdRattler said. "We think about narrowing the health disparities of our people, and we can make a correlation to bison as an integral part of that."
Once tribes have completed setting up land for the animals, they often purchase some head of bison from other member tribes to get started.
From there, the InterTribal Buffalo Council helps member tribes with federal funding through research and advocacy. It's taken roughly $1 million each year to support all the ongoing work, Davenport said, noting that the prohibitively high cost of starting and maintaining herds.
"(The cost) can be extremely high and it does vary significantly based on what's already in place," Davenport said. "If they're converting from a cattle ranch, there might be lesser costs. The annual cost for a buffalo herd can average in the hundreds of thousands."
The investment can be worth it for tribes stepping into the market. A January 2020 Ag Info report called bison meat a "niche but growing market" valued at roughly $350 million per year. The National Bison Association reports that at the end of 2019, dressed bison carcasses sold at "more than twice the price of beef."
MEETING A NEED, TRADITIONALLY
The InterTribal Buffalo Council includes 69 member tribes across 19 states, inviting each member to share resources with the others while the umbrella organization advocates for and distributes federal funding for sustaining and expanding herds.
The council's services have even helped smaller tribes, such as the Santee Sioux Nation in Nebraska, start and maintain a herd. The Santee Sioux's 50-bison herd roams over 300 acres of land, which the tribe hopes to eventually expand to 1,500 acres.
"Originally, we just wanted enough animals for the aesthetics of the deal," said Herd Manager Kalon Strickland. "They (InterTribal Buffalo Council) helped us get started and establish a herd. That worked for a while and then we got to wondering, 'maybe we could expand the herd.'"
Eventually, the Santee Sioux's aspirations shifted from simply maintaining an aesthetic herd to focusing on health concerns, Strickland said. In particular, the tribe hoped to address a rampant diabetes problem through reverting to traditional diets whenever possible.
"We got to thinking about the health side of it," Strickland said. "Our people are so used to eating unhealthy. Once they put us on the reservation, they started feeding us commodities. We have a high diabetes rate in our communities all across the Native country."
The Santee Sioux tribe started implementing bison through its health clinic and school programs, distributing the meat to children and the elderly as more traditional alternatives to non-Native foods.
However, for the tribe to expand the program, it is going to require a larger herd.
"We run a cow operation as well as our buffalo, but the tribe has dedicated themselves to maintaining a permanent herd here," Strickland said. "We hope to maintain enough animals to help feed our communities in that way."
Cherokee Nation's Hoskin echoed those sentiments with regard to the tribe's herd.
"I do think our herd has to be grown larger than it is if we're going to a very sustainable way to supply our nutrition program," Hoskin said. "The deputy chief and I want to get a point where maybe bison isn't offered every week, but maybe have a bison day once a month."
The Cherokee Nation said the ongoing COVID-19 pandemic demonstrated the need for supplementing its low-income food programs. Hoskins said the leadership team sees an opportunity to shore up a weakness in the Cherokee's ability to feed their poor and elderly through the bison herd.
"COVID revealed some of our food security issues are really more challenging than we thought," Hoskin said. "Our suspicion is that even when the pandemic recedes, we need to focus on using bison meat in some of our low-income food programs. Our people need to be more secure in terms of just accessing food."
BACK TO NATURE
In addition to addressing tribal health, bison herds can help restore stability to ecosystems they were once a part of, Davenport said, noting the animals used to roam all of North America in "massive numbers" between 30-60 million animals.
"There's a whole ecosystem that built itself off of their presence," she said. "Wallows become depressions in the plains that become little ponds. Birds that use buffalo fur in their nests increase the survivorship of their eggs and chicks. Their droppings are the basis for an incredible food web of hundreds of invertebrate species. Even their hooves, which are shaped in a unique way, pock little holes in the prairie and help little seeds get planted in the substrate."
There's also the cultural element. Strickland said the Santee Sioux people, for example, consider the buffalo a relative because of how closely their lives were intertwined in the past. There's even similarities now, he added.
"If you compare what happened to the buffalo to what happened to us as a people, you can see the relationship," Strickland said. "They live on little reservations just the same as us."
Want more news about the $130 billion tribal economy?
Tribal Business News publishes thoroughly reported and well-crafted stories about Native businesses and entrepreneurs, growth and expansion strategies, best practices, economic data, government policy and other relevant business news. Tribal Business News is required reading for tribal council members and leaders of Native businesses, as well as state and federal legislators, policymakers, economic developers, entrepreneurs, bankers, lawyers and anyone interested in doing business in Indian Country.
Sign up for our free newsletter to track Native business and the tribal economy. Or sign up for a premium digital subscription ($99/year or $10/month— cancel anytime) to gain full 24/7/365 access to our business news reporting. Megwetch.