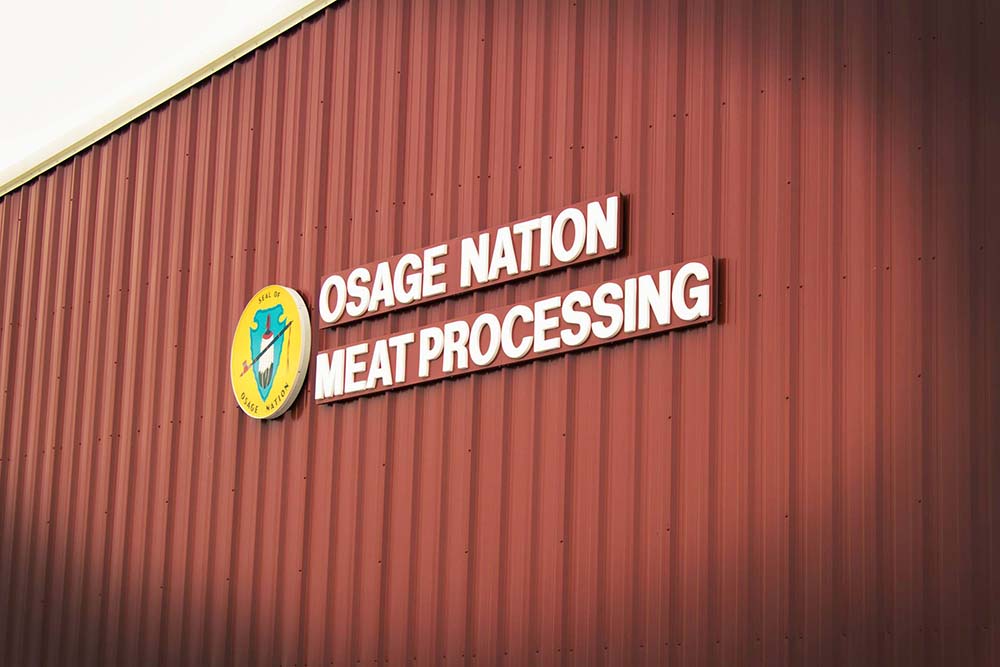 Details

Food/Agriculture
HOMINY, Okla. – The Osage Nation has taken steps to establish better food security for its members during the COVID-19 pandemic.
The tribe opened several projects in December, including a 42,000-square-foot greenhouse growing space, a 44,000-square-foot "programs building" with aquaponics and food processing areas, and a 19,000-square-foot meat processing plant.
The meat processing plant will process beef and bison from the Nation's 43,000-acre ranch and provide tribal ranchers with processing for their livestock and wild game. Meat from the processing plant will be distributed through the Nation's social programs to people in need. The tribe will also operate a retail store at the facility.
Meanwhile, the tribe has started growing beans, squash, tomatoes, bell peppers, lettuce and other greens at the new greenhouse. The Osage Nation's aquaponics system, which circulates water from fish tanks through plant beds to provide natural fertilizer to the soil and back again, also opens opportunities in tilapia, lettuce and spinach.
Jann Hayman, director of the Osage Department of Natural Resources, said food security was already an issue for the tribe before the pandemic hit, but COVID-19 dealt a further blow to Osage tribal members in need.
The spread of COVID-19 has caused food insecurity to rise across the entire country. An October 2020 report by Feeding America estimated that the number of food insecure people in America could rise to 50 million, including 17 million children.
Oklahoma ranked 8th in the organization's list of projected food insecurity rates at 18.6 percent. The problem could be especially pronounced in Native American communities where unemployment and poverty rates are already above average, according to the Feeding America report.
"These new facilities will provide the Osage Nation with a valuable new asset in overcoming the food security disruption of this past year, and in expanding our long-term food security capabilities once the pandemic subsides," Hayman said in a statement.
The tribe paid for the new buildings through federal CARES Act funding, which it also used to shore up the ranch-to-table pipeline for the Nation's bison, cattle and pig operation.
James Weigant, COVID Task Force coordinator for Osage Nation, said the tribe used a portion of its more than $44 million CARES Act funds to purchase a separate herd of cattle and bison specifically as inputs for the tribe's packing plant. The Osage also built a "small, feedlot type facility" to get those animals ready for processing.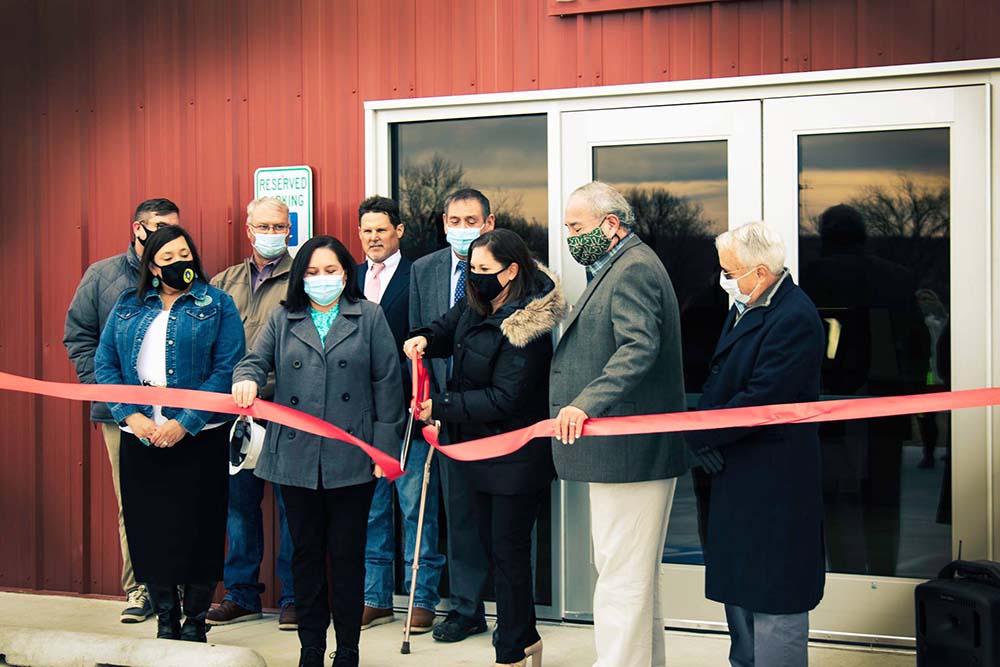 Courtesy photo.
"CARES Act funds have now provided multiple missing links in the food supply chain to allow ranch-to-table delivery of meat protein," Weigant told Tribal Business News. "It is our own food supply chain that is insulated from COVID outbreaks elsewhere in the country."
Weigant said such measures were a response to nationwide supply chain breakdowns brought on by the pandemic, which only increased pressure on Osage Nation members living in food deserts.
"The motivation for food security was alive and well in the Osage Nation prior to the pandemic," Weigant said. "The Osage Reservation is an area nearly the size of the state of Delaware. It is a very rural area and the handful of small towns that make most of the population, nearly all are devoid of a grocery store. … Many people in the reservation must either travel great distances to source fresh food or default to the offerings of convenience or dollar-type stores for groceries."
A CULTURAL AND PHYSICAL NEED
According to Weigant, food is an important element of Osage culture, and as such, food security becomes an even more crucial cause for the tribe.
"In times of celebration or times of mourning, the community table is a great gathering place," Weigant said. "Those that prepare the food are put in a place of honor. Recipes and cooking equipment are handed down from generation to generation. No Osage feast is complete without the traditional bag of food to take with you on your journey home.
"Without food security, that major part of our culture is not possible, that nourishment of the body, as well as the mind and soul."
To that end, the tribe was taking major steps toward food security even before the pandemic's onset. It purchased a ranch in 2016 and launched the "Grow, Hunt, Gather" summer camp for Osage children. That's in addition to efforts like community gardens, raised beds at schools and early childhood centers, and hosting planting and food prep seminars.
"CARES Act funding has allowed us to amplify the food security efforts that were already underway, that were already a major priority of the Osage Nation," Weigant said. "Our response to COVID-19 and its corresponding breakdown of food supply chains nationwide gave us the means to take our food security efforts further."
Want more news about the $130 billion tribal economy?
Tribal Business News publishes thoroughly reported and well-crafted stories about Native businesses and entrepreneurs, growth and expansion strategies, best practices, economic data, government policy and other relevant business news. Tribal Business News is required reading for tribal council members and leaders of Native businesses, as well as state and federal legislators, policymakers, economic developers, entrepreneurs, bankers, lawyers and anyone interested in doing business in Indian Country.
Sign up for our free newsletter to track Native business and the tribal economy. Or sign up for a premium digital subscription ($99/year or $10/month— cancel anytime) to gain full 24/7/365 access to our business news reporting. Megwetch.