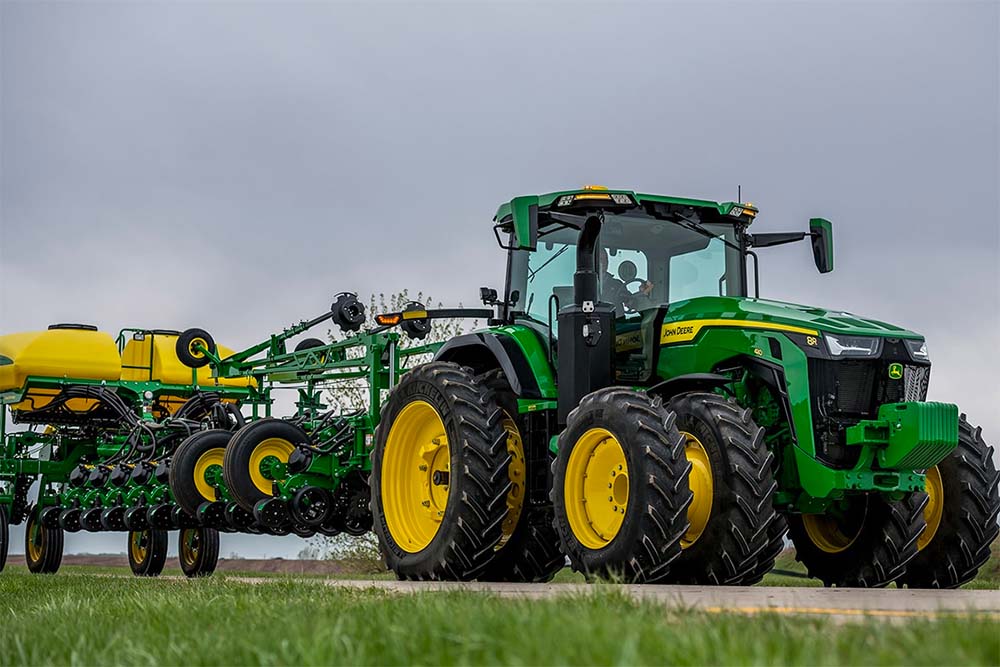 Details

Food | Agriculture
Access to equipment is one of the most significant barriers for potential Native agricultural producers.
Procuring the kind of equipment necessary to run a large-scale farming operation can easily run into the six figures for one or two pieces of gear. That can be daunting for tribes on limited budgets, and can stop them from entering into a space that can help them achieve food security and sovereignty.
Enter Houston, Texas-based The Akana Group Inc., a Native-owned and Native-focused dealership partnered with farm equipment giant John Deere.
The Akana Group fosters relationships between several equipment manufacturers — although John Deere is its primary partner — and Native tribes and producers, said Managing Director Chad Johnson.
In addition to often securing discounts for Indigenous purchasers, Akana Group specializes in helping clients figure out what equipment they actually need for the task at hand.
"You've got all this stuff that moves around, and what we were noticing was that there was a need to really focus on what was the plan," Johnson told Tribal Business News. "What was it that the tribe was actually trying to do? The equipment that is provided is really just an element that helps them move along."
Akana's partnership with John Deere began in 2015, which was fueled by the manufacturer's desire to get "closer to the tribal customer base," Johnson said.
"They have really taken an interest in what's happening inside of Indian Country," Johnson said of John Deere. "They wanted to hear about agricultural concerns, land management concerns, food sovereignty concerns. It's a very different partnership, I would say, than some of the other manufacturers that we work with."
After some preliminary work and visits with The Akana Group over the years, John Deere signed a partnership agreement with the company in 2020.
Janie Simms Hipp, the CEO of the Native American Agriculture Fund, said such partnerships and measures are crucial in a landscape typically hostile to Native agricultural producers and tribal operations.
As Natives' access to capital is often limited by location, discrimination, and a lack of infrastructure, having access to good equipment becomes even more crucial than usual.
"Equipment is your lifeblood. If you don't have solid equipment access, it's hard to be a farmer or rancher," Hipp said. "That's why it's a big deal, and that's why we were so excited to find Akana Group and John Deere. Those are important relationships that every producer has to have."
The relationships are also coming into focus as more Native producers scale up their business and tribally owned agriculture ventures begin to expand their operations in response to concerns over food security and economic diversification. As those operations grow, so will their equipment needs, which makes the access afforded by the likes of Akana Group all the more important, Hipp said.
'Not just a one-stop shop'
The value in Akana Group's work stems from more than just a partnership with John Deere and subsequent equipment discounts, according to Johnson.
"It's more empowering Indigenous farmers to have more opportunities to take advantage of their land usage," he said.
The Akana Group approaches clients with the intent of selling them equipment they need and then servicing that equipment throughout its lifespan, Johnson said. The company wants to build relationships with its customers that last the same five to 10 years as the purchased equipment.
"With any customer, you want to make sure you understand the stories, what they're using [the equipment] for, what are they trying to do with it," Johnson said. "There's a qualifying section that goes through that."
Akana asks some questions about intended use and need, and returns with an analysis and a variety of solutions, Johnson said. From there, the company makes suggestions to the customer.
"It's really providing them with a plan for that kind of long-term growth strategy for them to operate in," Johnson said. "A lot of that goes into that qualification. It's not just a one-stop shop."
As a Native-owned and Native-focused business, Akana also has built a relationship with Native finance firms. The company frequently works with Native-owned banks, Native community development financial institutions (CDFIs), federal programs and other "non-traditional" methods of financing to ensure Natives have access to the equipment they need, Johnson said.
The barriers to credit in Indian Country make Akana's assistance especially important, Hipp said.
"Many Native communities have very few resources in the capital space. We don't have a bank on every corner. We do have Native CDFIs, but they're not everywhere. We don't have more than 100 all total," Hipp said. "If you step back, agriculture is like every other business: It needs capital to continue on in a monthly, weekly, yearly trajectory. It's not unusual for us to struggle with that."
Once customers have selected a product, Akana goes back to John Deere and works with the company to best service the customer. Those services range from access to John Deere's support network to discounts on the equipment, ranging up to 45 percent to 50 percent, depending on product line and other circumstances, Johnson said.
The Akana Group will even ensure delivery of the equipment directly to the farmer's location.
"We're trying to keep that Native spending," Johnson said, referring to Natives doing business with one another. "They need more than the basics. We ask: How do we work with them to provide solutions, whether it's a financing solution, an equipment solution? It's trying to come up with some really unique solutions, whatever those may be."
The company also tries to live up to its name. "Akana" is a Choctaw word for "ally." For Johnson, a Choctaw tribal member, it's a matter of heritage. Many Native American tribes have long histories of sustaining and working the land, he said. It's appropriate that his company help those tribes to continue doing so.
"We've been stewards of the land since the beginning of the time," Johnson said. "All of this comes from land utilization backgrounds. I think it's just a continuation of that story."