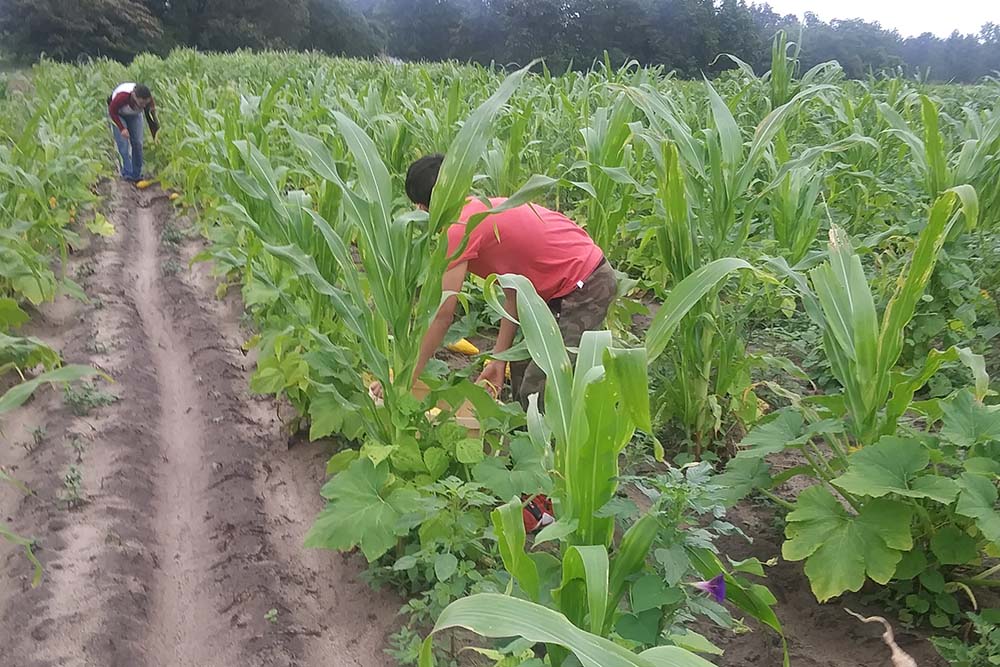 Details

Food | Agriculture
Federal debt relief for minority farmers — including Native producers — has been brought to a halt by a temporary restraining order issued by a federal court in Wisconsin.
The U.S. District Court for the Eastern District of Wisconsin issued the order in response to a lawsuit filed in April by the Wisconsin Institute for Law and Liberty, a conservative nonprofit, on behalf of 12 white farmers.
The lawsuit alleges the U.S. Department of Agriculture's debt relief program discriminates against white farmers. The program, as initiated under the American Rescue Plan passed in March, aims to help "socially disadvantaged" farmers by making direct payments from a pool of $4 billion toward those farmers' USDA loan debt. The payments will cover up to 120 percent of each farmer's debt, issuing the difference to help pay associated loan fees and taxes.
The USDA loan forgiveness program was scheduled to start in early June, but the injunction has since stifled those efforts, at least temporarily.
That could mean catastrophe for farmers across the United States who have been counting on the help, said North Carolina farmer and advocate Beverly Collins-Hall. Following pandemic-induced losses, agricultural producers need targeted relief to get back on their feet, she said.
"(The pandemic) stopped everything. You couldn't sell anything, everybody was just put to a halt," Collins-Hall said. "These people aren't just going to lose their jobs, they're going to lose their land, the buildings, the tractors, everything."
North Carolina-based American Indian Mothers Inc., where Collins-Hall serves as executive director, joined roughly 20 other agriculture organizations — including the Intertribal Agriculture Council, the Rural Coalition, and National Family Farm Coalition — to issue a joint statement in mid June decrying the restraining order.
The groups called the move to stop debt relief "deplorable" and an attempt to upend the "socially disadvantaged" designation that has enabled USDA to target its assistance programs for 30 years.
"During this pandemic, our producers have been unable to access the level of support and service provided to other groups of farmers and ranchers and will be further harmed by this relief being delayed," the groups said in the statement. "Many of the undersigned have worked for decades to assist tens of thousands of producers who have endured decades of disparate and discriminatory treatment by the USDA with huge barriers to relief — situations that continue today."
The injunction will stop relief from reaching 17,000 farmers in need, 8,000 of whom are tribal producers, according to the Intertribal Agriculture Council.
"The (temporary restraining order) and legal challenges are an attack not just on the debt relief for our Tribal producers, but an attempt to ignore the history of discrimination and opposition our producers have faced trying to feed our communities for centuries," the Intertribal Agriculture Council said in a statement.
USDA's targeted relief programs help address longstanding discriminatory practices against farmers of color, especially Native American producers whose stories have often been ignored, Hall said.
"We're still at the bottom of the totem pole. We are never mentioned, and nobody wants to bring those cameras near us," she said. "It's not fair, and it's not right."
Hall pointed to the results of landmark cases like 1999's Keepseagle v. Vilsack as evidence of poor treatment of Native Americans by federal agencies. In that case, the federal government acknowledged in a 2010 settlement that the USDA discriminated against Native producers in administering and servicing loans. The settlement produced a $680 million compensation fund that ultimately led to the creation of the Native American Agriculture Fund, which gives grants to tribes and Native-led organizations to promote and support agricultural projects.
That settlement money was necessary then to help Native farmers get on their feet, and the debt relief is necessary to help them now, Hall said, adding that the injunction delayed sorely needed funds.
"How can you take these producers back any farther from (COVID-19)? Some of them are living paycheck to paycheck," Hall said. "COVID came in on the main part of the planting season. It hit us very hard."
'Crazy and ridiculous'
The June 11 injunction follows a similar restraining order issued against the U.S. Small Business Administration's attempts to prioritize socially disadvantaged restaurateurs through the Restaurant Revitalization Fund. The fund was included under the American Rescue Plan and designed to distribute $27 billion in federal grants to restaurants affected by the COVID-19 pandemic.
Following an injunction in that case in a federal court in Texas, the SBA revoked roughly 3,000 approved grants for restaurant owners who were previously prioritized during the fund's first three weeks, according to legal filings. During that initial filing period, the SBA only accepted grant applications from women, veterans, and "socially and economically disadvantaged" business owners.
Conservative law firm America First Legal, which is headed by former White House adviser Stephen Miller, spearheaded the legal challenge to the SBA program. America First Legal also filed a complaint against the USDA's relief program in early June.
America First Legal has made a point of attacking any attempts at racial equity through federal action, according to the group's website.
"On President Biden's first day in office, he issued an Executive Order mandating that all agencies and departments incorporate 'equity' into their core missions," Miller wrote in a post on the site. "As we have seen in AFL's lawsuits against both the Small Business Administration and the Department of Agriculture, the Biden Administration is using 'equity' as a synonym for invidious discrimination."
Jackson Brossy, executive director of the Native CDFI Network, a national trade group for certified Native community development financial institutions that work with Native entrepreneurs and farmers to access technical assistance and funding, criticized the "external actors" for taking steps to cut off the flow of relief funding.
"It's crazy and ridiculous that they'd spend money to file lawsuits to prevent Native farmers and ag from getting this relief," Brossy said. "We're hopeful that the courts will do the right thing and deal with this as soon as possible to make sure Native farmers and ranchers are taken care of."
The coalition of agricultural groups decrying the injunction also insist that focusing on "equity" takes necessary steps toward correcting years of abuse.
"No serious observer of USDA's role in American agriculture can doubt that the Department has engaged in decades of intentional, and systematic, discrimination based on race and ethnicity," the Rural Coalition and partnering organizations wrote in their joint statement. "If ever there was a constitutional basis for taking race into account when making policy this is it. In its decision the Court appears oblivious to this history, and hostile to efforts to achieve true racial justice."
The USDA has since posted a litigation update to its website informing farmers who planned to make use of the program to continue filing the necessary paperwork.
"The American Rescue Plan program responds to decades of well-documented discrimination against socially disadvantaged farmers and ranchers by USDA," according to the update. "Borrowers should continue to submit paperwork (signed offer letters) and USDA will continue to accept these letters and process them. USDA will be prepared to provide the debt relief authorized by Congress at the earliest opportunity, depending on the ongoing litigation."
Tribal Business News managing editor Joe Boomgaard contributed to this report.