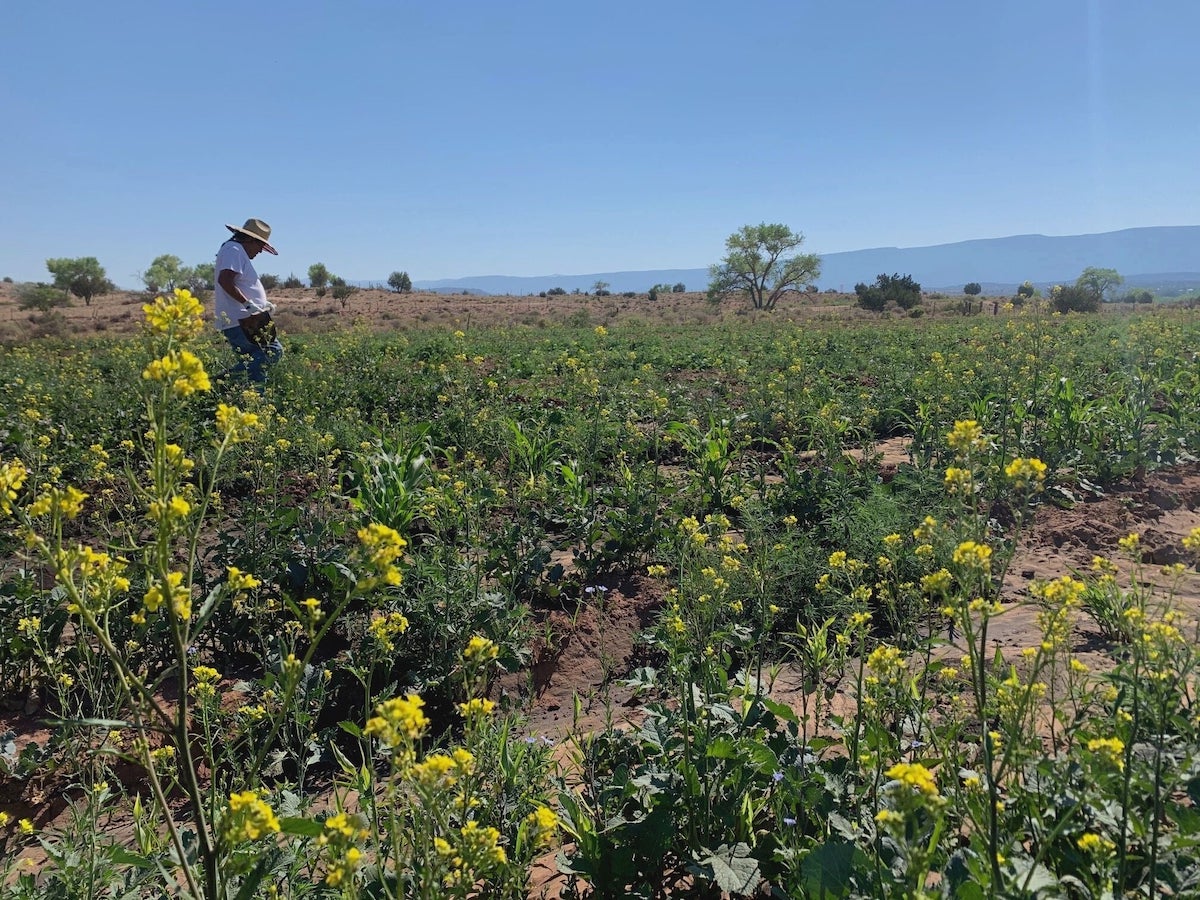 Details

Food | Agriculture
JEMEZ PUEBLO, N.M. — The advent of COVID-19 devastated food supply lines across the United States, leaving grocery store shelves bare and people scrambling to make ends meet.
Tribal reservations, which were already suffering from a lack of easy access to food, bore the brunt of the fallout, says Roger Fragua, executive director for technical assistance nonprofit Flower Hill Institute.
"Everything was in limited supply, and Indian Country was no different. In fact, it was even more severe in Indian Country," Fragua told Tribal Business News. "I live 47 miles from the closest grocery store to begin with."
These disruptions galvanized an already growing movement in Indian Country toward food sovereignty as tribes sought to control their own food supplies. Several tribes have invested COVID-related federal funding into building meat processing plants, such as the Oklahoma-based Osage Nation, who worked with Flower Hill Institute to develop and design the facility.
Never miss the biggest stories and breaking news about the tribal economy. Sign up to get our reporting sent straight to your inbox every Monday morning.
That's why the U.S. Department of Agriculture has tapped the Jemez Pueblo, N.M.-based Flower Hill Institute to lead its Meat and Poultry Processing Capacity Technical Assistance Program, Fragua said.
"Historically, it was not uncommon for us to go out and process cattle into meat for traditional cultural purposes, but to do it on a communal scale, that's a completely different animal — no pun intended," Fragua said. "The USDA recognized we had that kind of capacity based on learning, a day at a time, how to transfer those technologies and that kind of technique to tribal nations."
The program in question will provide training and mentorship to participants in the USDA's Meat and Poultry Inspection Readiness Grant and Meat and Poultry Processing Expansion Program. Participants in either program can turn to Flower Hill Institute for technical assistance.
Flower Hill Institute will serve as coordinator, directing questions to experts across the industry, including the Intertribal Agriculture Council and Oregon State University's Niche Meat Processors Assistance Network. Together, the organizations will answer questions on federal grant applicants, business development, technical support and supply chain development.
Even applicants who haven't yet been approved for an award could seek assistance, said Chris Roper, the director of technical assistance and outreach programs at Flower Hill Institute.
"We review the technical assistance request when it comes in, as well as our own internal people to make sure they get the right assistance that they're looking for," Roper said. "Some producers have questions to even see if they're eligible for a particular grant."
Expanded programs
Alongside Flower Hill Institute's appointment as coordinator, the USDA announced a second round of funding for its Inspection Readiness Grant.
The agency has prepared $23.6 million in grant funding to help meat and poultry processing businesses cover the costs for improvements such as modernized equipment and updated packaging and labeling. (The first round of funding, totaling $32 million, supported 167 awardees, Roper said.)
By supporting businesses in this way, the USDA hopes to bring more plants up to standards for a Federal Grant of Inspection, or to operate under interstate shipping programs.
"We are building on the success of the first round of our MPIRG program to build capacity and increase economic opportunities for small and mid-sized meat and poultry processors and producers around the country," Agriculture Secretary Tom Vilsack said in a statement. "The second round will help us continue to help processors grow."
Securing an interstate shipping authorization could be crucial for a burgeoning tribal trading market, Roper said.
"There's obviously tribes with an abundance of produce or beef or bison that would like to trade some of those commodities for other products like fish," Roper said. "Tribal trade is growing in awareness, and as tribes realize that, it makes them understand that we don't have to do everything, but we need to do what we can do well, and then we can market and trade those products for other things that we need."
Applications for the Inspection Readiness Grant are due May 24, and must be submitted through www.grants.gov.
The USDA also extended the deadline for its related Meat and Poultry Processing Expansion Program, which has appropriated $150 million of American Rescue Plan Act funding to support new construction, the expansion of existing facilities, and equipment acquisitions.
Applications for that program are now due May 11, a month after the initial April 11 deadline, according to the USDA.
By providing technical assistance to the potential awardees of these programs, the Flower Hill Institute hopes to expand communities' capacities for managing their own food and trading with others, Roper said.
"We're proud to lead this charge for technical assistance for USDA, and we hope that we can create a model that can be used in other departments, or create ties between rural communities and producers that may not have had access to these programs in the past," Roper said. "We're truly blessed to have the knowledge we have, and we're not only helping Native farmers, ranchers and tribes, but our services are available across the nation to all who need it."