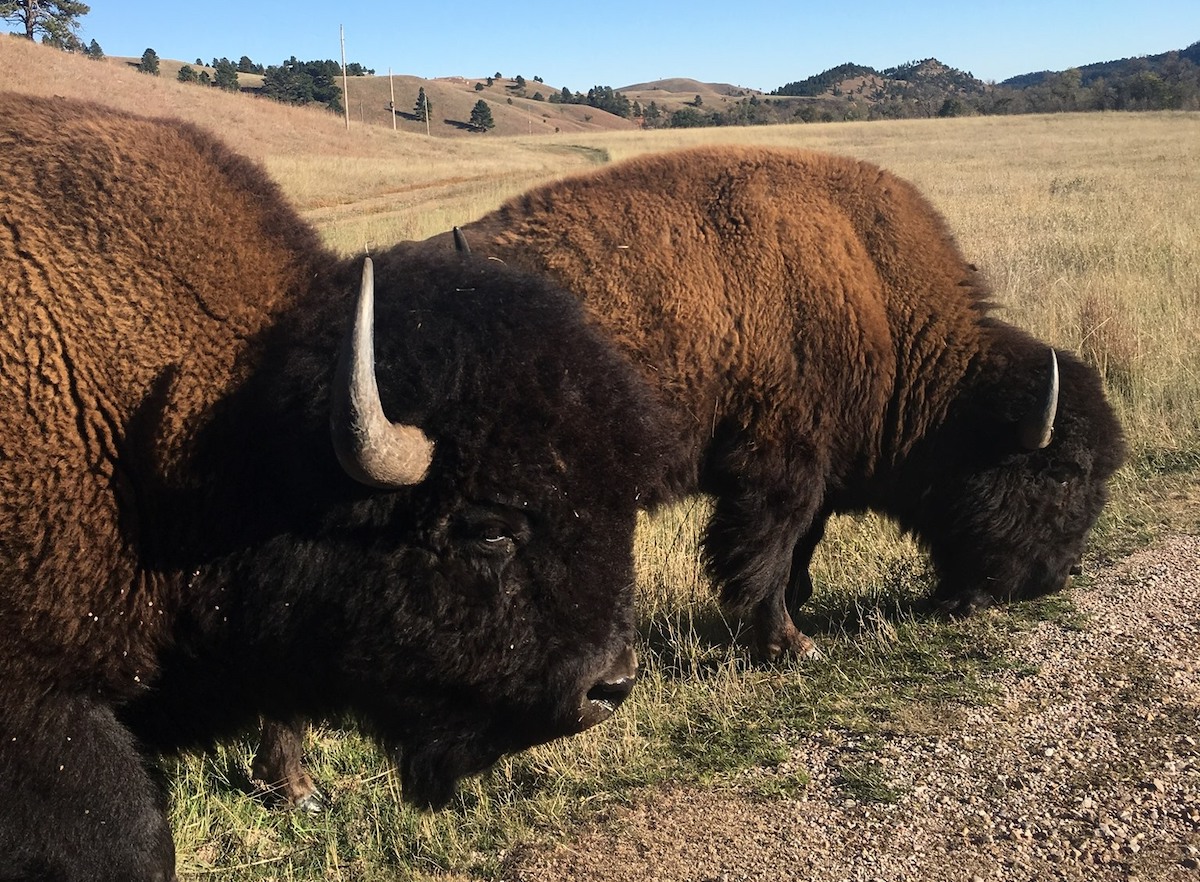 Details

Food | Agriculture
MISSION, S.D. — In March 2020, the Rosebud Economic Development Corporation, the economic development arm of the Rosebud Sioux tribe, launched the Wolakota Regenerative Buffalo Range across 28,000 acres of land.
The herd began with 100 donated animals that were released in October 2020 and sourced from the Department of the Interior's federally managed herds.
In the following two years, the range has grown into the largest Indigenous-managed buffalo herd in the world. REDCO expects the spring calf crop to bring the herd to over 1,000 animals, said CEO Clay Colombe.
The herd serves as both an "incredibly powerful" cultural hallmark for the tribe and proof of the effectiveness of REDCO's development strategies, Colombe said. The strategy demonstrates the tribe's Seven Generations investing framework, a set of principles it believes can be replicated to accelerate socioeconomic transformation, equity, and sovereignty.
The idea is that every step the organization takes should consider its effect on the next seven generations.
"Growing up, we learned about the buffalo but you rarely saw them and there was always talk that the buffalo would return one day. For me growing up it was, 'Yeah, that's not going to happen,'" Colombe said. "I was extremely happy to have been proven wrong on this. It's really hard to articulate in words how this makes me feel. Not only is it possible, but I'm a big part of it."
Never miss the biggest stories and breaking news about the tribal economy. Sign up to get our reporting sent straight to your inbox every Monday morning.
Bringing back the buffalo
The plans for Wolakota had modest beginnings, but through REDCO's development strategy and partnerships, the range grew into the economic and cultural symbol it has become, Colombe said during a presentation last week for the American Sustainable Business Network.
Leading up to the range's inception, REDCO surveyed community members about the important issues they thought the tribal government could address.
One common throughline in those answers was that the Sicangu Lakota people wanted to see the buffalo return, Colombe said.
"Sicangu Lakota are a buffalo people. Our entire economy, our way of life, was built around the buffalo," Colombe said. "When the buffalo were strong, the Lakota were strong, so that's a key tenet of why we were doing this."
REDCO built the grounds slowly, beginning with an 8,500-acre initial perimeter constructed on the range. Colombe and then-CEO Wizipan Little Elk also established a website and began seeking funding and partnerships.
They found partners in NDN Fund, the World Wildlife Fund, and the Turner Foundation, all of whom Colombe credits with building Wolokota's success. In particular, the World Wildlife Fund provided REDCO the initial $270,000 to lease the range's land from the Rosebud Sioux government.
Those partnerships have provided Wolakota with everything from funding to technical support and assistance in growing the herd.
In particular, the Turner Foundation connected Wolakota with Turner Ranch, the largest bison ranching entity in the world, Colombe said.
"We try to treat everything with the utmost respect. We want to make sure that we're doing this in the best way possible. People from WWF and Turner are making sure that we're grazing them right," Colombe told Tribal Business News. "These partners have helped us take this from a dream to a reality where we're ahead of schedule."
By October 2021, after a year of building new infrastructure and more fencing, the range had acquired several hundred more buffalo from federal herds, becoming the world's largest Indigenous-managed herd.
"A lot of people thought this was crazy when we did it, but with a lot of hard work from our team and the relationships we've been able to build with external partners that bought into our Seven Generations philosophy, we got there," Colombe said during the ASBN presentation.
Now, the buffalo range serves as an ecosystem central to REDCO's economic and cultural mission, Colombe said. The ranch has hosted youth camps and student workshops, and plays a pivotal role in ongoing food sovereignty efforts. Colombe said the range will help keep tribal dollars on tribal lands as the range sells buffalo meat primarily to its own people.
"Wolakota has been a microcosm for our ecosystem. It's brought about new and exciting opportunities for collaboration that we hadn't imagined when starting this project," Colombe said. "This has been a Seven Generations project that has real, deep, impactful changes that have disrupted colonial systems and transformed our community."
Continuing to grow
Beyond Wolokota, REDCO also continues to grow. Next on the horizon is the Keya Wakpala project, which will build new housing, recreation and businesses on a 600-acre site located near Mission in partnership with NDN Fund.
Housing needs on the Sicangu Lakota reservation are dire, Colombe said, noting an immediate need for 3,000 homes.
With Keya Wakpala, REDCO will begin addressing that need with 10 homes, a retail space, and a community center in its first phase. As Keya Wakpala progresses into its subsequent phases, REDCO hopes to build between 200 and 250 homes, Colombe said.
"We're basically creating a new town next to Mission, South Dakota. There's a grocery store there that the tribe owns and leases out, and the tribe owns 640 acres surrounding that," Colombe said. "The vision is creating a new business center around that with retail locations, gas stations that our reservation residents currently have to drive off reservation to access. There's a ton of needs on this reservation, and we hope this starts to meet them."
The tribe's Wolakota Buffalo Range, Keya Wakpala and Rosebud Construction all represent examples of NDN Collective's theory of change, said Kim Pate, the managing director of NDN Fund.
That theory hinges on supporting Native people's stewardship of their lands, developing sustainable economies and practices, and celebrating and preserving Indigenous cultures, Pate said.
"We're helping REDCO build power to defend, develop and decolonize in their own way, on their own land," Pate said. "These projects line up with our theory of change so well and allow us to affect our mission while supporting (Sicangu Lakota.)"