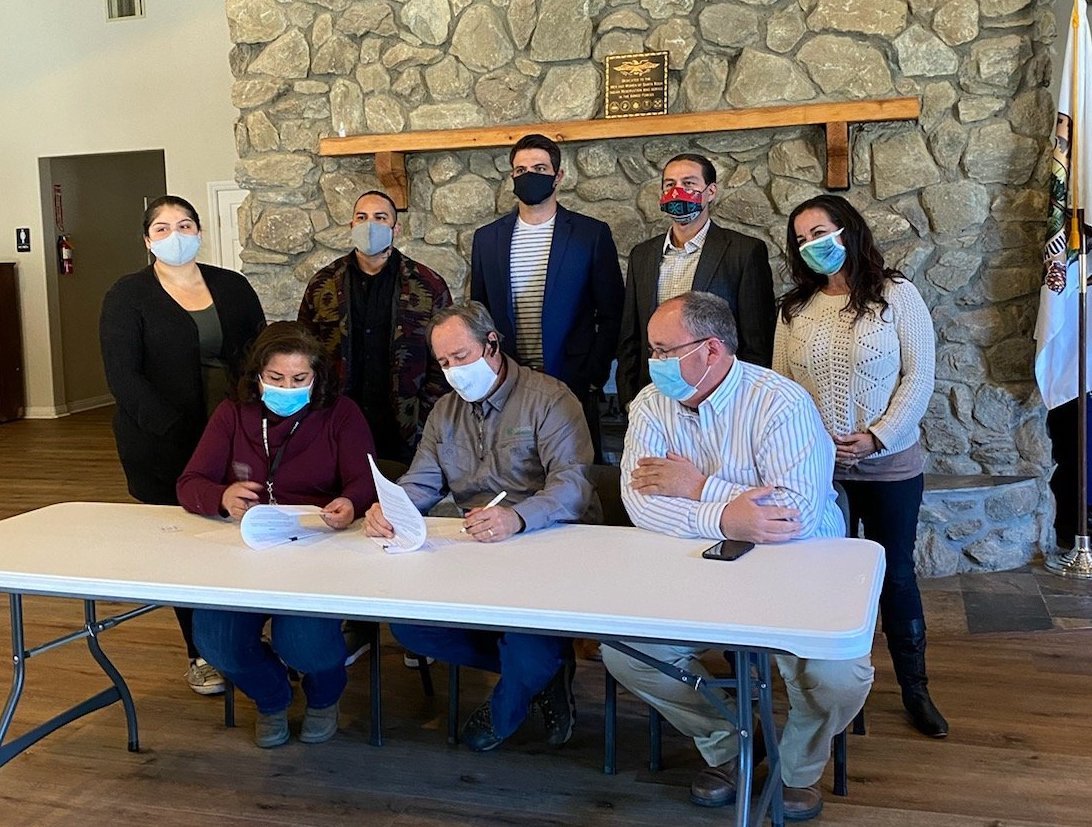 Details

Food | Agriculture
MOUNTAIN CENTER, Calif. — The Santa Rosa Band of Cahuilla Indians may have "broken barriers" for tribes to get into hemp by securing a federal loan guarantee to build a new grow facility.
That's according to Skye McMichael, the tribe's development manager for the project and CEO of Pauma Valley, Calif.-based Oak & Stone Consultants LLC, an owner's representative serving Native clients.
The tribe's Santa Rosa Farms LLC business secured a Bureau of Indian Affairs-guaranteed loan to construct a new 30,000-square-foot building where it plans to deploy vertical growing techniques to produce hemp.
The tribe plans to enter the hemp market under the U.S. Department of Agriculture's Hemp Plan, outlined in the 2018 Farm Bill as a way to regulate the hemp industry for states and tribes. The regulatory framework helped the tribe secure the loan guarantee through the BIA, which marks the agency's first guarantee for a hemp project, according to McMichael, a member of the La Jolla Band of Luiseno Indians.
"This is the first BIA-backed hemp program. It took about a year, almost two years, working back and forth with the tribe, making sure this was going to be a USDA-approved plan," McMichael told Tribal Business News. "This is going to be the first public lending source that's going to do a hemp facility on tribal lands."
Never miss the biggest stories and breaking news about the tribal economy. Sign up to get our reporting sent straight to your inbox every Monday morning.
Other tribal operations have relied on private investors or their own funding to fuel hemp and cannabis facilities, he added.
Hemp has been somewhat of a "coin toss" for tribes because of the differences in legalization from state to state, making it a difficult market to enter, McMichael said. By submitting a plan for hemp regulation, policies, and procedures to the USDA, tribes can somewhat insulate themselves from some hurdles and help avoid project interruptions.
There's also some debate about whether or not tribal sovereignty should be the end of the discussion, McMichael noted.
"Some tribes say you can do without (federal approval). Some say if you want to legally do it, you need it, so there's still a coin toss," McMichael said. "There's still a lot of discrepancy in different states as to whether hemp is legal on tribal lands."
The path to USDA regulation has not been easy for tribes. While the 2014 Farm Bill began building the framework for legal hemp, tribes who made early attempts to enter the market sometimes clashed with state laws, leading to a notable instance of federal agents seizing 30,000 industrial hemp plants from the Menominee Indian Tribe of Wisconsin in 2015.
While the 2018 Farm Bill solidified the regulatory framework, many tribes were still prevented from entering the market until USDA finalized its rules regarding approved plans.
After the USDA clarified its process, tribes began seeking approval for their policies and plans for hemp production. So far, 59 tribes have submitted approved hemp plans to the USDA, according to the agency's website. Seven of those tribes have a USDA Hemp Producer license as of this writing.
"The reason why this is so important is because, up until this, the only funding source tribes could (access to) do indoor growing is either through tribal funds or private investors. There's funding for USDA for you to create plans or designs but there's not really money out there that you can go after to build," McMichael said.
The Santa Rosa Band also worked to secure financing with Pinnacle Bank, which is owned by the Sac and Fox Tribe of the Mississippi in Iowa, and tapped into resources from NativeGro, an Orlando, Fla.-based cannabis consultancy. Tampa, Fla.-based vertical grow operation developer Hyperponic helped design the facility.
McMichael and his business partner Shane Melbo, a member of the La Jolla Band of Luiseno Indians, worked to represent the tribe through Oak and Stone.
McMichael declined to disclose the facility's cost or loan amount.
With the loan secured and a partnership contract signed with Hyperponic, the tribe plans to build a vertical grow operation meant to maximize production capacity in a limited space that's much more efficient than growing outdoors, according to McMichael.
When it comes online, the facility will give Santa Rosa Farms an entry into a rapidly growing market.
According to a report from Allied Market Research, the global hemp market was valued at $4.9 billion in 2019, and is projected to reach $18.6 billion by 2027.
As well, by securing federal backing for the project, the Santa Rosa Band has potentially unlocked opportunities and paved the way for other tribes to enter the lucrative market, McMichael said.
"This is definitely going to be a barrier breaker for tribes, so once it's done and shown to be successful, it proves that tribes can go after federal dollars to build hemp facilities," he said. "This is just a big deal."