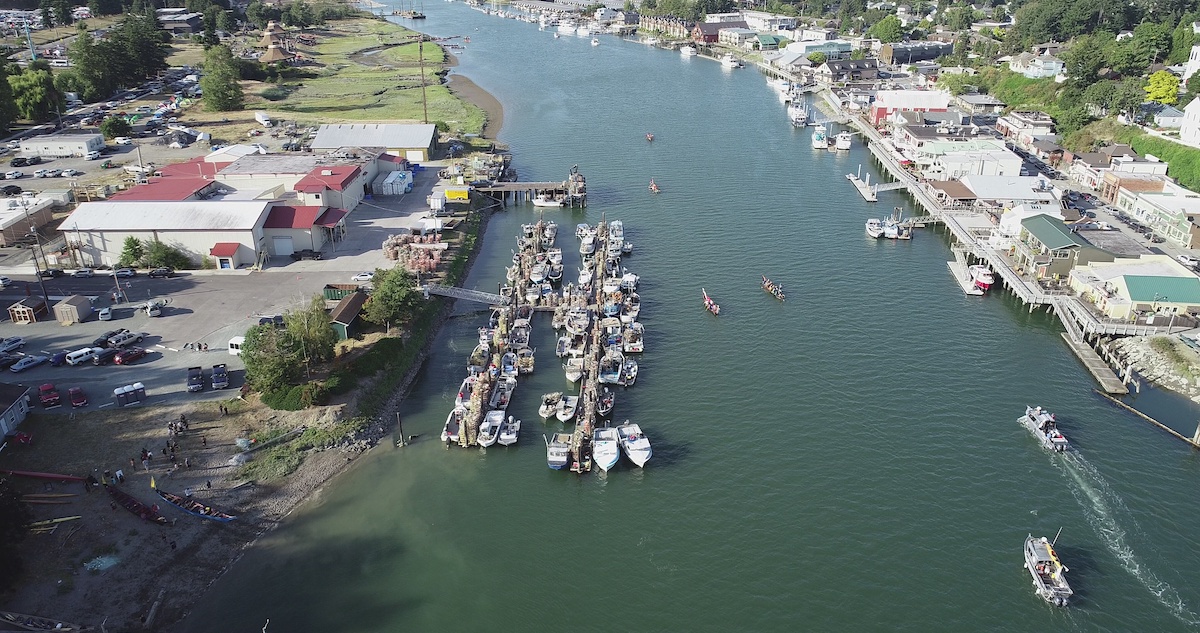 Details

Food/Agriculture
LA CONNER, Wash. — A tribal community in Washington state plans multi-million improvements to its port infrastructure to support its roughly 100-strong fleet of fishermen.
The Swinomish Indian Tribal Community in La Conner, Wash. established its Port Authority board in 2020 and seated its current board in 2021. However, board chair and tribal vice chairman Jeremy Wilbur said that while the committee was established to build long-term plans for the tribe's fisheries, funding for those plans remained uncertain.
"When we started this port authority, we really had nothing — a small budget here to try and move forward," Wilbur, whose traditional name is kuts-bat-soot, told Tribal Business News.
The Swinomish Port Authority, one of the few tribal ports nationally, recently was awarded $11 million via the U.S. Department of Transportation Port Infrastructure Development Program, which the tribe will use to fund a new boat launch with gear and boat storage, a new commercial pier in front of the tribe's fish plant and moorage replacements. The funding will also go to help the tribe develop a comprehensive plan for future development.
"This has really sped things up for us immensely," Wilbur said. "This is really seed money. It came much faster than anticipated, and we're very excited to start implementing these projects."
Never miss the biggest stories and breaking news about the tribal economy. Sign up to get our reporting sent straight to your inbox every Monday morning.
U.S. Sen. Patty Murray, D-Wash., made the initial announcement of the grant award in late October.
"The waterways in the Pacific Northwest have always sustained the Swinomish Tribe," Murray said in a statement. "That's why I fought hard to get critical resources in the Bipartisan Infrastructure Law to improve the water infrastructure that delivers good-paying jobs to the Swinomish Tribe."
Swinomish chairman Steve Edwards thanked both Murray and U.S. Rep. Rick Larsen, D-Wash., for helping advocate for the funding.
"This funding will enable the Tribe to build critical maritime infrastructure to support our fishing fleet and plan for sustainable economic development in our local economy," Edwards said. "Because of this support, our vision can now become a reality."
The funding plays directly into the Swinomish Tribes's primary economic development strategy: supporting and improving their fleet.
"We've been fishing since time immemorial; fishing is central to our culture," Wilbur said. "We call ourselves 'people of the salmon' here at Swinomish. I can't stress how important this money is to us."
The port improvements will speed up the authority's development and help keep fishers safe, Wilbur said. He pointed to examples such as enabling more efficient offloading to the fishing plant through a widened, safer pier. In addition, the new dock will replace a fixture that's been in place since the fishing plant's inception in the 1970s.
"That's a very narrow, very rickety dock with very limited space. With a larger area, it will be safer for our fishers," Wilbur said. "It's going to improve safety and accessibility for those fishers working out in the Salish Sea."
The boat launch and service station will keep the fleet in good condition, and improved docking in Swinomish harbors will eventually accommodate more boats.
Port improvements will help the tribe bolster its role in Washington State's $50 million fishing industry, Wilbur said. A stronger, safer fleet will allow tribal fishers to better keep up with the needs of the thriving market.
"Economic development, for us, is first and foremost supporting the fishing fleet," he said. "It's about accommodating the market, improving our services and supporting our fleet and nearby boating communities."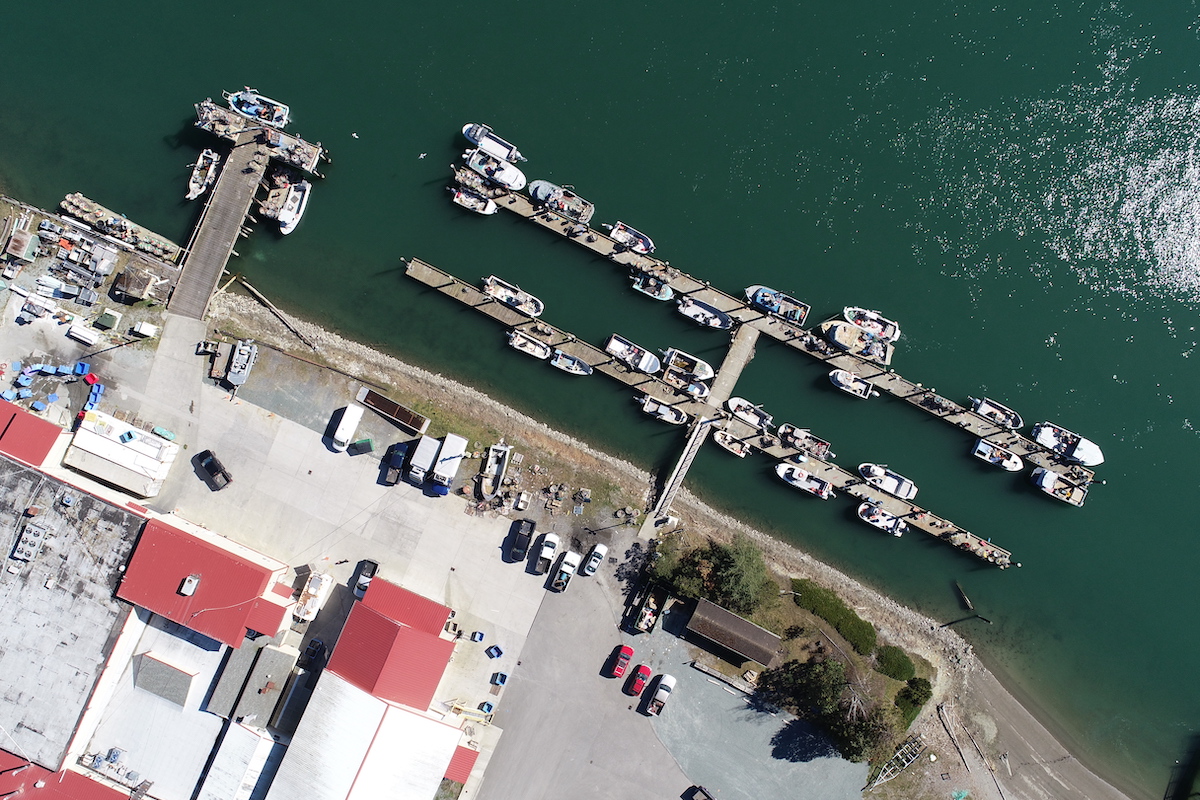 Overhead view of the Swinomish Port. (Courtesy photo)
Altogether, the improvements will help the tribe in addressing COVID-19-era challenges and climate change, which have affected the tribe's ability to fish salmon. While the tribe fishes a diverse array of catches, salmon present a particular issue as a staple of the tribe's diet and economy.
"It's been challenging to say the least, especially with the decline in salmon populations," Wilbur said. "We do shellfish, the crabbing community, spot prawns, but salmon has definitely been a challenge. We have freezers here, and just from a river fishery, we've been buying salmon for our community and stockpiling fish in our freezers for our food sovereignty."
With the seed funding in place, the tribe can begin thinking about the longer-term development of the port and what supporting and growing their fleet looks like in the future.
"Having that little bit of money from the federal government to help accomplish some of these goals," Wilbur said. "I'm just grateful for our Port Authority board and support staff that made this happen. This has just been a real blessing for us to be awarded this money."
The grant money comes from the Port Infrastructure Development Program, administered by the U.S. Maritime Administration within the Transportation Department using funds from the Bipartisan Infrastructure Act of 2021. That program appropriated $450 million to support port improvements across the country on a tide of federal funding following the COVID-19 pandemic.
Want more news about the $130 billion tribal economy?
Tribal Business News publishes thoroughly reported and well-crafted stories about Native businesses and entrepreneurs, growth and expansion strategies, best practices, economic data, government policy and other relevant business news. Tribal Business News is required reading for tribal council members and leaders of Native businesses, as well as state and federal legislators, policymakers, economic developers, entrepreneurs, bankers, lawyers and anyone interested in doing business in Indian Country.
Sign up for our free newsletter to track Native business and the tribal economy. Or sign up for a premium digital subscription ($99/year or $10/month— cancel anytime) to gain full 24/7/365 access to our business news reporting. Megwetch.