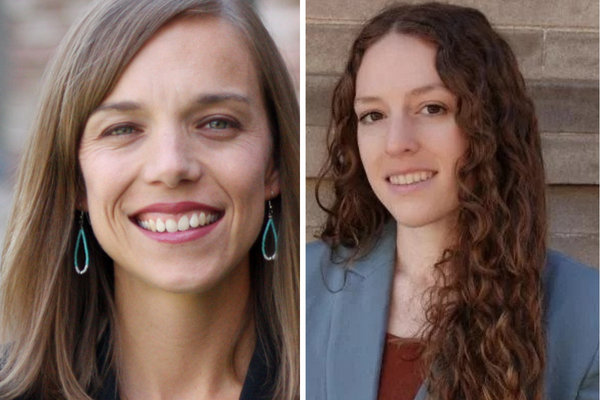 Details

Food/Agriculture
Maintaining self-sufficient food supply chains is crucial to avoiding volatile markets and potential future disruptions for tribal communities in the wake of the pandemic, which only exacerbated longstanding food security issues.
That's according to a new report by Native-led research organization First Peoples Worldwide that discusses the crucial role supply chains play in keeping Indigenous communities fed and the related economic and business opportunities.
The "Supply Chains and Sovereignty" report stems from the responses collected from interviews and focus groups with 42 Native food entrepreneurs and an online survey of 45 Native food entrepreneurs. Those responses painted a broad trend upward of Indigenous-led, Indigenous-supporting food supply chains built through collaboration between market retailers and Native producers.
"It seems to me what I'm hearing from people is that food is just central in so many ways," co-author Melanie Matteliano told Tribal Business News. "It can be really central to self-determination, to sharing knowledge, to building connections to place and to land. When it comes to sovereignty, having the resources and ability to enact that as nations see fit is really central to that.
"These supply chains allow Native consumers to access foods that are produced according to Indigenous values, and support the continuation of Native foodways."
According to the report, Native food supply chains can have a multiplicative effect on investments in Indian Country. To that end, investors hoping to stretch their dollars as far as possible can have a wider, more significant effect by investing in food chains, while businesses like tribal casinos can serve as an economic outlet for getting a return on those investments.
Strengthening Native supply chains — chiefly by way of supporting Native producers and food businesses, such as processors and restaurants — can keep money circulating within Indian Country.
"Food sovereignty has always been absolutely central to tribal sovereignty," Matteliano and co-author Kate Finn (Osage Nation) wrote in the report. "Native food systems nourish Native communities physically, emotionally, socially, and spiritually — they are a site of connection to culture and community … and foundational to Native nations' political and economic self-determination."
"Supply Chains and Sovereignty" asserts that Native communities can take steps to support their own businesses, such as offering Native foods in casinos and other tribal enterprises where possible, or building trade routes and inter-tribal cooperatives.
Ensuring that Native people participate at every step of the supply chain can maximize the economic effects of that chain in each community it touches, according to survey respondents.
"Our ideal supply chain is, for us, to reduce the amount of hands that participate that are non-Native or non-Indigenous," wrote Matt Chandra, co-owner of Native restaurant Tocabe. "We want to make sure from a supply chain standpoint that money stays within Indian Country from 95 percent to 98 percent of the time."
As Native businesses grow and thrive, so does the surrounding community, ensuring that tribes have access to food for distribution to needy members and that tribal citizens are economically insulated against market shock. Supporting that growth means taking a number of actionable steps, including expanding research on existing Native food supply efforts; improving infrastructure, land, and water access on Native reservations; widening market access through both federal and private avenues; and strengthening access to capital and startup funds, Matteliano writes.
"People really emphasized land access and capital access," Matteliano said. "To do that, they need certain equipment or startup funding, so creating that access to sell food the way they want to and reach the people they want to is important."
Never miss the biggest stories and breaking news about the tribal economy. Sign up to get our reporting sent straight to your inbox every Monday morning.
An increase in available capital, such as through private investment or through Native community development financial institutions (CDFIs), allows Native businesses to operate by way of their social values, rather than operating solely for profit, Finn said.
"Think of chefs who are trying to align their capital to their values, for instance," Finn told Tribal Business News. "If they're trying to source their ingredients sustainably, they need the capital to buy from several Native sources. They need to have access to investments that support that push to align their business with those values."
That social function, in which businesses operate in support of their communities rather than an individual business owner, is often a crucial part of an Indigenous entrepreneur's identity, according to the report.
"We're finding that a lot of (food) businesses do things in these communities that are similar to what nonprofits are doing," Matteliano said. "We could look a little more openly on how our capital investments can support that."
The report also points to more granular moves that federal organizations and investors can support at the structural level, such as building new grant programs for seed keeping, processing, and transporting Native goods, or widening risk-mitigation safety nets for more Native farmers.
Even smoothing out the inspection process by providing designated U.S. Department of Agriculture inspectors for particular Native nations could speed up the process and remove another roadblock to wider market access, according to the report.
"I believe the inspector, whether it's a state inspector or USDA inspector, is the key for tribal members to ensure that they're able to get their product out," an unnamed respondent said in answering the survey. "There are not enough inspectors, both state and federal inspectors, to meet the tribal needs."
Building and supporting Native supply chains remains one of the most effective ways to combat a wide array of social and economic ills facing Native reservations by lifting communities out of starvation and out of poverty, according to First Peoples Worldwide's report.
Better advocacy and support for those efforts is crucial to standing up those communities.
"At the broadest level, Native food producers are creating immense social value through their work, guided by Indigenous values that see the interconnections between Native food systems and individual, social, and environmental wellbeing," Matteliano and Finn wrote. "Supporting Native food producers to expand their work, and to connect through Native supply chains which support other Native food businesses, will multiply this social value and promote Native food sovereignty in the present and for future generations."
Want more news about the $130 billion tribal economy?
Tribal Business News publishes thoroughly reported and well-crafted stories about Native businesses and entrepreneurs, growth and expansion strategies, best practices, economic data, government policy and other relevant business news. Tribal Business News is required reading for tribal council members and leaders of Native businesses, as well as state and federal legislators, policymakers, economic developers, entrepreneurs, bankers, lawyers and anyone interested in doing business in Indian Country.
Sign up for our free newsletter to track Native business and the tribal economy. Or sign up for a premium digital subscription ($99/year or $10/month— cancel anytime) to gain full 24/7/365 access to our business news reporting. Megwetch.