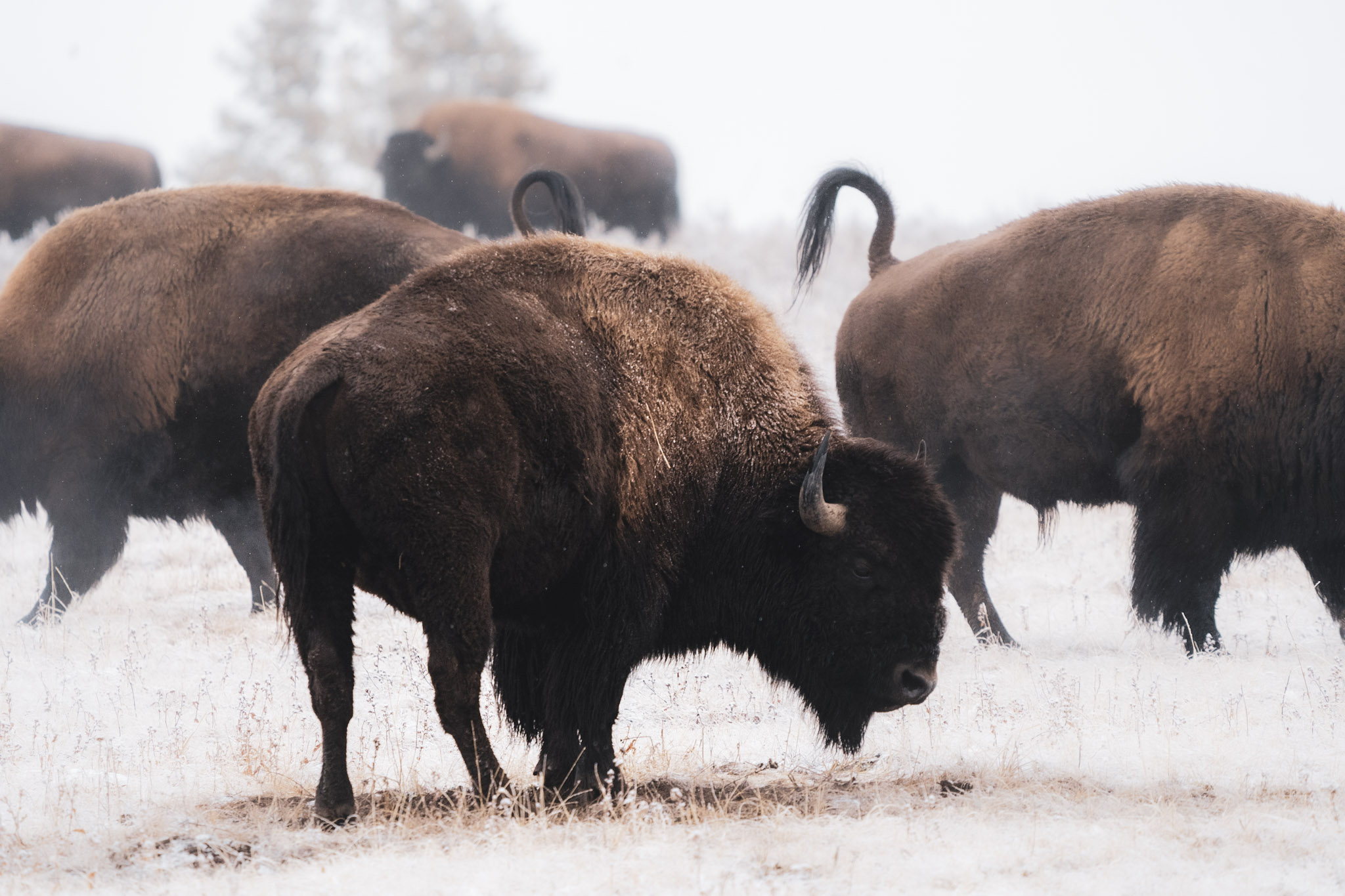 Details

By

Elyse Wild

Food/Agriculture
Recent buffalo restoration efforts aim to restore cultural and spiritual connections for tribes, as well as bolster a range of economic opportunities.
The InterTribal Buffalo Council is a 30-year-old organization working to restore buffalo on tribal lands for cultural, spiritual, ecological and economic purposes. Today, the council has a membership of 82 tribes and has repopulated more than 20,000 buffalo to Indian Country.
This fall, the group transported 2,041 bison to 22 tribes in 10 states.
Jason Baldes sits on the InterTribal Buffalo Council and is the Tribal Buffalo Program Manage for Tribal Partnerships Program of the National Wildlife Federation, where he leads the federation's buffalo restoration efforts.
In 2016, Baldes led a buffalo restoration effort on the Wind River Indian Reservation in Wyoming. With roughly 3,500 square miles in central Wyoming, the reservation is shared by the Eastern Shoshone and Northern Arapaho tribes. Baldes grew up on the reservation, where he witnessed his father, then a biologist for the U.S. Fish and Wildlife Service, work to restore pronghorn antelope and bighorn sheep populations in the area.
"It was very influential on me," Baldes said. "I grew up hunting and fishing and camping, and we always wondered, 'Why don't we have buffalo to hunt?'"
Baldes traveled to East Africa with his father, where he witnessed the great wildebeest migration on the Serengeti Plains. Seeing 1.5 million wildebeest roaming across the Serengeti Plains left him feeling wonder, awe and a pang of loss for the American buffalo.
"Seeing one and a half million wildebeest was pretty incredible," Baldes said. "What is more incredible is that is less than 5 percent of the bison that was here 200 years ago."
America's bison population in the late 1800s is estimated at 60 million animals. Nomadic Great Plains tribes relied on the species as a source of food, clothing and shelter, and buffalo remain the center of ceremonial belief systems. So integral were buffalo to tribal life that the animals are considered relatives of Great Plains tribes.
European colonizers hunted the buffalo population to near extinction, with fewer than 320 animals remaining by 1880. The collapse of the buffalo brought devastating effects on ecology and sovereignty. Tribes lost a foundational cultural and spiritual resource, and without herds to graze, the Great Plains lost one-third of its topsoil and diverse plant life diminished, changing the ecosystem forever.
Never miss the biggest stories and breaking news about the tribal economy. Sign up to get our reporting sent straight to your inbox every Monday morning.
"The Shoshone and Arapaho people, we come from buffalo people," Baldes said. "We haven't forgotten that they've been missing for a very long time from our communities, basically because of the central government's effort to eradicate them and subjugate us to reservations. … Restoring buffalo to our communities is part of restoring our cultural connection, our languages and our belief systems."
According to the National Bison Association, there are roughly 362,400 bison in America today, with half being on privately owned ranches and farms.
While the Intertribal Buffalo Council works to restore buffalo to tribes, nonprofit Tanka Fund, based on the Pine Ridge Reservation in South Dakota, supports Native families and community-owned buffalo herds with regranted dollars and technical assistance. The fund aims to convert 1 million acres of virgin prairie to regenerative agriculture built around a buffalo-based economy. Today, Tanka Fund helps manage 1,000 head of buffalo over 100,000 acres of land.
Executive Director Trudy Ecoffey said Tanka Fund's projects range from assisting Native ranchers and farmers with transitioning from cattle to buffalo, to assisting in establishing community-owned cultural herds. The organization has a full-time senior technical assistant that helps clients with financial, business and infrastructure planning and connects them to handling facilities and resources to buy and sell animals.
"It's hard enough for tribes to bring on buffalo, but usually the tribes have some kind of funding," Ecoffey said. "But for family and community projects, it is even more difficult to access the land and resources to do it, so it's a heavier lift.
"Most of our projects are doing it for the cultural piece, for the connection back to the animal."
These buffalo projects also represent an opportunity to restore Native foodways while generating economic opportunity.
"Getting buffalo back into their communities where people can buy it is hugely important," Ecoffey said. "For companies, getting access to buffalo meat for their products can be difficult, so there is an opportunity. We are trying to lift up the people that want to do this."
Ecoffey notes that the biggest hurdle to family and community groups restoring buffalo is access to land. Tanka Fund helps connect them to Native CDFIs and other financing opportunities to assist in launching herd projects. With a mile of buffalo fence running an average of $5,000-$6,000, Tanka Fund's $20,000 grants are merely a start at chipping away the costs. In the six years since the fund started, it has deployed nearly $500,000 to family and community-owned buffalo restoration efforts.
"Our goal is to be ecologically and economically stable, so we can drive the sustainability of these projects," Ecoffey said.
This year, Tanka Fund launched a youth initiative to educate about the animals and plan for the future of buffalo. Ecoffey said that witnessing the joy the animals bring to Native communities is powerful.
"Seeing the excitement when a family or community gets their buffalo is the best part," Ecoffey said. "When they get to see that buffalo back on that land and seeing their excitement of reconnecting to these animals … that is just so rewarding and my favorite part of doing this."
Today, both the Shoshone Tribe and the Arapaho have designated buffalo enclosures on The Wind River Indian Reservation. The Shoshone's enclosure grew from 300 acres in 2016 to roughly 2,000 acres with fee land buyback by the Wind River Tribal Buffalo Initiative with 79 buffalo. The first 10 buffalo were introduced in 2016 from Iowa's Neil Smith Wildlife Refuge. In 2019, five bulls arrived from the Fort Peck Reservation in Montana from a tribal holding facility for animals caught after they migrate outside of the boundaries of Yellowstone National Park — the first-of-its-kind nation-to-nation agreement to share in genetically pure Yellowstone buffalo. The Arapaho Tribe has a 1000-acre enclosure with 56 buffalo.
The restoration has enabled the Arapaho Tribe to harvest buffalo for the tribe's annual sundance ritual and restore nutrition to their diets. Low in cholesterol and high in minerals and protein, bison consistently ranks as one of the healthiest meats to consume.
"The systematic removal of the buffalo from our diets resulted in the highest rates of diabetes, heart disease, and other health issues," Baldes said. "Getting it back into our lives, back into our bellies, on our dinner plates, is going to help to heal us from the inside."
As well, buffalo are being integrated back into the tribe's culture via education. This summer, more than 800 tribal youth, teachers and administrators visited the Shoshone and Arapaho buffalo enclosures.
Baldes said the Wind River Tribal Buffalo Initiative is raising money to purchase fee lands within exterior boundaries of the Wind River Reservation for buffalo habitat. He emphasizes that buffalo restoration is sovereignty in practice, noting the federal government's obligation to uphold treaty agreements to support tribal self-governance and economic prosperity, which he says means supporting tribal efforts to repopulate the buffalo intrinsically tied to the lifeways of the Great Plain tribes.
"There are lots of opportunities for federal agencies to recognize the sovereignty, the self-determination and the treaty rights of the tribes and the promises of the federal government that were made," Baldes said. "We want to make sure that they understand that."