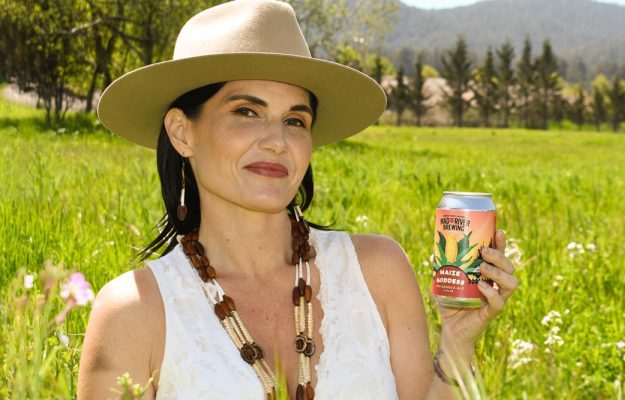 Details

Food | Agriculture
Yurok tribal member Linda Cooley came back home to northern California after a stint in Texas to head up Mad River Brewery, a tribal enterprise purchased in 2019 by the Tribe's Yurok Agricultural Corporation.
In the time since, Cooley has been busy leading the enterprise through partnerships with the California State Parks department, the San Francisco Giants, and the Iowa Tribe of Nebraska's Grey Snow Management Solutions. The latter partnership has borne fruit — or rather, corn — in the form of Mad River's latest product: Maize Goddess Indigenous Ale.
The ale uses red corn that's regeneratively grown by the Iowa Tribe as a chief ingredient in a light lager, making it what is thought to be the first beer to specifically center an Indigenous-grown ingredient in its creation. That type of tribal collaboration needs to be less rare, Cooley said.
"This is my favorite project I've ever worked on in my entire career," Cooley told Tribal Business News. "I think it could be the most meaningful and close to home, and I think it's going to help other tribal breweries look into using tribal ingredients, and who knows where it could go from there?"
Cooley chatted with Tribal Business News to discuss Maize Goddess' debut, how Mad River arrived at its name, and what the brewery's partnerships mean for their relationships across the state — and across Indian Country.
You're partnering with a local festival to debut your new beer, is that right?
Yeah, we have a local festival here in Humboldt County — we have one of the largest oyster farming communities in North America here. During the pandemic, the festival had kind of gone awry with all the limitations, so we've been working with the organizers for the last couple years to put together an event for the community to get together and enjoy.
The festival committee decided to go with just one brewery this time, which is possibly the biggest event in our community outside of our fair. We were telling them about our new product needing an audience and how we're trying to have beers with tribal ingredients. We're trying to really have all of our beers focused on a certain theme that we're fighting for Yurok people and people in general. We've got a new beer, called Maize Goddess, and having it in our hometown first before it's released is a great thing.
How are you working with the festival organizers?
So the two of us came together and decided that we could partner on this and really own this event and make it a tribute to our communities. They're even going as far as the land acknowledgement, and being more inclusive. So for us, it's a win-win across the board of not just having an opportunity to serve great craft beer, but really honoring inclusiveness and bringing the community together and being thankful for where we live.
This is my favorite project I've ever worked on in my entire career. I think it could also be the most meaningful and close to home.
Not to be corny, but what is the creation story of the Maize Goddess beer?
We were looking at making a light beer that someone here compared to Modelo. You know, it's called Mexican Lager, but that branding is very tokenizing, and I could not bring myself to call that style of beer Mexican lager. I looked at what it felt like to see these big teams like the Chiefs, and how it feels for Natives to see that, and so I can't imagine how it felt for someone in South America or Mexico to see these images of Mexican beer, skeletons, and such, and tokenizing it all.
So you were aiming for a light beer in that same vein, but without the charged branding. What route did you take?
I started looking into some stories about creation, and one of the Aztec stories was about a creator of life, a goddess who ruled over love and passion and agriculture. I said hey, we're owned by the agricultural (entity) of the Yurok Tribe, and the ingredient that we have in this tribal beer is corn from the Iowa Tribe of Nebraska. They're the only ones allowed to grow this red corn in the United States — an Indigenous corn from South America and the Mexico area.
It became very apparent that we wanted to pay tribute and bring awareness that we can have a beer of a certain style without tokenizing someone's culture. We wanted the name to reflect the style of beer, a Mexican/Indigenous kind of beer.
It sounds like avoiding the mascot effect was important to this process.
I lived in Texas for a while. I saw how people from Mexico were treated and it was really hard because I can relate. They're on their Indigenous land, getting treated horribly. And somehow we live in this time where we're just okay with it. I just cannot bring myself to tokenize anyone anymore.
That's to say nothing of existing barriers to business for marginalized communities.
The reality is, we're Indigenous brothers and sisters from different areas, and even outside of tokenization it's really hard for ethnic businesses to make it in this world. There's inherent racism in business still, so getting to talk about that racism and get past it and work together to push back in this positive way is incredible.
What's it been like to see this get off the ground? You conceptualized it, you put it together, you sorted out the distribution, and now you're getting ready to show it off.
I feel like I'm gonna cry. It's the most rewarding thing I've ever done. It's this one little product that means so many different things. And we might not all see it now, but I firmly believe it's going to create a template of change for us not just in beer, but in business altogether. We look back at international trade routes, where one tribe has one ingredient that we all needed. The other (tribe) had another one. We can do that today in mainstream business, and I really hope that we can all work together more and bring that back.
There's also another beer released in partnership with the California State Park department, is that right?
Historic State Park IPA was our first beer. Ever since that first beer, our relationship with the state parks has grown and grown. We've had a park returned to its original name, and we've had more talks about sharing land. We can now gather in parts of the state park, which has never happened before. We talked about this and we realized maybe we didn't just need one state park beer, maybe we could create a series to describe this evolving relationship.
It sounds like Mad River Brewery has been a successful enterprise for the Yurok.
It's amazing. We have so much work to do and we're really pushing right now to have our beer in more California casinos and build on that partnership. I think the brewery has really helped tie our economics to our sovereignty. To be able to do this for my tribe is just unbelievable. I never thought I would be able to take my career and beer and do something to help not just my tribe, but Indian Country, too. I feel like the luckiest person in the whole world.