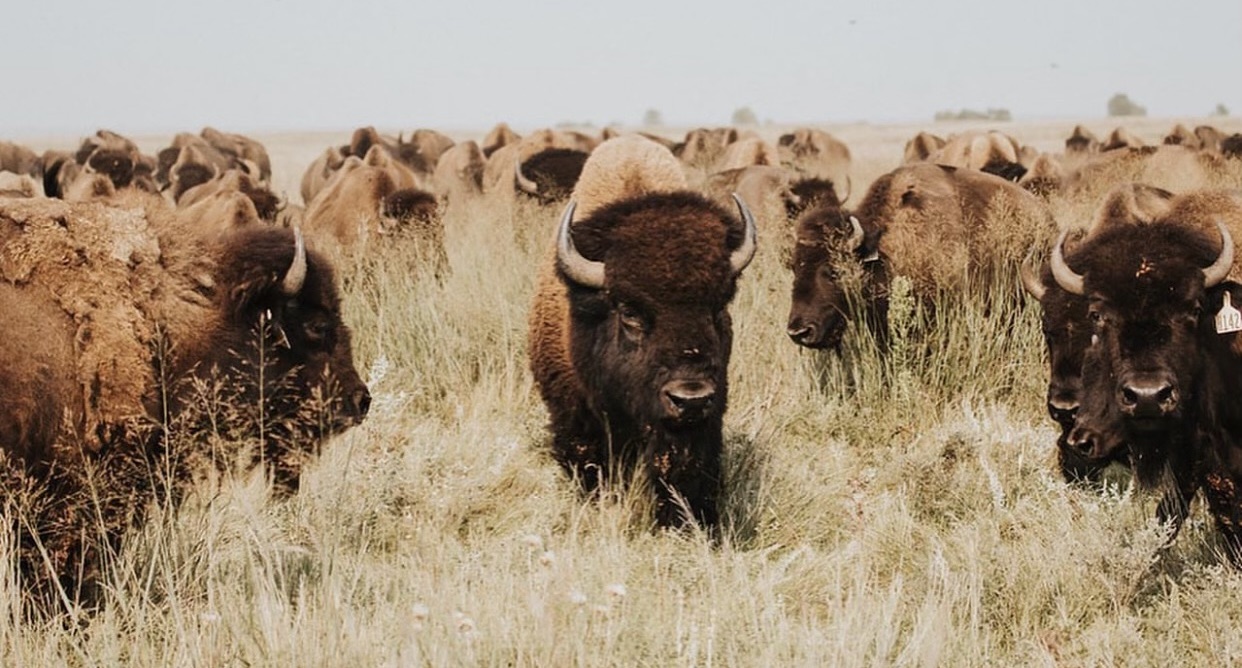 Details

Food | Agriculture
Jayme Murray, head of the Cheyenne River Buffalo Authority Corporation, has a new customer for his buffalo products: the U.S. Department of Agriculture (USDA).
Murray is one of four producers from three reservations in Montana and South Dakota enlisted in the Bison Purchasing Pilot Program under the USDA. The pilot program, launched September 18, plans to test buying smaller batches of bison meat from tribal producers in a move that both accommodates those producers and provides a traditional food option for the Food Distribution Program on Indian Reservations, or FDPIR.
The pilot project will explore ways for the federal agency to support the purchase of bison meat from small and mid-sized Native producers and deliver it directly to tribal communities. Buying local will also help reduce transportation costs for producers like Murray.
Between two contracts with the USDA, Murray was awarded roughly $67,000 in bison purchases. Another Native producer, Brownotter Ranch in South Dakota, was awarded a contract worth $162,360. The largest contract went to Dakota Pure Bison on the Rosebud Sioux reservation, also in South Dakota, at over $254,000.
"It's going to mean some good business for us, and we get to feed our people," Murray told Tribal Business News. "I can't think of a better way to do it."
Never miss the biggest stories and breaking news about the tribal economy. Sign up to get our reporting sent straight to your inbox every Monday morning.
The bison pilot builds on existing efforts by the USDA to better account for tribal diets in food distribution programs, and to give tribes more say in how they administer those programs to their own people. The program also utilizes existing purchasing preferences under the HUBZone program, which offers advantages to the economically disadvantaged areas, including many tribal reservations.
The pilot also adjusts buying practices, such as how the department buys in bulk. Typically, USDA purchases for food programs account for such huge amounts of food that only larger operators can handle the orders. By consulting with tribes involved in the pilot program, the USDA modified their standards for the size of their purchases, as well as making other accommodations to fit their orders better to smaller operators, according to USDA Office of Tribal Relations Director Heather Dawn Thompson.
"Small producers just can't meet those large quantity requests, and it becomes cost prohibitive," Thompson told Tribal Business News. "We're purchasing in much smaller quantities; we're purchasing much later in the year, when bison are being handled, and we're allowing for state inspection, rather than requiring federal inspection. Because bison is a non-amenable species, federal inspection is not required."
That's fine by Murray, who manages a 2,000-head herd at the Cheyenne River Buffalo Authority Corporation's range in South Dakota's Ziebach County. The company's plant already utilizes state inspection, so opening that up as an option for clearing federal purchases smooths over the purchasing process.
The company usually processes between 8 to 10 bison a week, and employs around 17 people total, Murray said. A typical USDA bulk order would be too much for Murray's operation, but the adjusted buying practices give him more breathing room, and provide him with a new economic outlet besides.
"It's just a win-win for us," Murray said, adding, "It's always good for us ... to secure a new customer and get into the realm of being a government contractor. It's something we've talked about in the past — (for it) to finally be a reality, it opens up new markets for us. "
Dakota Pure Bison co-owner Scott Assman said the biggest benefit for him, as a member of the Rosebud Sioux, was to be able to provide bison for his tribe and other communities.
The ranch is home to over 900 mother cows, which will help the company meet the newfound demand from the USDA's pilot program. While much of Dakota Pure Bison's sales are direct to outside customers, the USDA contract gives the company a chance to bring their product "back to where it came from," Assman said.
"Since we've started Dakota Pure Bison, we've thought about how to get bison to the people who live here," Assman said. "That was kind of one of our goals, and we were happy to be part of it and be involved in it — that just made sense, you know. If we can raise something that ends up back here right where it was raised, it just makes sense."
That notion aligns with the USDA's goal of helping preserve food sovereignty and traditional food ways through a quicker, department-centered mechanism while other pilot programs, such as the 638 projects, find their footing.
"The big accomplishment is one, allowing tribes to eat their own foods — tribal and local producers feeding each other," Thompson said. "The other is creating new market opportunities for tribal producers to participate in the federal procurement process that has historically only been available to bigger producers."
Still, the Bison Pilot Program has had some teething issues of its own, Thompson said. Since the Buy Indian Act hasn't been expanded to the USDA, the agency turned to HUBZone allocations to fund the preferred bison purchases. While the USDA already has Congressional approval for those preferences, HUBZone's budget is limited, and buying smaller batches of product is ultimately more expensive.
That has required careful planning and implementation on the department's behalf, but as long as the bison pilot goes smoothly, the USDA will explore expanding the practice to other traditional foods in a larger market area, Thompson said.
The agency's decision to start the program in the South Dakota and Montana area was strategic: there are a large number of bison herds, and a manageable number of FDPIR or commodity programs to get the food into.
"It was large enough to be impactful, but small enough to be manageable," Thompson said. "The hope is to expand. We've learned a lot of important lessons going through this process, so we think this is a good structural example on how to do small purchases and apply that to other foods as well."