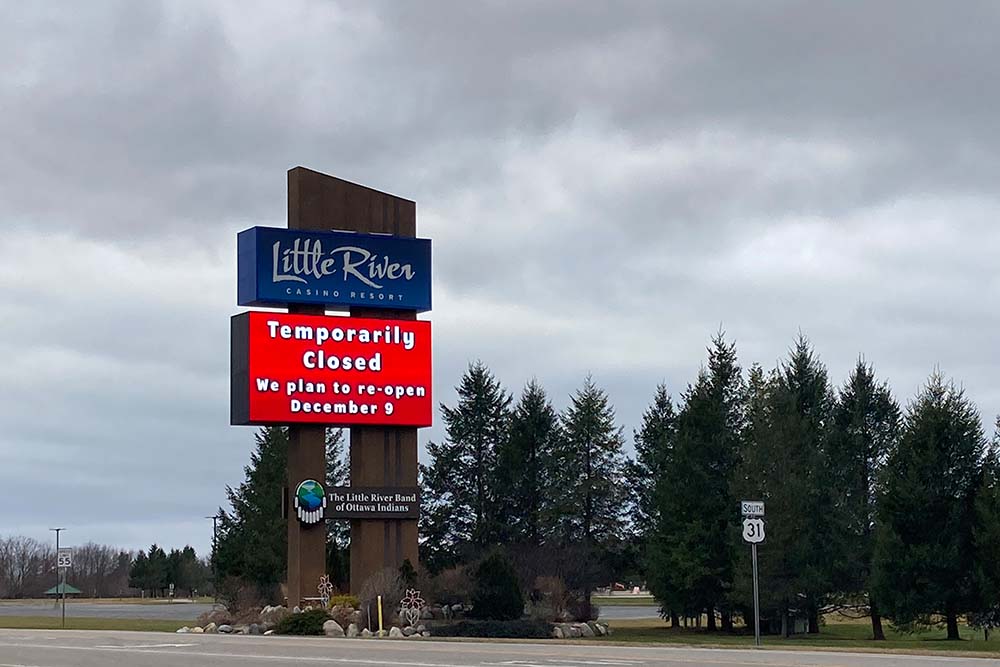 Details

Gaming
In late November the Little River Band of Ottawa Indians closed the doors of its Little River Casino Resort for two weeks, a reactionary move to the ongoing spread of COVID-19, which is spiking in the tribe's northern Michigan community.
This marks the second time the casino has closed this year, following a six-week closure that began in late March during the pandemic's initial wave.
The subsequent loss of revenue has "devastated" the tribe's budget, according to Ogema Larry Romanelli. In addition to simply losing revenue from customers, the tribe incurred other costs from closing, such as from food waste or disruptions to advertising dollars, he said.
"The financial impact is great in that a large majority of our income comes from our casino revenue and a smaller part through grants or other businesses," Romanelli told Tribal Business News. "We have to reduce key services to our membership, which impacts those most in need, such as elders."
The Little River Band is not alone: The National Indian Gaming Association's latest estimate for tribal casino revenue loss stands at $30 billion by 2022, said Deputy Executive Director Danielle Her Many Horses. Those losses represent both revenues already lost and potential cuts prompted by disrupted advertising schedules, loss of supplies and decreased consumer confidence in their own safety.
In the wake of the casino closures related to the pandemic, tribes face major hurdles to overcome the significant loss of revenue. As a second wave of the pandemic sweeps across the United States, tribal casinos across the country again face the decision to close down, risking further losses to tribal governments.
"A second shutdown would raise that number considerably, especially if it is a tight lockdown like this past spring," Her Many Horses said.
According to the American Gaming Association, 110 casinos across the country have closed their doors in response to the pandemic, roughly 45 which are tribal casinos. Another 886 other casinos have stayed open.
VARIOUS APPROACHES
Throughout the country, tribes have taken disparate approaches to the ongoing pandemic. While nearly all opted to close in early spring, more tribal casinos have stayed open during the second wave, albeit with additional safety precautions in place. That includes closing table games, shutting down some slot machines to promote social distancing, going cashless and restricting hours of operation to accommodate additional cleaning. Still others have cited spiking local cases of the virus in deciding to once again issue temporary closures, a trend that started to take shape in late October.
Instead of closing, some tribes such as the Cherokee Nation have elected to take as many safety precautions as possible to keep the doors open, even as the pandemic continues to spread.
For other tribes, including the Little River Band, closure seemed the best option given the potential for serving as viral vectors and to protect the health and safety of tribal members, employees and guests. The move also came as Michigan Gov. Gretchen Whitmer's administration closed commercial casinos and various entertainment businesses and limited bars and restaurants to outdoor dining or takeout.
Little River Casino was among six tribally operated gaming facilities to close around the same time as the state order. Romanelli cited a series of factors that convinced the tribe that closure was the right move.
"Foremost was the need to protect the community, our guests, our employees and our tribe," he said. "Secondly, we wanted to try and cooperate with Governor Whitmer's directive. Even though we have sovereign abilities, the hope was that we could work cooperatively to slow the progress of COVID-19."
Meanwhile, the Navajo Nation's gaming enterprise has kept its casinos closed since the first lockdown in March. Navajo Nation Gaming Enterprise (NNGE) warned in November that the shutdown may become permanent following massive revenue losses.
According to a statement, NNGE said it loses $11 million each month its casinos are closed, and a permanent closure would come at a cost of $460 million for Navajo Nation in just the first year.
"Subsequent years will reflect continued losses of approximately $219 million due to the elimination of interest revenues, gaming distribution fund revenues, tax revenue payments, and business site lease income, as well as, the economic output currently shared across the Navajo Nation reservation," NNGE said in a statement.
Interim Navajo Gaming CEO Brian Parrish said Navajo Nation leadership had yet to make a decision on permanently closing its gaming operations.
"It has to be talked about in terms of at some point, an extreme option if all other alternatives fail," Parrish said.
SAFETY MINDED
Cherokee Nation Businesses Director of Communications Brandon Scott said the tribe prepared for a second surge by changing its protocols and policies after initially closing for six weeks earlier in 2020. The tribe's casinos no longer allow smoking, and the Nation requires masks to be worn at all times while on any tribal property. The casino also erected partitions between gaming stations, and ramped up staffing for cleaning crews.
"We kind of feel we're doing anything and everything we can to put people before profits during this whole situation, keeping our patrons and employees safe," Scott said. "I don't know if there's any more precautions we could take to protect people more."
At Navajo Nation, Parrish discussed similar safety initiatives in a "233 touchpoint" checklist prepared to keep patrons and employees safe when and if Navajo Gaming casinos reopen. The checklist consists of everything from onsite screenings and temperature checks to abbreviated casino hours and the removal of some gaming machines and seats.
"What I can tell you is that we've got manuals we've drafted for each one of our individual operations," Parrish said. "We're confident that if anyone's going to leave their home, we'll be the safest place for them to be."
During the initial closure in spring, Cherokee Nation paid employees for all wages they would have earned during normal work hours, which exacerbated the tribe's initial losses.
"We never laid off any of our employees, and they never did without a paycheck," Scott said. "That has an impact on the money you have set back and saved, because you're essentially emptying your coffers to keep everyone with a paycheck."
Scott said the mask mandate also affected how many people chose to spend time in the Cherokee Nation's casinos, although people were generally positive about it.
"With a mask policy, you're going to get people that either smoke or don't want to wear a mask, and that's going to affect your bottom line with your number of customers," he said. "However, we've had a lot of people that are very supportive of a non-smoking and mask mandated casino. We've had a lot of really positive comments."
LAYOFFS AND FURLOUGHS
By contrast, Little River Casino Resort had to lay off some of its employees in response to closures, among other staffing changes, Romanelli said.
"Many are put on furlough and depending on the situation, we do as much as we can to assist and pay benefits for a short length of time," Romanelli said, citing other personnel changes within the operation.
"For example, we need more environmental services employees or employees to do regular cleaning and sanitizing," he said. "We've had less people in the dining areas. We have put a great deal of effort into making our facility as clean and safe as possible."
Parrish said Navajo Gaming paid its employees from the beginning of its casinos' shutdown in February through the end of July, when their cash reserves ran out.
The enterprise then placed most of its staff on "temporary layoff" status, Parrish said, providing health benefits but no paychecks. That lasted through the end of September, when the Navajo Nation allocated some of its CARES Act funding to resume paying employees on administrative leave.
"That was a tough thing, that was a challenging and emotional business decision to make," Parrish said of the initial decision to lay off employees. "That's the first way [casino closures] are hurting the nation, because those dollars circulate six or seven times. People buy food, clothing, feed for their animals, and so on with that money. It goes back into the nation."
The outsized effect of even a temporary shutdown has prompted the Little River Band of Ottawa to "deepen" the tribe's research into diversifying their economy, Romanelli added. However, COVID-19 has also damaged those efforts.
"We were already trying to diversify our economic development, but it takes money to make money," Romanelli said. "We continue to try but any further long-term shutdowns can cripple us. We will again very soon re-weigh safety/health with the health of our financial situation. If we go too far either way, we can be in a place that we can't recover from."
Meanwhile, Cherokee Nation will look at state initiatives in the event of a second shutdown, according to Scott.
"I'd say all options are always on the table," he said. "A lot of it is what the state mandates, what our chief wants to do. There's a lot of variables, but we are trying to put our patrons and employees first in all situations."
END IN SIGHT?
The small point of hope on the horizon remains an array of COVID-19 vaccines arriving in the United States early this month. Even so, vaccine adoption could be a tricky subject, said NIGA's Her Many Horses.
"I personally believe a vaccine will make people feel safer," Her Many Horses said. "Most casinos that are open or planning reopening have mandatory employee testing. I don't know that mandatory vaccination is legally possible."
Attorney Jennifer Saeckl in the Michigan office of Rosette LLP, a majority Native-owned law firm, said an employer's ability to require vaccination is "generally limited" by the Americans with Disabilities Act and Title VII of the Civil Rights Act. Mandating vaccines also could pose some challenges under the Occupational Health and Safety Administration Act, she added.
"That's a tough question that unfortunately doesn't have a straightforward answer," Saeckl said of whether casinos could mandate employees to get vaccinated.
Tribes could be wading through a legal minefield by requiring COVID-19 vaccinations, given the patchwork of exemptions and the fact that the courts have split on how various other federal laws could apply to the sovereign tribes. Likewise, the Supreme Court has yet to weigh in on "federal laws that are silent as to their application to tribes," Saeckl said.
Further complicating matters, many tribes have enacted their own laws that mirror legislation like the ADA, she added.
For his part, Parris said a potential vaccine deployment could be a key milestone in the eventual reopening of Navajo Gaming.
"We're optimistic that the vaccine is going to make a tremendously positive difference," he said.