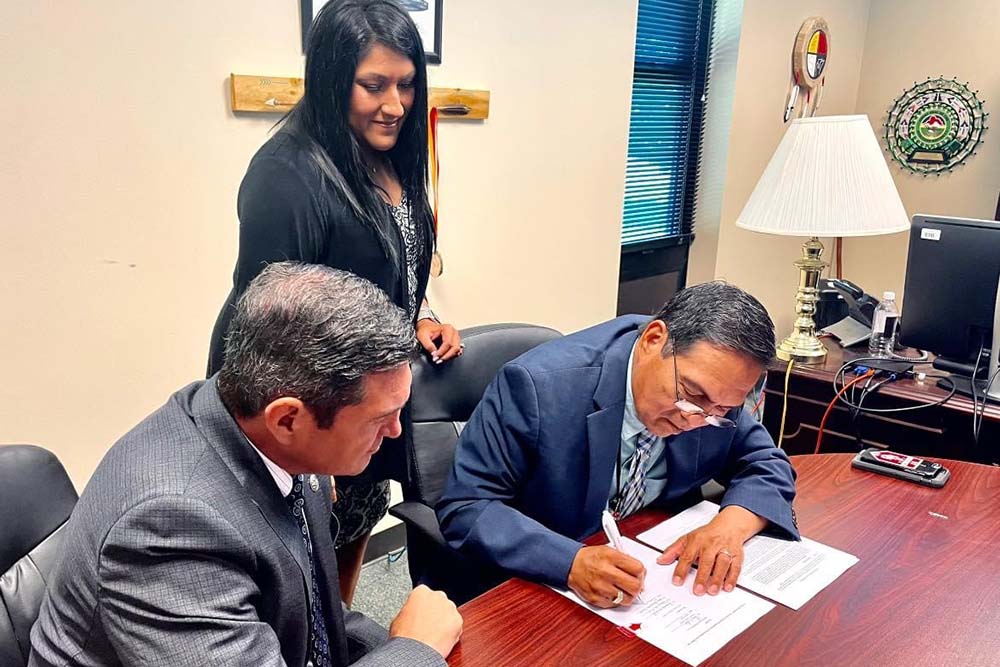 Details

Health Care
TULSA, Okla. — An Oklahoma tribe has signed an agreement to purchase a former cancer hospital in Tulsa for $40 million, a move aimed at easing the strain on its health system from the continued response to the COVID-19 pandemic.
The Muscogee Nation's council voted last week to purchase the hospital facility left vacant by the Cancer Centers of America, which closed on June 1. The tribe's health department will convert the building into a tribal hospital, a process it completed previously with similar facilities in Okmulgee and Okemah.
The purchase includes the 20-acre property and 300,000-square-foot building, which itself includes 40 private in-patient beds, 64 in-patient center bays, three operating suites and four procedure suites.
Principal Chief David Hill signed the contract initializing the purchase last week, calling it an "exciting day." Hill said the purchase would help save lives.
"This acquisition would increase our services for specialty care, addressing some of the long-term effects of COVID-19. This would also ensure that our citizens have access in times of pandemic or bed shortage crisis," Hill said in a statement provided to Tribal Business News.
The tribe will pay $5 million up front, and $500,000 per month until the contract is finalized. MCN Secretary of Health Shawn Terry told Tribal Business News the facility will ultimately give the tribe a necessary foothold in Tulsa.
"We've always thought that having a hospital in Tulsa was sort of a long-term dream of ours, and then during the pandemic, it became even more essential that we needed a place in Tulsa because there were times we couldn't get patients transferred to the Tulsa market that we needed transferred," Terry said. "It's just an outstanding location."
Terry cited instances during the height of the COVID-19 pandemic when the tribe needed more ICU rooms for patients and had none available. The newly purchased facility contains seven intensive care rooms at present, Terry said. Moreover, the tribe plans to establish long-term care for COVID-19 patients suffering from lasting effects.
"I suspect we lost hundreds of tribal citizens, we lost multiple cultural traditional leaders, both at our ceremonial grounds and our churches," Terry said. "We lost Creek language speakers, not to mention the thousands that were critically ill and are still suffering from effects of COVID. It had a very damaging effect. We will definitely be building post-COVID programs to help those still suffering."
Additionally, the tribe ultimately will realize cost savings because of the purchase, Terry said. While the initial investment will eventually total $40 million for the building purchase and $16 million in operating costs through September, that figure pales in comparison to the costs the tribe would have incurred by building its own hospital.
A tribal report delivered to the MCN National Council estimated the cost to build a new hospital at roughly $230 million, given a current construction price of $700 per square foot.
Terry estimated the tribe would also recoup roughly $12 million a year in costs typically lost to contractors used by the tribe when a tribal member needed service outside its Department of Health.
"We've really started looking at a lot of the business that we send to the Tulsa market and the money we spend in contract health," Terry said. "We really think we can save the tribe a lot of money on what we send to Tulsa, and also that our people can go to our own hospital in Tulsa."
The tribe plans to use the building to expand neurology services, such as for post-stroke and Alzheimer's care, as well improving its cardiology and urology programs. The Department of Health also plans to explore creating a 12-hour, 7-day urgent care facility, overseen by the same physicians that monitor the emergency operations in Okemah and Okmulgee.
First up, however, is getting the place online and running, starting with outpatient services as soon as early July, Terry said. Once those services are in place, the tribe plans to fully open its doors to inpatient services by February 2022.
Terry attributed the wait on in-patient services and much of the initial operating budget to the build-out of the tribe's newly acquired electronic medical record software, Epic EMR. Roughly $12 million of the initial $16 million operations fund was earmarked for the record expansion, since the facility itself would have to be wired and set up to access and report to the database.
The purchase and implementation of Epic EMR software, which will cost the tribe roughly $30 million by the time installations are complete, will improve the efficiency of the entire Department of Health by offering consistent records on patients regardless of which hospital or medical program they're in, Terry said.
"What we're doing with Epic is probably as big of a story for the tribe as the hospital purchase," Terry said. "Comparing Epic to what we're currently doing is like comparing running water to having a well. It's just that much more efficient."
The tribe is still in the process of naming the new facility, and plans to make an announcement regarding the availability of outpatient services by the end of June, Terry said.
"We're really excited about this," he said. "This will be significant for us."
Want more news about the $130 billion tribal economy?
Tribal Business News publishes thoroughly reported and well-crafted stories about Native businesses and entrepreneurs, growth and expansion strategies, best practices, economic data, government policy and other relevant business news. Tribal Business News is required reading for tribal council members and leaders of Native businesses, as well as state and federal legislators, policymakers, economic developers, entrepreneurs, bankers, lawyers and anyone interested in doing business in Indian Country.
Sign up for our free newsletter to track Native business and the tribal economy. Or sign up for a premium digital subscription ($99/year or $10/month— cancel anytime) to gain full 24/7/365 access to our business news reporting. Megwetch.