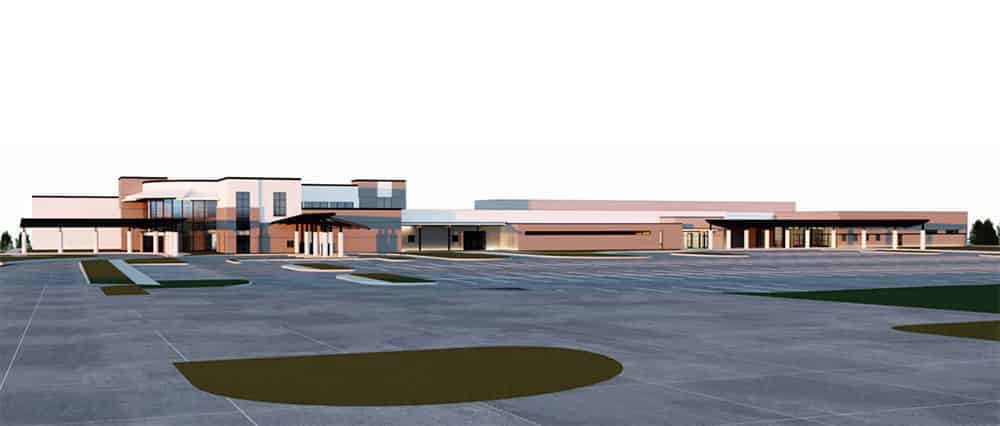 Details

By

Elyse Wild

Health Care
This fall, Choctaw Nation of Oklahoma plans to break ground on an expansion that will more than double the size of the tribe's health clinic in McAlester, Okla.
The tribe will use funds from its $944 million American Rescue Plan Act grant to fund the approximately $70 million renovation project, which it expects to wrap up in 2024.
The additional space will add more than 51,000 square feet to the clinic, giving more space to current departments and making room for new specialty services, such as gastroenterology, cardiology, otolaryngology, endocrinology, orthopedics, employees' health clinic and speech therapy.
McAlester Clinical Operations Director Tiffany Segotta says the expansion has been needed for the past five to seven years.
"Pretty much every department we have is beyond capacity," Segotta told Tribal Business News. "We have storage rooms that people are using for offices."
The Choctaw Nation Reservation sprawls 11,000 square miles over eight counties and 12 tribal council districts in southeast Oklahoma. With more than 220,000 enrolled members — 84,500 of whom live on the reservation, the tribe is the largest of the three federally recognized bands of Choctaw and the third largest federally recognized tribe in the United States, following Navajo Nation and Cherokee Nation.
The McAlester Health Clinic opened in 2007 and currently sees 1,000 patients each month, the third largest patient base of all the 30-plus Choctaw Nation health clinics. According to a statement, the expansion will allow the center to increase patient volume by up to 65 percent.
With the drastic increase in patient volume and more than a half-dozen specialty departments brought by the renovation, the health center will need to add 65 more jobs. Segotta says the center has already started working with existing staff on job training and individual development plans and connecting employees to higher education opportunities.
Never miss the biggest stories and breaking news about the tribal economy. Sign up to get our reporting sent straight to your inbox every Monday morning.
'Greater quality of life'
According to data from the Indian Health Service, American Indians and Alaskan Natives continue to experience higher mortality rates than other Americans, suffering pervasively from chronic liver disease, diabetes, and chronic lower respiratory disease. In addition, Native Americans died from COVID-19 at higher rates than every other racial group, per the Centers for Disease Control and Prevention.
Moreover, the tight space at the McAlester clinic also proved challenging when it came to social distancing requirements for COVID-19.
At the time of this writing, Choctaw Nation has a mask mandate in place.
"This investment will increase critical health care capacity for the Choctaw Nation, to better prepare it to respond to and mitigate additional healthcare demand caused by COVID-19," Choctaw Nation Tribal Council Member Robert Karr said in a statement.
Segotta notes that the limited space and staffing constraints at the health center have severely limited access to care, with a daunting waiting list to be seen by a provider.
McAlester Clinic Pharmacy Manager Christopher Duff has been working at the clinic since 2007. Since then, pharmacy staff has more than doubled to meet the demand of filling 500 new prescriptions a day.
"Because of the limited space, we have to be very creative with the staff we need to take care of our patients," Duff said.
The additional space, staff and specialties will free up the patient pipeline and reduce the need for patients to travel far distances to see specialty providers.
"My hope is that this really eases the burden of patients we currently service," Segotta said. "Overall, care for our tribal members should increase drastically with improved outcomes. We will see a greater quality of life among our tribal members and job satisfaction for our staff, who have had no personal space for a long time."