MUSKOGEE, Okla. — Bacone College nearly shut its doors at the end of its spring semester in 2018.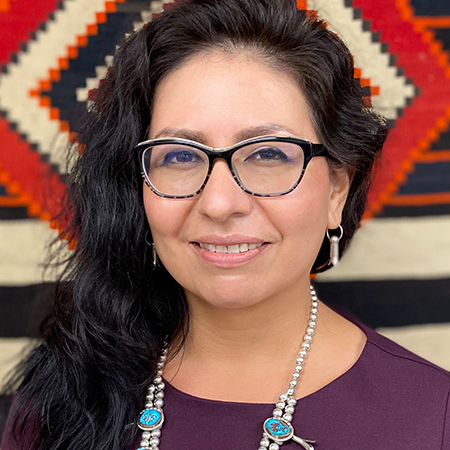 The private Christian school, which had long styled itself as having a dual mission toward Christian and Native American students, faced a slow bleed of falling enrollment and rising costs. Once at the brink of closure, the school's board began transitioning the college to a new leadership team and refocused Bacone on its roots as a Native school.
Diné tribal member Dr. Ferlin Clark took the helm as the school's president and ushered in a wave of new administrative hires and efforts that helped Bacone regain some stability.
Osage, Blackfeet, Shawnee and Cherokee tribal member Mary Jo Pratt arrived in November 2020 to become a part of the school's renaissance. She is the first Native American to take on the role of CFO in the school's 130-plus-year history, a move emblematic of the Bacone administration's focus on installing Indigenous people to leadership roles.
"I am living my ancestors' wildest dreams and I know they are with me, smiling down on me every single day. I knew Wakonda (God) had prepared me for the role of Bacone College's CFO," Pratt said. "I know I am my ancestors' prayers."
Pratt said the appointment was especially important given Bacone's attempt to recenter Native Americans in its overall mission, and its history as a Native American-focused school started by a white Baptist missionary.
"Bacone College was created with the original intent to educate the Native American. This included the 'save the man, kill the Indian' methodologies. Over time, the college embraced the history and moved to a more inclusive and diverse environment," Pratt said. "Both our students and employees have parents, grandparents and other relatives who have attended American Indian boarding schools; we share in that experience, that is a part of our common ground."
Pratt said she came to the school to continue its "miraculous" improvement from near-closure to continued growth and stability. The CFO brings years of experience in accounting, finance and operations across tribal, public and private sectors.
The first thing Pratt did was begin encouraging financial literacy across departments by involving staffers directly in the budgeting process, she said.
"With my staff leading the charge, we compiled a Budget Committee in addition to the existing financial policy and Finance Committee. We included leaders from all sectors: a student voice, middle management, faculty, adjunct as well as executive," Pratt said. "My Business Office is a big part of this effort. They are a small but mighty group and I'm very thankful for their passion to fulfill Bacone College's mission."
Slow but steady growth
Pratt pointed to the school's Composite Financial Indicator, a measure of financial health generally used to gauge the success of higher education institutions, as a sign of its improving health. In 2018, the school's CFI score dipped to 0.6, well below the score of 3 which is typically indicative of financial stress.
In the fiscal year that ended July 31, 2017, the college posted a loss of nearly $1.9 million, but reversed the trend the following year, when it was $818,000 in the black on total revenues of nearly $18.9 million, according to the most recent filings with the IRS.
By 2020, efforts to cut costs and refocus the school on its Native American students had allowed it to gain ground and bring the CFI to a reading of 1.8, still below the threshold for financial stress, but three times better than it had been.
"That kind of improvement is amazing in itself, but to do so in such a short time period is nothing short of a miracle," Pratt said. "Today, we no longer operate in the red, we are realizing stability organization-wide. We have rebuilt financial confidence and brought forth a healthy workplace emphasizing an ethical workplace culture and adherence to strong internal controls."
President Clark attributed the improvement to the school's change in direction. After 2018, Bacone shifted an increasing focus from its status as a Christian college to growing and nurturing its now-burgeoning Native American student body.
While enrollment plummeted following moves that cut athletic and degree programs in an effort to save the school, the student body went from minority Native to majority Native. In the years since, enrollment stabilized and began growing again, even during the COVID-19 pandemic. To that end, the student population grew from 274 people in spring 2020 to 325 people in the fall semester.
"Much of this growth is due to our focus on our American Indian mission. Our board of trustees is 100 percent American Indian, our student body 58 percent, our administration 85 percent, and we have five Oklahoma tribes chartering us, so we know we are going in the right direction, which is to serve American Indians as the mission has been for 140 years," Clark said.
With the school reestablishing its footing, the focus on its Native roots will carry further, Clark said. To that end, the school is attempting to gain classification as a tribal college under the American Indian Higher Education Consortium.
Doing so will enable the school to collect federal dollars based on its Native American student population and leadership, Clark said.
"Indeed, we are transitioning from the colonial, paternalistic treatment of American Indians toward an American Indian-centered college. Our governing board membership and majority American Indian student population and percentage of employees reflects our action in being a 'tribal-serving institution' and we have applied to become a tribal college through the Bureau of Indian Education," Clark said. "The stream of federal funds will serve as a baseline funding mechanism to sustain Bacone College into the far future."