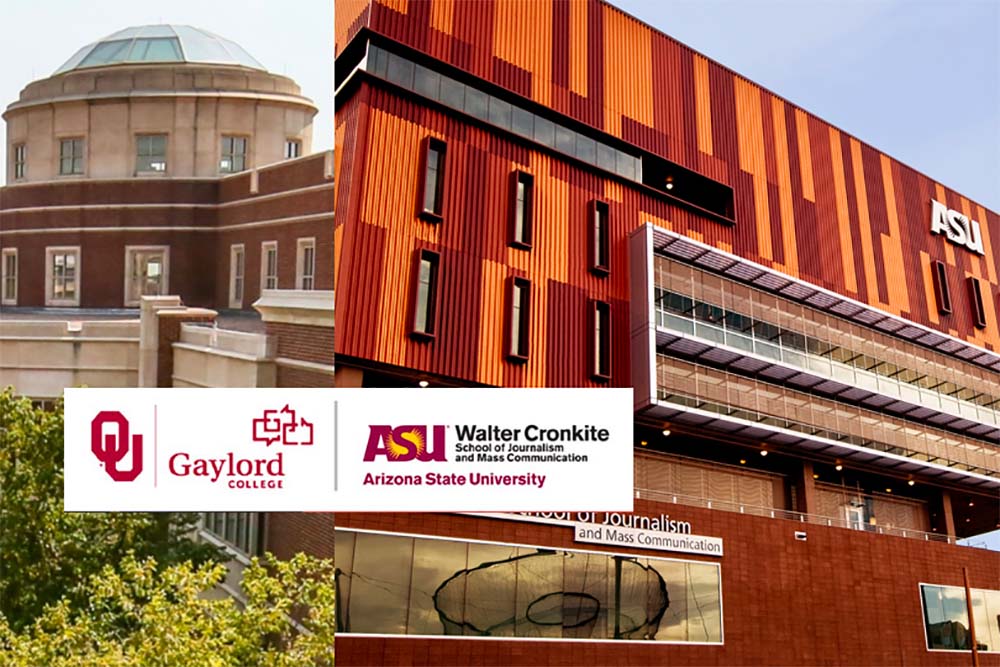 Details

Higher Education
Two schools of journalism have announced a collaboration to improve news coverage in Indian Country.
Arizona State University's Walter Cronkite School of Journalism and Mass Communication is partnering with the University of Oklahoma's Gaylord College of Journalism and Mass Communication to share news stories, pair up students for news coverage, and share a newsroom in Washington, D.C. three blocks from the White House.
In addition, students' work will be distributed to more than 100 news outlets across the country.
The collaboration will better prepare students to cover Native issues, which are underrepresented in mainstream journalism, said Kristin Gilger, interim dean at the Cronkite School.
"When we look at undercovered areas, I think it's clear that coverage of Native communities falls into that category," Gilger told Tribal Business News. "It's also part of our educational mission. It's important for our students to learn to give voice to communities that don't have a voice."
The partnership aims to "combine forces and amplify each other's work," according to Gilger. In the process, the two schools hope to train the next generation of journalists to pay attention to communities that aren't getting the coverage they deserve.
The move aligns with the Cronkite School's educational mission, Gilger said.
"At Cronkite News, we try to identify gaps in coverage by mainstream media," Gilger said. "We cover things like sustainability issues. We cover things like [Arizona] state legislature, the congressional delegation in Washington, D.C. We're looking for areas of coverage that don't get as much attention as would be justified by the audience and interest."
Ed Kelley, dean of Gaylord College, echoed her sentiments.
"This collaboration between the Gaylord News program and our friends at Cronkite will provide badly needed coverage of Native American communities in Oklahoma and Arizona, as well as nationally," Kelley said in a statement. "This alliance not only gives young journalists more opportunities to hone their skills but also a greater understanding of Native issues."
Building "a greater understanding" is crucial to covering Native stories, Gilger said. People who grew up outside of Native communities must develop an expertise around Indigenous issues as a central pillar in learning to write about them.
"If you're not from a Native community, you need to learn. Some of this is exposure. You can't cover the reservation from downtown. You have to go there, talk to people, develop sources," Gilger said. "There's a lot to learn."
Reporting on Native issues requires a different approach than standard, breaking news-style journalism, said John Schmeltzer, the Engleman/Livermore Professor in Community Journalism at the Gaylord College of Journalism. Schmeltzer also serves as content director for Gaylord News, the school's news outlet.
Getting in touch with communities that have long been ignored by the media requires building a level of trust that isn't initially present, Schmeltzer said. He pointed to a process developed during the recently completed Gaylord News project called Exiled to Indian Country, in which students charted the arrivals of 39 Native tribes to the state of Oklahoma.
Schmeltzer said interviewing the tribes was a "slow, gradual process" of building up trust over longer conversations than many of his students were accustomed to in the typical new-gathering process.
"What the students discovered and we discovered is that we had to teach the students to listen. It seemed so simple, but for students today that are brought up in instant gratification and instant answers, they have to be told you have to sit there and listen, and just be quiet and let this person you're meeting for the first time to get to know you," Schmeltzer said.
The partnership between Cronkite News and Gaylord News will allow professors like Schmeltzer to collaboratively teach students that process. In the meantime, Schmeltzer said the partnership plans to bolster coverage between the six Cronkite reporters and four Gaylord reporters stationed at Cronkite's Ambassador Barbara Barrett and Justice Sandra Day O'Connor Washington Center in the nation's capital.
"We're going to have much richer coverage coming out of Washington," Schmeltzer said. "It's going to allow us to cover more things with fewer people. We only have 10 reporters there and so there's a finite number of things you can do. But if you're working collaboratively, you can get a lot done."
Want more news about the $130 billion tribal economy?
Tribal Business News publishes thoroughly reported and well-crafted stories about Native businesses and entrepreneurs, growth and expansion strategies, best practices, economic data, government policy and other relevant business news. Tribal Business News is required reading for tribal council members and leaders of Native businesses, as well as state and federal legislators, policymakers, economic developers, entrepreneurs, bankers, lawyers and anyone interested in doing business in Indian Country.
Sign up for our free newsletter to track Native business and the tribal economy. Or sign up for a premium digital subscription ($99/year or $10/month— cancel anytime) to gain full 24/7/365 access to our business news reporting. Megwetch.