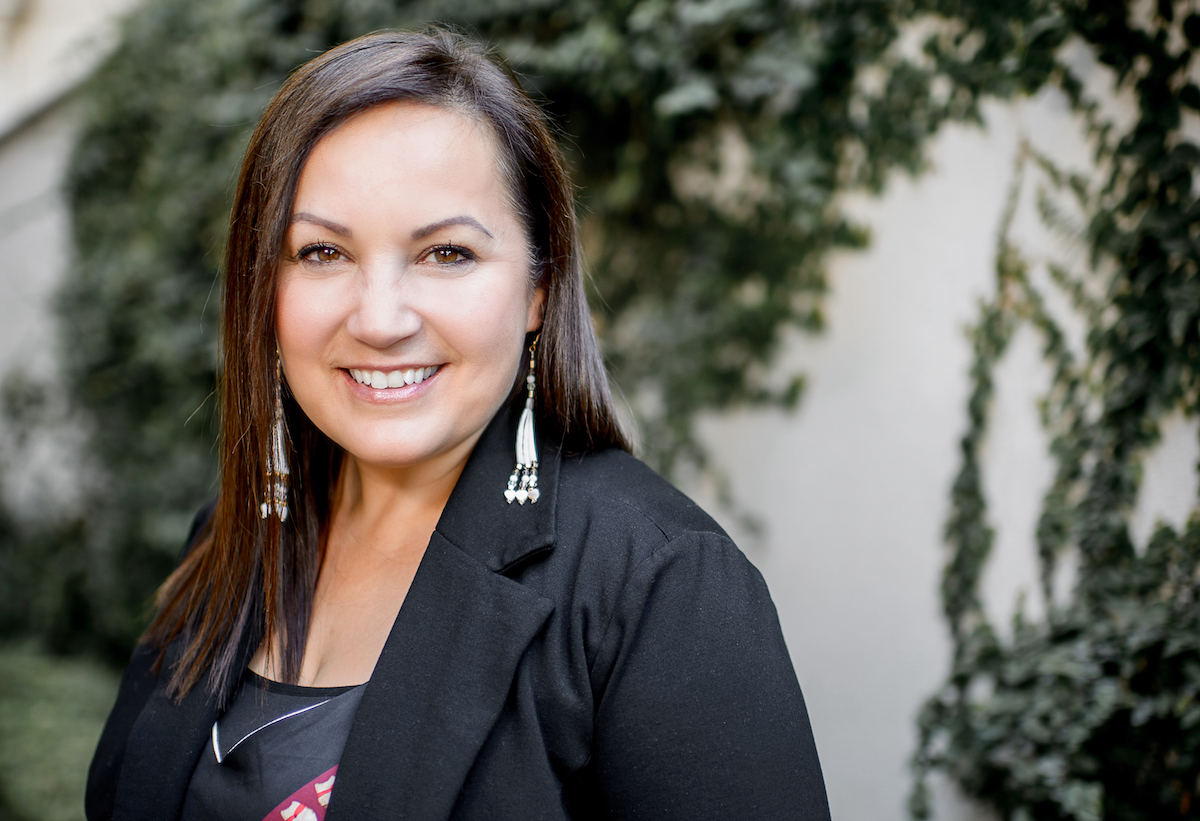 Details

By

Elyse Wild

Higher Education
After awarding more than $350 million since it was formed 53 years ago, the American Indian Graduate Fund is restructuring in a move to help even more students access higher education.
The changes include a new name for the organization, which will now be known as the Native Forward Scholars Fund.
The fund bills itself as the largest Indigenous scholarship provider in the U.S., awarding $15 million in scholarships annually.
Founded in 1969 by Rober Bennet (Oneida) and John Rainer (Taos Pueblo), the organization has funded some 20,000 scholars from more than 500 tribes. The scholars are enrolled at all levels of higher education, including more than 2,200 doctorates and 1,600 law degrees.
Notable alumni include Interior Secretary Deb Haaland, Pulitzer Prize finalist Tommy Orange and Dr. Cynthia Chavez Lamar, the director of the Smithsonian's National Museum of the American Indian.
However, recognizing the vast amount of unmet need from Native students, the fund is making some strategic changes as a way to further bridge the persistent education gap. The adjustments include creating funding streams that best meet students' needs, such as for doctoral research, professional development, testing fees, and certifications; extending scholarships to tribal descendants and members of state-recognized tribes; offering emergency funding for housing, technology and food crises; and shifting the availability of funds throughout the year.
"When I think of Native Forward Scholars Fund, I don't think of us as an organization and what we're doing, but I think of our scholars," said CEO Angelique Albert (Confederated Salish and Kootenai Tribes). "I think of those individual stories and people who are out there really pushing the barriers and moving things forward."
Albert spoke with Tribal Business News about the restructuring and how the organization is scaling to support Native students.
Never miss the biggest stories and breaking news about the tribal economy. Sign up to get our reporting sent straight to your inbox every Monday morning.
How has Native Forward Scholars Fund been restructured to better meet the needs of Native students?
I am a planner and a strategy nerd. We did a six-month-long process of strategy work. We're building out new staff in programming and new staff in development, and we're developing different support services to students.
Ultimately, the goal is to scale what we do. We've been doing it for 50 years, and we know the impact we make. We know that it's making a difference, and we need to be able to share it with the world and scale the organization. We have funded over 20,000 students, but we can only fund 18 percent of the students who apply annually. The average unmet need of our students is $26,000 a year. Our average scholarship is between $10,000 and $11,000 a year, so the funding gap just within our organization is massive.
When you look at the landscape of Indian Country, probably about 135,000 Native students are going to college, and Native Forward Scholars Fund only impacts 1 percent of the undergraduate Native students and 4 percent of the graduate Native students in this country. So we're doing great work, and we just need to be doing more.
Native Forward Scholars Fund has an undergraduate graduation rate of 69 percent, which is much higher than the 41 percent national average for Native students. What's the secret to helping students achieve that high graduate rate?
We realized early on that it's not enough to give Native students money and say, 'Bye, good luck.' Over the past 50 years, we've refined and developed a process of one-on-one outreach and support services to our students. Every single scholar who works with us has a person reach out to them at multiple points throughout the years. They help students navigate if they're having academic performance issues and connect them to resources on campus.
We also are not afraid to evolve and change. We continually survey our students and figure out what we are doing well and what we need to fix and what needs we are missing. In our annual surveys, we've noticed many things come up, and as they come up, we address them.
What's an example of addressing a need?
We're growing our mentoring programs. Everybody needs mentors, but our students have expressed the need for mentors to help them go from undergraduate to graduate school. It's helpful to have a mentor who is culturally competent. We connect students to our alumni through that program, so they have that built-in support system.
But also, we've pivoted a little bit. Students have expressed the need for not just graduate funding but also funding to support the research of their Ph.D. We've established a student emergency fund, which was essential during COVID to keep students in school. Students also expressed a need for mid-year funding. If you're transitioning from undergraduate to graduate school, that doesn't always happen right on the school year. Mid-year funding helps them to work through and persist to graduate school.
How do you work with your funders to make all that possible?
We could not do it without the unrestricted funding support we get from our donors. That allows us to pivot those funds to where they're needed most instead of the funds being designated, which is usually some of the challenges nonprofits face.
What are some of the barriers that your scholars encounter?
The number one barrier continues to be the financial resources to pay for tuition fees and whatever they need for college. From an organizational standpoint, we fund students. Fifty percent of our funding goes to 30 top institutions because they're doing it well. So we know what institutions are doing to break down barriers, like making sure there are financial resources, support services and culturally congruent resources to help students. Having Native professors, a Native curriculum and Native support services on campus are the things that are needed for students to be successful.
How does increased access to higher education help tribal communities meet their needs and grow their economies?
It's transformative, not just for individuals and tribal communities, but for us collectively as tribal people in this country. The number one thing we fund is Ph.D.s because we need Native people to educate Native people in this country. Our first experience with education was in boarding schools. More people are becoming aware of that. History is coming full circle with Deb Haaland being in her position and bringing attention to that.
Our second top-funded field is law. When you look at all the work of the tribal advocates in this country for treaty rights, sovereignty rights, and the changes they've made in this country or rights they've been able to retain, it's pretty powerful.
Business is another area that is hugely impacted. When you look at commerce in Indian Country, a lot of people think of gaming, but my tribe, in particular, has 17 different tribal enterprises that we run, from energy to banking. There are so many different industries that we're in, and we need educated people running these businesses. So, it's transformative for individuals, it's transformative for tribal communities and it's transformative for us collectively as a nation.
What are you most proud of with Native Forward Scholars Fund?
I'm proud of where we've come. When you look at the intent that (founders) John Rainor and Bob Bennett had for the organization, and you look at what my predecessors have done, they've really kept their head down and did the work and created this strong infrastructure and organization. It's my hope to really shed a light on all of the work that has been done over 53 years.