This fall, as it celebrates its 50th year, the Nebraska Indian Community College (NICC) is launching its first baccalaureate program in business administration and tribal nation building.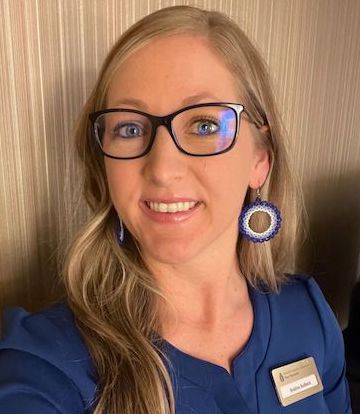 The new bachelor's degree builds on one of the school's most popular associate's degree programs for students, taking cues from the nationally known Native Nation's Institute at University of Arizona as well as tribal nation building coursework at other tribal colleges.
One very unique aspect of the new NICC bachelor's degree program is its uncommonly low cost: tuition for the program right now is $1 per credit hour.
NICC, a public tribal land-grant community college, lists four locations, including a campus on the Omaha Tribe reservation, the Santee Sioux reservation, the urban South Sioux City and the Pawnee Nation College. The school also offers online learning.
Tribal Business News spoke with Kristine Sudbeck, dean of academic affairs, to learn more about the new program. This interview has been edited for clarity and length.
Tell me about the degree program and the types of topics it covers?
The new bachelor of arts in business administration and tribal nation building eventually builds upon two feeder programs that are already existing at NICC. One is the contemporary tribal leadership track of our Native American studies, associate's degree, and then the other being the business administration track of our existing associates in business. So those two really feed into aspects of the core competencies before you reach the junior-senior level courses.
Why is right now the time to introduce this coursework?
We're really responding to the needs of our communities. We've been listening to our communities — through multiple surveys and with our students, alumni and our employee staff — (and) talking about the need for a bachelor's degree, but also prioritizing which bachelor's degree to develop first.
Business is one of our largest programs, just in terms of our student population. By making it more unique, it is really calling on the tribal nation building perspective, which is something that's been going on at large as a trend across Indian Country. So we're really trying to respond to those needs as well.
While developing the Tribal Nation building degree program, did you look at any similar programs at other universities?
Yes. So there are some universities, which are at the graduate level and one of the more well known ones being the Native Nations Institute, down in Arizona. We also looked at some of our sister tribal colleges, who already have bachelor's in business.
We also looked at how others integrated some of the other programs and what makes it tied into tribal colleges and serving the communities that we do and making it more relevant for them. Some may not even be in the title of their programs, but the courses that they offer are in line with that as well.
Will you be working with other tribes on coursework? For example, having guest lecturers?
Oh, absolutely. That is something that our faculty members have already looked into. They're doing it already with our freshmen and sophomore level classes. So I'd imagine that we will definitely be moving forward for the junior-senior level coursework as well.
Who is the coursework targeted at?
Nebraska Indian Community College is an open-enrollment institution. We welcome any and all learners. We also have a partnership with Pawnee Nation College, while they work towards getting their own accreditation down in Pawnee, Oklahoma. Our accrediting agency has also approved us to offer online coursework, which allowed us to have students across 19 different states so far.
How will this benefit Indian Country?
We believe in empowering our students with tools for tribal nation building, so that our communities can achieve a higher level of sovereignty and self-determination. And beyond serving the students in the community and Indian country at large, we have that online accessibility so students can be joining from wherever they're located, as long as they have the technology and internet capacity for this program.
Is there anything else you would like to add?
One of the things that we are striving to do is being able to make higher education more accessible and affordable. Right now, we still have $1 per credit hour tuition for the next academic year. So if you're wanting to start this bachelor's degree, now is the time. Being a full-time student taking 12 credit hours will only cost $12.
It's really an exciting time to be at an NICC, we are really growing and building capacity. But just to be able to offer this first bachelor's program is something that's been in the dream for our board of directors, our students, and our communities for a while now. It's really great that it's coming into fruition during our 50th anniversary this year.