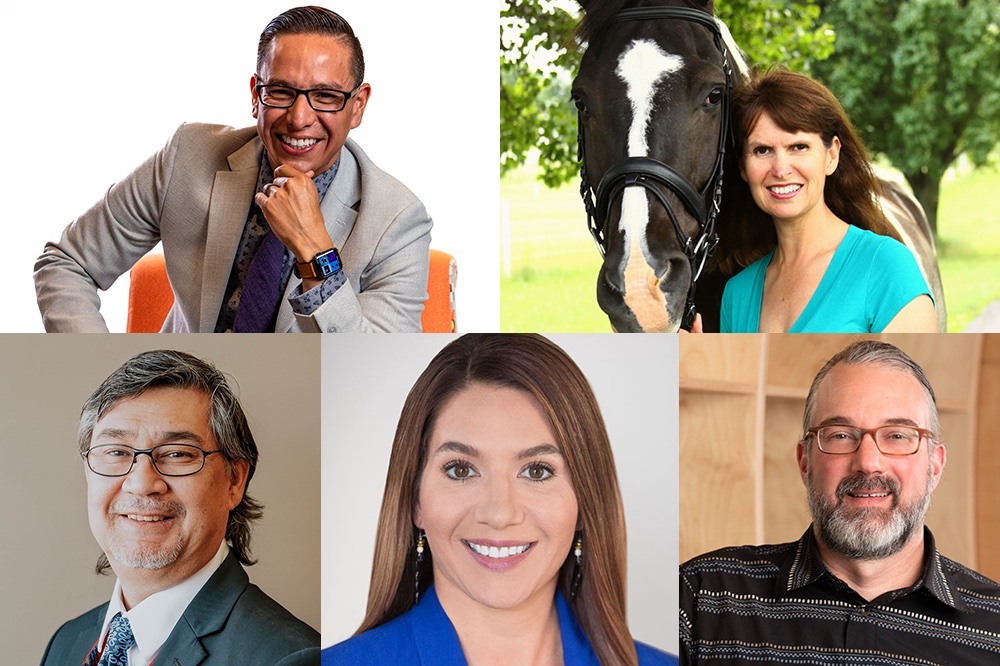 Details

By

JOE BOOMGAARD and CHEZ OXENDINE

Real Estate
Indian Country has struggled for years to develop housing that meets the needs of its citizens. Now, as more tribes around the country are developing economies based on a diversified portfolio of businesses, they're finding it's just as hard to build-out workforce housing for the people who they employ in tribal enterprises.
To overcome that challenge, tribal entities, advisers and financial institutions are having to get creative and come up with novel solutions.
That was a key theme from a recent executive roundtable hosted by Tribal Business News and sponsored by Rosette LLP, a majority Native-owned law firm that practices in all aspects of American Indian law from offices in Arizona, California, Michigan, Oklahoma and Washington, D.C.
Participating in the discussion were:
Here are some highlights from the discussion.
What part of the tribal housing sector do each of you touch through your companies and professional work?
PICCOLO: Northwest Native Development Fund just ventured into the housing foray in the last five years or so. We realized everyone's got a crisis and in our case it's a lack of housing. We've started on a smaller scale doing some mortgage financing, mostly along the lines of manufactured housing because a lot of our people, that's just where they go. A lot of financing today penalizes people getting into manufactured homes as if that's a bad thing, so we wanted to try and provide a product that says, 'We're not going to penalize people.'
We also started building houses. We had some capital on our books, and in our area, there are people who've been approved for financing but there's just nothing to buy. We built our first home about two years ago, sold it and now we bought one from a bank. We're almost done with that.
VANDENBUSSCHE: What I do now is essentially help run the project teams for all the different projects that we're doing across the country. I also do a lot of the work on the front end, working with tribal organizations, a lot of consensus building and workshops, making sure that we're right fitting the solutions that they need. We're doing some work with the BIA and the IHS where they're building facilities, but also providing housing for staff to get talent there as far as health care providers, educators, and then having them live on reservation.
GOSLIN: Mille Lacs Corporate Ventures got involved in housing because of the ability to compete for workforce. We found that most of our folks had to drive over an hour every way to get to work every day. That provided a challenge for us to basically compete. For the longest time, I think, we tried to compete inside the four walls of our organization. That's where we started researching and finding other ways that we can compete for workforce, to bring them closer to where they work and also improve their quality of life, which we've found has been really, really neat for our workforce.
FOGG: Our biggest funding program that we work with is the Low Income Housing Tax Credits, but we also help with anything supplemental to those programs. We've done work with lots of different programs. We're working on closing a project in New Mexico with nine different funding sources that go into the project. It didn't start out that way. It started out with tax credits and a couple of state programs that were awarded at the same time, but then COVID and costs and everything happened. Rather than scrapping a project because we're running out of funds, we go after more and more and more funds and try to find ways to get it fully funded and keep it moving along and find creative ways to do that. … We try to get the money from so many places, and then, if we can, we try to reimburse any money that the tribe or the housing authority ended up putting in. … Ideally, we end up putting in very little of the tribe's money once we get it back. It doesn't always work out that way, but that's our goal. We will do as much work as possible to help get the least amount of funds from the tribe and the most amount of funds from other places.
GIBBS: One thing that I've noticed over the years is my clients build things like hotels and office parks and all kinds of fun real estate development and other things and then they can't find any workers. I also sit on my tribe's EDC, Odawa Economic Development Management Inc. We found the same issue at our tribe because we're redeveloping our old casino site. With commutes to work, being in a resort area, inflation, all of those things, I think housing has just become a huge problem, especially in Indian Country. We're really trying to find creative solutions to let housing supplement the tribe's non-gaming economic development. For some of those programs or with LIHTC, Lorna's talking about, 'How do we find the money?' For a lot of tribes, that's a big issue. LIHTC is great, but not all tribes can fit that gap, and so finding the money is a problem that's out there that I've been dealing with both on the business side as well as the legal side.
What are some innovative housing solutions that tribes are using to help solve or alleviate workforce challenges?
GIBBS: At OEDMI, we realized that workforce housing was needed. We're on trust land. We employ about 200 people on just the first phase of our development right now. Once we're fully built out, we'll anticipate having 600 to 700 people that we need to work there. The surrounding area for our res has just a huge housing crisis. We didn't want to just look at what we think about as traditional tribal housing. We really needed that workforce. Yes, we'd love to give priority to tribal citizens, but ultimately we want to give priority to people that are going to work for us, people that want to live and stay there and work there. The problem that we found was primarily the lack of capital.
We stumbled upon the LIHTC program (but) the problem with that is that there is a little bit of a gap. LIHTC doesn't fund 100 percent of your project. That gap for some tribes is fine. Tribal government will write a check for it or the EDC will write a check for it. We don't have those kinds of resources. We had to figure out how we find those funds and also who we partner with to do it. We were luckily enough to find (an enterprise) owned by Oneida Nation in Wisconsin. They actually have a pretty hefty real estate portfolio of their own. They've actually been a huge help to us. We solidified our partnership early this year and so they've been able to really be the ones to be boots on the ground and running this project.
We couldn't go out and find an outside investor. But tribe to tribe, they understand the need and they understand the importance of supporting our non-gaming economic development for the next seven generations and beyond. They get it. They're here for the cause, too, and not just to make money. Obviously, we have to cash flow a little bit or at least not lose money on the deal. Going outside of Indian country, it'd be near impossible to find someone to say, 'Yeah, here's some cash, we'll help you out.'
GOSLIN: We went to other rural communities in Minnesota that had a large employer and we just started learning from them. … Polaris, Arctic Cat — some of these big employers are in small towns and so we learned what they do. One of the outcrops of that was specifically around a resort community that (offered an) international student program. That's when we started leaning into workforce housing.
One of the things we learned was just to become familiar with what the model was and what the economic impact was, so we could sell ourselves and all of the different stakeholders that we had in this process. We started learning how many people would go in there, what are the incomes that would go in there, what's the economic lift to the region where we'd install one of these things. We learned about per pupil reimbursement rates from the state of Minnesota. We're able to figure out all the math behind it and then it became this proactive approach to engage with the communities. In small rural places, people are afraid of density and all of our projects are multifamily residential projects.
We finished our first one in 2018. We're in the middle of construction of our second. Our third is hopefully nearing getting financing squared away. Then we're already looking for a site selection for our fourth one. All of our projects are on fee land … which comes with its own set of complexities.
Along with your own developments, what else is Northwest Native Development Fund doing to address housing in your community?
PICCOLO: We've tried to get the private sector to help us, and we've created a loan product for construction projects. There's no shortage of ramshackle buildings and houses on our reservation. We've got houses going back to the old HUD days from when they built (Grand Coulee Dam) back in the '30s. These temporary homes for dam workers — they're still standing, and people are still living in them. We created this product for a private couple who want to get into one of these ramshackles, fix it up and then put it on the market. That product is fairly easy to get into. The interest rates are competitive and there's no payment for six months.
We call it the upstream housing initiative. You've got people coming to us and saying, 'Our auntie is selling their house; they need cash up front for the purchase and to start getting materials for fixing the place up.' We started pushing capital into the hands of some of these private citizens that can start rehabbing these homes and dropping more of them into the market.
Specifically to the Low Income Housing Tax Credit program that some have mentioned in this conversation, we've reported that some states have started implementing set-asides to help tribes better access that funding mechanism. How well do those set-asides work?
FOGG: Our company is not an advocate of a tribal set-aside. They create two different competitions. For example, in California, all funded projects have to get the maximum amount of (application points). Through a tribal set-aside, you can get one or — if you're lucky — two projects through any given year, out of 108 tribes in the state. If everyone played nice, then every 54 years or so, a tribe would get a project to themselves. That just doesn't work.
What they should do is they should just allow the tribal projects not to have to compete for those points that are location specific, being located near the grocery store and the libraries and the parks, and just say they get points for being a tribe. We want to be able to compete against everybody else. Washington State does not have a tribal set-aside and for the most part, every time we apply in Washington, we get funded because we get points for just being a tribal project. I think it's a program that works.
The other problem with tribal projects is that we have to navigate cost and credit caps, and those caps don't take into account how expensive it is to develop on tribal land. When they give points for being cheaper or paying upfront for some of the costs, we have to leverage a whole lot more money for that project. That's why we end up having to go back out and get these (many additional) other sources of funds.
Residents have to be at or below 60 percent of the area median income to move into a LIHTC project. How do the income limitations for that and other programs play into building and managing these projects?
PICCOLO: We've got nurses and teachers and people that make more than 80 percent. They might even be a hundred percent. But there's a discrepancy where you can make 100 percent of the area median income and you still can't afford a house because you're competing with somebody from Boeing or Microsoft. That's why we decided we didn't want any ties or anyone telling us how to handle our projects. We have to have houses for nurses. We needed to have housing that catered to people between 80 and 100 percent. What is doing that? Is there something else out there?
GIBBS: I think that's a really great question that we need to solve because that's the gap in a lot of areas. We can use LIHTC to build low-income housing and workforce housing, but then we're capped there.
FOGG: You can do mixed-income with LIHTC. The problem is you're not going to be fully funded, so you're going to need a great funding source on the development side.
Given the challenges in accessing capital for projects in Indian Country, how does that trickle down to the project side?
VANDENBUSSCHE: Specifically, we're doing a project right now with (Little Traverse Bay Bands of Odawa Indians) in downtown Harbor Springs (in Northern Michigan). We're working with ARPA funds that were allocated a long time ago, and trying to get as much out of those as possible. It's tough because we've designed and redesigned that project probably three times trying to find the sweet spot (between infrastructure costs and housing costs for the project). One advantage we have is working with Greenfire (a construction company owned by the Forest County Potawatomi Tribe). We can really get fine details of what the construction will look like, based on their experience because they've done tons of housing. We're trying to build as much housing out of that ARPA money as we can. We're doing elder housing and multifamily housing adjacent to each other because multi-generational living is super important.
I think the other challenge that we have, too, is that we do a lot of work with minority owned businesses even here in Kalamazoo, and they don't have the capital for a $15,000-$30,000 pro forma study. We're trying to figure out if there's a way to develop a nonprofit of multiple tribes where there's a funding source that tribes could go to, to say, 'I have this project and I want to do it and not have to jump through a huge amount of hoops to get that initial funding to set up the pro forma.' (We're looking at) how do we create that consortium of tribes that we could end up creating a funding source for minority and tribally owned companies to create some of these projects.
Speaking of ARPA dollars and other recent funding opportunities: How well has this ongoing influx of federal funding in Indian Country dealt with some of these housing issues?
GIBBS: (Housing) is truly a crisis everywhere and just much more intense and extreme sometimes in Indian Country. I think it is a lost opportunity because there's a whole lot more the federal government and even state governments can do to support housing. Part of the advocacy that needs to happen on behalf of tribes is to not just promote tribal housing in the way we think about it, but to promote it as an economic development tool. 'With these homes, with these additional units in our community, we can provide jobs, we can put people to work, we can put food in people's mouths, we can do all this stuff and have a better economy thriving rather than having no housing, no workers, no flow of money through any community.' I think that's how we have to change some of the conversation in order to get some of those funds.
PICCOLO: (Housing) should be the conversation. (Housing) and economic development, they're more than overlapped. You've got no place to live: What are you going to do? … We've got the funding for economic development now, but we've got no place for anybody to live once everything is developed. The two have got to go together.
How are supply chain issues, inflation, materials cost challenges and economic uncertainty affecting your outlook for projects in the next couple of years? How are you factoring this volatility into your plans?
PICCOLO: Our second round house build was predicated on housing prices from two years ago. We got a $100, 000 grant. By the time we got it and everything got rolling, it's $75,000 short. We just roll with it and figure it out as we go. I don't have a magic elixir for it other than, damnit, people need a place to live and I've got a little cash, and we're going to figure it out.
GOSLIN: I think the trick is to be industry aware. We get regular reports about commodity-level prices in the construction industry. With one project, we saw an increase in prices of about 15 percent over six months. We became well-versed in value engineering, like using a modular builder in that project. We were able to shift some things we were doing onsite into the plant, which found some efficiencies, or shrink down some of the unit sizes. We have to understand the world we live in and take into consideration some extra contingency dollars while knowing there's a lot of volatility.
GiBBS: I think you can build in some flexibility into your contracts too. Have a knowledgeable lawyer work through those things, and have communication between the owner and contractors about knowing stuff is going to go crazy. What's the process to figure this out? What do we do when we can't get materials or prices skyrocket? Put that in your agreement so when it happens, everyone's prepared, and it's not a catastrophe.
​​The other thing that I've been seeing from a lot of my clients is they're engaging outside independent third parties to do a triple check on construction costs (to) understand what are the actual costs, how can we add value there and really try to hold contractors true to the cost and what's happening in the market. That gives the tribal EDC or whoever's doing that construction a little bit of breathing room. It lets you sleep at night a little bit knowing that there's someone on your side to help advocate for those things too.
VANDENBUSSCHE: I feel like there's a lot more synergy in creating partnerships between tribes for economic development. What are those, and how can we leverage them for housing not only on reservations, but within communities where our tribal members are living? I'm thinking about what tribes have professional services, engineering and architecture services, construction companies or subcontractors?