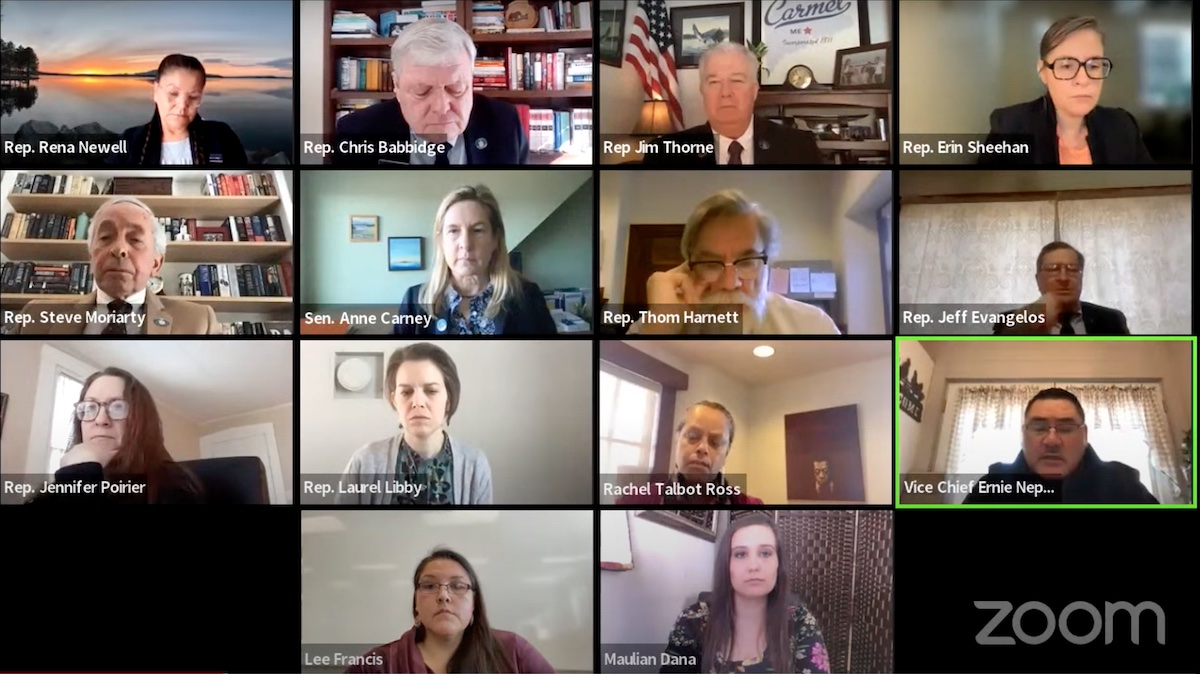 Details

By

Elyse Wild

Sovereignty
After a series of disappointing outcomes, including legislation that was tabled at the last minute in 2021, the federally recognized tribes in Maine, known collectively as the Wabanaki, remain hopeful for progress this year on restoring their sovereignty.
On Tuesday, Feb. 15, the Maine joint judiciary committee heard nine hours of emotional testimony from citizens urging them to pass LD 1626, a bill that would finally restore sovereignty to the Maliseet, Micmac, Penobscot and Passamaquoddy tribes. While the Wabanaki tribes are federally recognized, they remain under state control.
The issue dates back to 1980, with the passing of the Indian Land Claims Settlement Act. The act was a response to litigation declaring that under federal law, the Passamaquoddy Tribe and Penobscot Nation had legal claim to a substantial amount of land in the state.
The act was intended to provide funds and outline a process for tribes to buy land to replace the unlawfully seized land. However, the wording limits federal Indian law from automatically applying to Maine's tribes and places them under state jurisdiction.
This limited sovereignty restricts the tribes' abilities to set their own tax structures, regulations on fishing and hunting on tribal land, land use and acquisition rights, criminal justice and more.
A 2019 report compiled by the Human Rights and Indigenous People's Clinic at the Suffolk University Law School, as requested by a state task force, identified 151 federal Indian laws passed since October 1980 that do not benefit the Wabanaki tribes.
The state's relationship with the Wabanaki is historically fraught. The tribes have lived in what is now Maine for more than 15,000 years. Their populations have been depleted by 98 percent.
Lisa Montgomery, a tribal council member of the Penobscot Nation, notes that previous support for Maine's interpretation of the Settlement Act was rooted in racism.
"There was a lot of fear-mongering in the '80s," Montgomery said. "There was a lot of 'the Indians want your land.'"
In all, 1,434 citizens submitted written testimony to the judiciary committee before and during the Feb. 15 hearing voicing near unanimous support for the bill. Many of the testimonies cited the urgency to right historical wrongs:
"This is not ancient history — it is recent history and it is ongoing. The Wabanaki people welcomed my direct ancestors and perhaps some of yours to these shores 400 hundred years ago."
"Passing LD 1626 gives us a chance to make progress toward acknowledging and repairing some of the damage of the past. It's not just something we should do because it's right, but because it's owed."
"For 40 years, Maine has moved in the opposite direction from that of federal support for Indigenous self-determination. The need for sovereignty for the tribes in Maine is immediate and necessary."
Maine People's Alliance (MPA), a grassroots organization coordinating community action around legislation, contributed more than 100 pieces of written testimony and nearly a quarter of the live testimony in favor of the bill at the hearing.
"It is morally urgent," said Robert Laraway, a community organizer for MPA. "We are also just pissed off that we have inherited this terrible history, and we are trying to do right by our neighbors. People care deeply about living in a place that treats people justly."
Montogomery underscores the weight of tribes being forced to work within the state system that isn't designed for them and often doesn't understand their needs.
"The systems that we have had to place ourselves in as a tribe aren't traditionally how we have been sovereign as a government," she said. "To be in this system that isn't designed for our DNA … it's not anger anymore, it's sadness."
While the tribes have representatives that work within state systems, Montgomery says this depletes vital bandwidth for tribal leaders.
"The tribes have had to have a representative go to the state and work within that system and not focus on keeping our own customs, traditions and laws," she expressed. "It's pretty bad."
Montgomery also cites the federal Indian trust responsibility to protect tribal treaty rights, land, assets and resources.
"The federal government is supposed to take care of the tribes," she said. "It's as if the state is stepping on our oxygen hose."
While public support behind the current legislation is substantial, LD 1626 has been met with resistance from the governor's office for being too sweeping. In a Feb. 10 op-ed published in the Bangor Daily News, Jerry Reid, chief legal counsel to Gov. Janet Mills, wrote that "we are concerned that some of the legislation's broadly written provisions would lead to new legal disputes over their meaning and effect at a time when we are working so hard to improve relations."
Ongoing negotiations aim to finalize the language in the bill in hopes it can be enacted during the current legislative session. A work session for LD 1626 and two other bills related to tribal relations is scheduled for 9 a.m. on March 3. The session will be live-streamed here.
Want more news about the $130 billion tribal economy?
Tribal Business News publishes thoroughly reported and well-crafted stories about Native businesses and entrepreneurs, growth and expansion strategies, best practices, economic data, government policy and other relevant business news. Tribal Business News is required reading for tribal council members and leaders of Native businesses, as well as state and federal legislators, policymakers, economic developers, entrepreneurs, bankers, lawyers and anyone interested in doing business in Indian Country.
Sign up for our free newsletter to track Native business and the tribal economy. Or sign up for a premium digital subscription ($99/year or $10/month— cancel anytime) to gain full 24/7/365 access to our business news reporting. Megwetch.