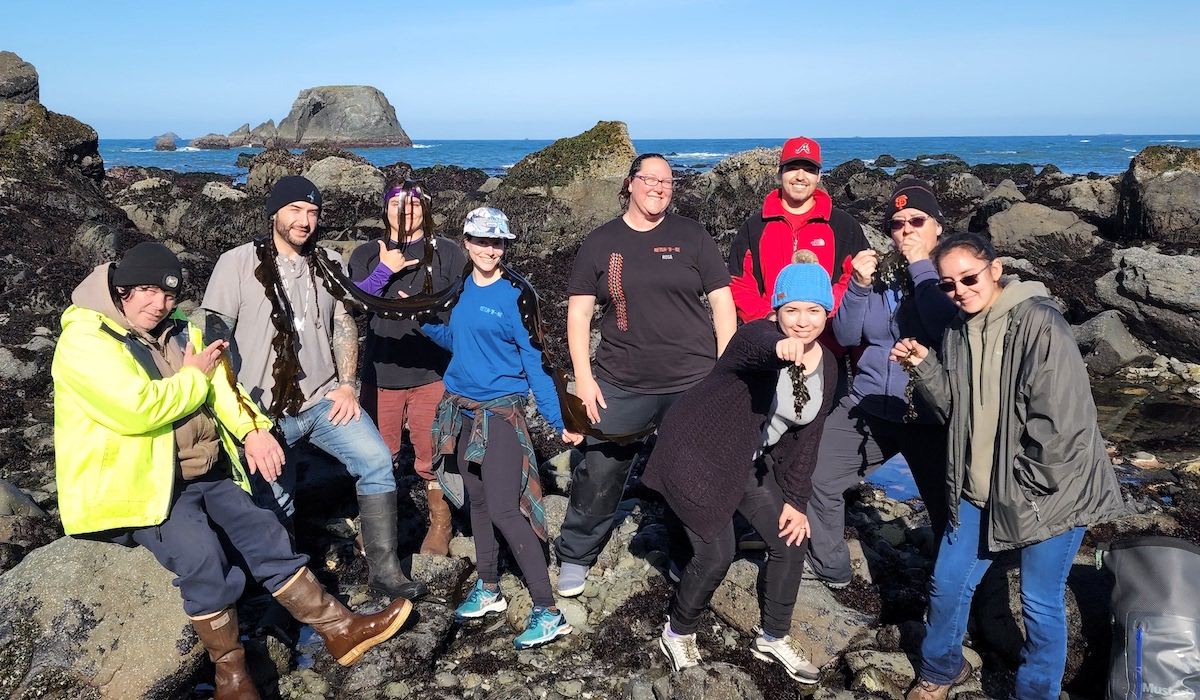 Details

Sovereignty
Five tribal nations in California are coming together to provide Indigenous perspectives on sustainability to co-manage and monitor the state's coastline.
The group, called the Tribal Marine Steward Network, includes the Tolowa Dee-Ni' Nation, the Resighini Rancheria, the Kashia Band of Pomo Indians, the Amah Mutsun Tribe, and the Santa Ynez Band of Chumash Indians, its newest member.
Initially launched in 2020 with four tribes as part of a $1 million pilot program with California's Ocean Protection Council, the network is now marking its full-scale launch with a new infusion of funding.
Nina Hapner, director of environmental planning for the Kashia Band of Pomo Indians of Stewarts Point Rancheria, says the Western approach to coastal land and ocean management lacks tribal perspectives on sustainability, leading to overfished, overhunted, and overfarmed regions all up and down the California coast.
"When the state issues permits and says, 'Yes, you can go and gather seaweed, you can go and gather mussels,' there's very few people … that know what it means to do it responsibly," Hapner told Tribal Business News. "The state is issuing this permit, but there's a hole here. You do the management, but you're not relaying that to the people."
Never miss the biggest stories and breaking news about the tribal economy. Sign up to get our reporting sent straight to your inbox every Monday morning.
The Tribal Marine Stewards Network's full launch, supported by $3.61 million in new funding from the Ocean Protection Council, will enable tribes to do more of their own monitoring and data-gathering and implement their perspective on the best way to manage the coastal lands.
"All of the information received is from a Western viewpoint. It's not that it's not good science, because it is, but it's missing things," Hapner said. "Tribes have been here on this landscape before any of those governments came into play. Our tribe has a lot of science and knowledge that hasn't been asked for. For us to be able to do this, the tribe itself is using that tribal science and tribal knowledge."
Resighini Rancheria Executive Director Megan Rocha called the Network a step toward reclaiming unceded rights to the ocean, building on tribal exemptions from California state regulations governing hunting, fishing and gathering.
Those exemptions meant that tribal monitoring — such as tracking wildlife resources like rockfish, candlefish, sea anemone, and surf fish — was already underway when the idea for the Network came up. Rocha said member tribes wanted to figure out how to build a co-management relationship with the state.
"We worked really hard to sort of roll (our existing efforts) into what long-term monitoring and management would look like," Rocha said. "We asked ourselves: How do we do that in a collaborative way?"
Rocha said that support from the California Ocean Protection Council represents the first step in that collaboration. The funding, alongside tribal cooperation, will help member tribes build capacity for renewed monitoring efforts along the coasts.
"We need to make sure that tribal communities are driving the work and that we're being responsive to the tribal communities we work for," Rocha said. "We're all supporting one another, leveraging each others' expertise, trying to maximize opportunities, training opportunities, so each tribe isn't trying to figure this out on their own. We can collaborate and find opportunities to support one another."
Those opportunities could include teaching conservation techniques to Native youth or interviewing elders for information about which species face the steepest challenges to their survival.
Moreover, increased capacity could create internships, employment opportunities and eventual careers for newfound data gatherers. In turn, tribal-led data gathering can help define what research and policies are required on the state level to improve the situation along the coast.
According to Rocha, preliminary studies have already shown "serious declines" in a range of species in coastal lands and waters. Some species don't have widespread commercial or recreational use, meaning they've slipped under the state radar, but they remain vital to tribal communities.
"They're essential to tribal lifeways and continuance of culture and continuing to eat a traditional diet," Rocha said. "It's really important to preserve them."
On a broader scale, tribes' lack of input on coastal management also represents a disconnect from their ancestral homes. Training tribal members to help with data gathering and stewardship can help rebuild that relationship.
"The (Resighini Rancheria) are Yurok people, and it's mostly Yurok territory along the coast, so people have been removed, in a sense, from having authority over those areas," Rocha said. "This is providing opportunities for people to connect to those areas."
Hapner looks forward to providing culturally-informed perspectives in ways that have traditionally been ignored. She said that could bring questions of resilience and sustainability to the forefront, rather than discussions of profitability.
"Tribes have a lot of knowledge and a lot of information, and the opportunity to put that together and utilize it has not been allowed," Hapner said. "You watch things happen to your landscape, and there's not much you can do because you weren't included in the conversation. Now we're going to be a part of this and have entities and agencies taking that step to listen and maybe incorporate that information."
Want more news about the $130 billion tribal economy?
Tribal Business News publishes thoroughly reported and well-crafted stories about Native businesses and entrepreneurs, growth and expansion strategies, best practices, economic data, government policy and other relevant business news. Tribal Business News is required reading for tribal council members and leaders of Native businesses, as well as state and federal legislators, policymakers, economic developers, entrepreneurs, bankers, lawyers and anyone interested in doing business in Indian Country.
Sign up for our free newsletter to track Native business and the tribal economy. Or sign up for a premium digital subscription ($99/year or $10/month— cancel anytime) to gain full 24/7/365 access to our business news reporting. Megwetch.