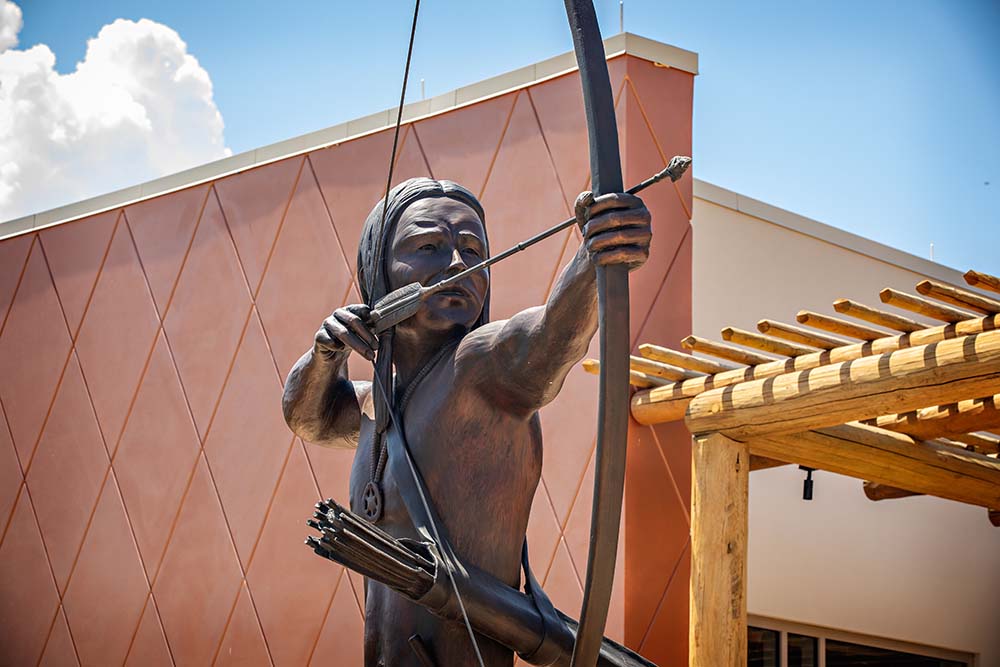 Details

Tourism
DURANT, Okla. — An Oklahoma tribe will open the doors on a $75 million cultural center in late July after nearly three years of construction.
The Choctaw Nation of Oklahoma began building the Choctaw Cultural Center in 2018, with a planned opening in fall 2020. When COVID-19 hit, the tribe began experiencing delays, pushing back the opening to this summer.
Cultural Center Senior Director Stacey Halfmoon said the 100,000-square-foot facility will house a range of exhibits and features, including a permanent history of the Choctaw people, models of Choctaw winter housing and a stickball field. The Center will also host the Champuli Cafe restaurant and the Hvshi Gift Store, which will provide a business opportunity for Choctaw artists.
"Choctaw Nation has a registry of artists, and it's given us a chance to really activate that registry and reach out and have a lot of our artists featured as well as some other Native artists and other Native-themed merchandise," Halfmoon said. "Hvshi is a really nice gift store; we're excited about that."
Admission for adults to the Cultural Center will be $12 per person, with discounts available to children, veterans, senior citizens and college students.
Halfmoon said that the Choctaw Nation considers the new cultural center as both a tribal service and a business enterprise.
"I've told some people we're kind of a hybrid," Halfmoon said. "There are opportunities for earned and non-earned revenue through the cultural center. We're also a service to the Choctaw people that's offered by the tribal government."
While revenue isn't the center's primary focus, the tribe believes it will get a return on its investment given its location in Durant, Oklahoma and through joint advertising with the nearby Choctaw Casino Resort.
There's a market of 350,000 nearby residents — 11,000 of whom are Choctaw tribal members and 55,000 of whom are school-aged children — in addition to the 2.5 million yearly visitors at the Choctaw Casino Resort, Halfmoon said.
"What's exciting is I think this cultural center puts us as more of a focus for tourism in the region," Halfmoon said. "There are certain things we will be interested to track. We hope that the visitation projections … are on target."
Optimism in a slow return to normalcy
Many tribes and Native American business owners share Halfmoon's optimism for the cultural tourism industry.
According to a 3,000-respondent survey of Native-owned or tribally run tourism enterprises conducted by the American Indian Alaska Native Tourism Association, 48 percent of respondents expect regional tourism to rise throughout 2021.
According to AIANTA's survey, 2020 was a disastrous year for Native tourism. More than 26 percent of respondents reported temporary business closures, and 20 percent saw a "significant reduction" in their tourism marketing budgets. Just one-third of the respondents expected to increase tourism employment for the year.
"Not unexpectedly, sentiment about the immediate future of tourism in Indian Country is mixed. While most respondents feel there is room to grow, many are predicting a freeze on new tourism industry hiring, which is a concern for the economies of these communities," AIANTA CEO Sherry Rupert wrote in the report.
However, the revenue outlook for 2021 skews more positive: 70 percent of respondents expected growth in tourism revenues this year, and nearly 20 percent indicated they expected growth of more than 5 percent.
Moreover, the United States is trending toward a slow return to normal tourism levels, according to a report by tourism market research firm Destination Analysts. The firm's latest report found that more than eight in 10 Americans plan to travel in the next six months, the highest reported number since the pandemic began.
Native American cultural centers and museums have proven to be a popular way to capitalize on a slowly returning tourist market. Multiple such projects across the country are slated to open in 2021, including the First Americans Museum in Oklahoma City and the Oglala Lakota Living History Museum in Cactus Flats, S.D.
"Cultural centers and museums are a key ingredient in attracting visitors to Native lands," AIANTA's Rupert told Tribal Business News. "They offer dual benefits for tribal nations. First, authentic visitor experiences are exceptionally popular with travelers, who not only pay admission fees but also spend their discretionary visitor dollars on ancillary experiences like food and beverage, optional tours and educational programs, and of course, handcrafted artworks in the gift shops. Not only do these visitor dollars support jobs, but they do so in a way that allows tribes to tell their own stories while also perpetuating culture for future generations."
Another example can be found on the West Coast: The Agua Caliente Band of Cahuilla Indians broke ground in May on the Agua Caliente Cultural Plaza in Palm Springs, Calif., with a plan to open the new center in 2022. The center will include a museum, spa, trail and cultural gardens. Tribal chairman Jeff Grubbe said in a statement that the new center will be a "hub" for cultural tourism in the area.
"Our new Cultural Plaza provides an incredible opportunity to share and celebrate our history, culture and traditions with this community and visitors from around the world," Grubbe said. "Each federally recognized tribe throughout this country has a distinct culture that includes traditions, language, historic clothing and housing styles as well as historical food and medicine preparations. We want to share that with others as well as acknowledge the fact that we are alive and well today living in the modern world."
Halfmoon shared a similar sentiment about the Choctaw Cultural Center, and said a successful project could lead to more in the same vein going forward.
"If we can be a place that feels like home to Choctaw people that is actively used to teach and to learn and to perpetuate the beautiful culture, we'll have succeeded," Halfmoon said. "I think this cultural center element is opening up the door for us for more heritage tourism."
Want more news about the $130 billion tribal economy?
Tribal Business News publishes thoroughly reported and well-crafted stories about Native businesses and entrepreneurs, growth and expansion strategies, best practices, economic data, government policy and other relevant business news. Tribal Business News is required reading for tribal council members and leaders of Native businesses, as well as state and federal legislators, policymakers, economic developers, entrepreneurs, bankers, lawyers and anyone interested in doing business in Indian Country.
Sign up for our free newsletter to track Native business and the tribal economy. Or sign up for a premium digital subscription ($99/year or $10/month— cancel anytime) to gain full 24/7/365 access to our business news reporting. Megwetch.