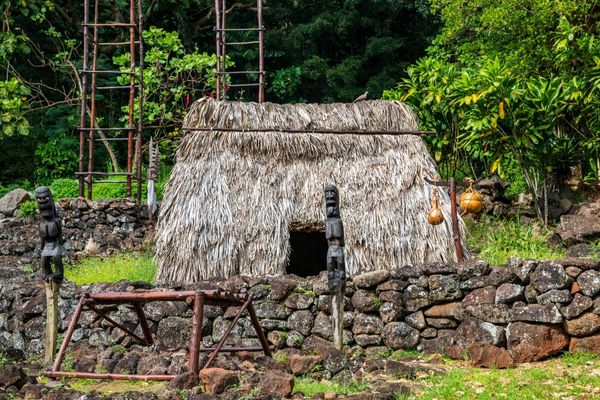 Details

By

Elyse Wild

Tourism
A Native Hawaiian group plans to focus on its culture through renovating and expanding a significant cultural site and popular tourist attraction on the island of Oahu.
Hi'ipaka LLC, a subsidiary of the Office of Hawaiian Affairs, holds the title to and manages the Waimea Valley, an 1,800-acre spread of land nestled on the North Shore of Oahu. The valley is widely known for its 45-foot waterfall that cascades from the Kamananui Stream, as well as stunning botanical gardens.
The nonprofit plans to renovate and expand the Waimea Valley Center by adding cover for the center's luau area, constructing an outdoor native plant learning facility, and other improvements.
Amid a statewide shift in tourism strategy to place more emphasis on the importance of Native culture, Hi'ipaka is leveraging a new $3.8 million grant from the Commerce Department's Economic Development Administration to invest in the two-year project, which is expected to create or retain nearly 240 jobs and generate $1.2 million in private investment. The grant is part of the EDA's $100 million Indigenous Communities Program, funded by the American Rescue Plan Act.
"Part of the projects funded by the grant will shift the focus away from the waterfall and more to the cultural significance of the valley," Hi'ipaka Executive Director Richard Pezzulo told Tribal Business News.
Waimea Valley is a place of deep cultural and spiritual significance. It was one the first locations on Oahu settled by the Polynesians around 1090 A.D.. In 1092 A.D., Oahu leadership gave the valley to the Kahuna Nui, or the high priests, and it became known as the valley of priests. The last High Priest to live in the valley was Kahuna Nui Hewahewathe, the spiritual adviser to King Kamehameha, who united the islands in 1810.
Hewahewathe is believed to be buried on site, which regularly draws 10,000 of his descendants into the valley to pay their respects.
Never miss the biggest stories and breaking news about the tribal economy. Sign up to get our reporting sent straight to your inbox every Monday morning.
This rich history accounts for 78 cultural sites identified by archeologists in 2008. The 300 acres of the valley open to visitors includes six cultural sites: a fishing shrine, Kauhale (traditional living site for high-ranking priests), agriculture terrace walls, a gaming site and the wailele, or the waterfall. The valley averages more than 400,000 visitors a year.
"We really want to attract more visitors that are interested in the culture or interested in the environment," Pezzulo said. "The idea is to attract the pono traveler or the righteous traveler. We have so much to offer here, and it is such a great place to educate people about Hawaiian history and culture."
Hi'ipaka plans to use the funding to expand the gift shop, so visitors have to walk through the store to purchase entry tickets to the valley. The renovation will consist of a museum wall that will take people through the history of Waimea Valley to immediately introduce visitors to the site's cultural significance.
The organization also plans to renovate the luau area and restore an older building on the property to serve as a cultural resource center to facilitate meaningful interactions between visitors and Native Hawaiian artisans and cultural practitioners. Finally, the group plans to construct a hale, or traditional house, to serve as a learning center with cultural education programming.
Pezzulo says these projects expedite a decades-long effort to draw visitor interest into the cultural aspects of the valley.
"I don't want to say that the tourists coming to Hawaii are disrespectful and not interested," Pezzulo said. "The thing is, they need to know that the opportunity is here to be educated. There are many places they go and they look and observe, but they don't really learn anything, which isn't their fault if the place doesn't let them know there are opportunities to be educated."
Mālia Sanders, executive director of the Native Hawaiian Hospitality Association, notes that visitor-facing entities like Hi'Paka must strike a balance between caring for cultural sites while meeting the demands of the tourism industry.
"As a whole, in Hawaii, we are looking for a more respectful and responsible visitor, one that comes with a deep respect for our culture and our place," Sanders said. "And we, of course, want them to have a great time, and we want them to spend their dollar supporting the things that make Hawaii unique."
Tourism is Hawaii's largest industry, dating back to 1903 when the state's first tourism bureau was formed to draw visitors to the islands.
In 2019, tourism drew more than 10 million visitors to Hawaii, generating $17.75 billion in economic activity, supporting 216,000 jobs and bringing in $2.07 billion in tax revenue.
Despite a drastic dip in tourism in 2020 and 2021 due to the COVID-19 pandemic, the industry appears to be recovering well. According to preliminary visitor statistics from the Department of Business, Economic Development and Tourism, visitor spending in Hawaii in August 2022 was up 13 percent from pre-pandemic levels, with the islands seeing 829,000 visitors that month.
Of those visitors, more than half spent time in Oahu, historically the most visited of the islands.
The shift in visitor experience at Waimea Valley reflects a six-year strategic plan introduced by the Hawaiian Tourism Authority (HTA) in 2020, just months before COVID-19 restricted worldwide travel. The strategy outlines a move away from offerings that draw visitors at the cost of obscuring both historical and contemporary Native Hawaiian culture. At the core of the plan is "destination management" through shifting funding and time to support Hawaiian culture, community and multicultural programs, natural resources and brand marketing.
The move is a far cry from HTA's previous strategic plan, released in 2016, emphasizing the "management of visitor growth" through value perception, community support for tourism, economic benefits and reputation. With nearly 10 million visitors a year, this emphasis on visitor growth that used the number of arrivals as the primary measurement of success put immense pressure on popular sites, residential areas and the environment, depleting the quality of life for residents and negatively impacting the visitor experience.
According to Sanders, placing culture at the forefront can make tourism an extension of Native Hawaiian values, serving as an invitation while laying out expectations for visitors.
"That's really the part of what we're trying to focus on as an industry, in general, is setting the right interest and setting the right expectations with our visitors so that they know what their responsibility is as a visitor when they visit our place," Sanders said.
Additionally, she says that since tourism is the state's largest economic driver by more than $200 billion, it's essential for the industry to prioritize community benefit.
Want more news about the $130 billion tribal economy?
Tribal Business News publishes thoroughly reported and well-crafted stories about Native businesses and entrepreneurs, growth and expansion strategies, best practices, economic data, government policy and other relevant business news. Tribal Business News is required reading for tribal council members and leaders of Native businesses, as well as state and federal legislators, policymakers, economic developers, entrepreneurs, bankers, lawyers and anyone interested in doing business in Indian Country.
Sign up for our free newsletter to track Native business and the tribal economy. Or sign up for a premium digital subscription ($99/year or $10/month— cancel anytime) to gain full 24/7/365 access to our business news reporting. Megwetch.