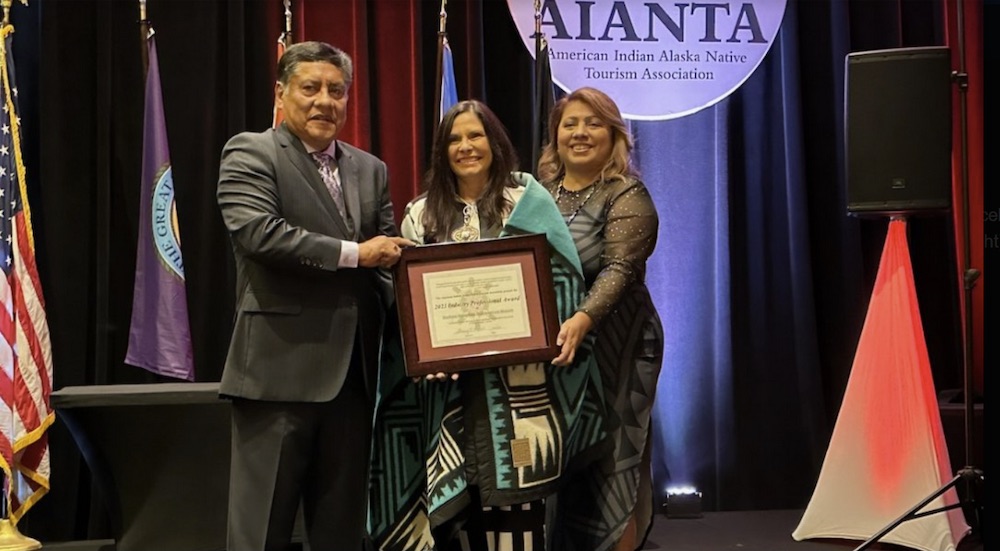 Details

Tourism
Shoshana Wasserman believes in the power of sharing Native stories.
Wasserman, director of the First Americans Museum (FAM) in Oklahoma City, sees the impact of storytelling on the regular. Sometimes it's the way international visitors to the museum experience being at the historical center of the state's 39 tribes. Or it's the way nearby Natives come and hear their relatives' voices and see their faces in a gallery exhibit.
Never miss the biggest stories and breaking news about the tribal economy. Sign up to get our reporting sent straight to your inbox every Monday morning.
Other times, it's about honoring the longest and shortest days of the year, the way many tribes have done for thousands of years. FAM's celebration of those solstices bring together everything from outdoor gatherings to dwelling exhibits and sunset observations. Those celebrations earned the museum an award for best cultural heritage experience from the American Indian and Alaska Native Tourism Association.
"I'm especially proud of that award for our events," Wasserman said. "We were celebrating that one even before we opened the museum. We had several years where we went out privately among the staff and their families and sort of birthed this event together. We did that in the early days while the museum was being built and that evolved into more of a public celebration. It's just grown and grown each year. "
Wasserman, who also won an AIANTA award for industry professionalism and advocacy, spoke with Tribal Business News to discuss the First American Museum's growth, the economic and cultural value of Native stories, and what's ahead for the museum in the near future.
What kind of traffic do you have at the museum?
We have about 200,000 visitors a year. We've had visitors from all 50 states, we've had 31 different countries at last count. It's a pretty profound opportunity, when you think about that kind of visitation.
Visitors from 31 countries? Do Native stories attract a lot of attention from abroad?
International visitors are so interested in the true American niche stories, so we fulfill that. It certainly is our national shared history, and people are looking for, in the tourism sector — these very authentic, unique senses of place, and I think we are really positioned to offer that in a profound way.
What kind of economic impact has the international audience made so far?
International visitors typically spend between 14 and 21 days on holiday, and so that's a powerful economic engine for Oklahoma, because we can entice these visitors to OKC, which is a gateway city. And we can attract them to the museum and then they can stay in the hotels and use the conference center and so on.
That fits in with FAM's original purpose as a way to bolster Oklahoma's tourism industry, right?
This entire project was born in the '80s, when there was a downturn in the oil industry. The Oklahoma Department of Tourism did a study, and they asked how we could diversify the economic portfolio, so that when we do have downturns, we have another economic base.
And that's where FAM came in, even if it took until 2021 to get the doors open.
Tourism is a really critical component to any community. When you travel, you want to get that sense of place and take a piece of that memory, a visual experience, a culinary experience; we want authenticity. I think it creates a very powerful economic impact for the state.
What do you think makes the First Americans Museum so effective at creating that sense of place?
The first thing that we can be very proud of is that our entire curatorial team is all Native. All of these materials are being interpreted by the people they belong to.
That's a very first-person voice…that's very important to how things get shared. When we interpret things, whether it's a cultural material or a story, we always present the name of that material or references within the story in the language of that nation first, and then into English.
So you're not only sharing the history, but the languages, as well.
Not every panel is translated, but I am saying that if we have cultural materials or objects, it's always presented in the language of that tribe first, and called what that tribe calls it. That's really important. We use a lot of media to tell firsthand accounts of these histories.
There are so many personal anecdotes, personal memories embedded into it. It's a very sensory kind of experience.
What about local tourism? Do you get visitors from the tribes themselves?
That's one of my favorite things, actually. What I love the most is seeing our Native constituents in the galleries, and you can hear them saying, "Wow, that's my aunt's voice!" or "That's my grandma!"
Speaking of local Natives, do you have nearby creators participate in storytelling and teaching?
We've got community members coming here and teaching stickball, or teaching singing, or Native fashion shows, or uplifting our Native authors and performers. All of that, in totality, has a profound effect on the visitor and how they perceive Native peoples.
What's ahead for the museum?
One of the things we did not get to finish because of the pandemic. We finished every gallery space except for one. We are trying to raise money for the family discovery center.
We created all the activities inside this space, that's been imagined like a pop-up book. We didn't get to finish that, so we are aggressively trying to raise the funding to get this opened up by the time some nearby development on a hotel is finished, so we can be ready for people to enjoy these spaces.