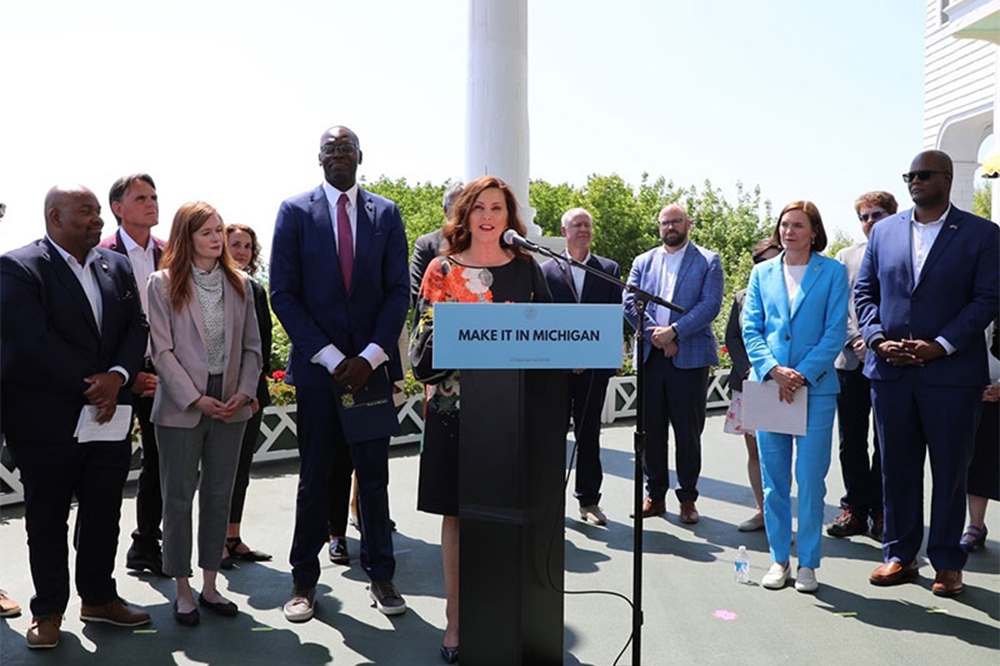 Details

By

Michigan Economic Development Corporation

Sponsored Content
While we often hear of Michigan's major wins, such as the $16 billion in projects secured or the creation of over 16,000 jobs over the past 18 months, the state has also put significant focus on supporting small businesses, including tribal-owned companies.
"The MEDC has a business development program specifically designed to support the economic development initiatives of the 12 Federally Recognized Tribes in Michigan," says Tom Durkee, Director of Tribal Business Development at the Michigan Economic Development Corporation (MEDC). "However, these Tribes are able to take advantage of any of the programs that MEDC offers."
That also includes three new initiatives Michigan legislators announced this summer: 'Make it in Michigan,' the Small Business Support Hubs and the Michigan Innovate Capital Fund Program. Through these programs, the state aims to support small businesses, cultivate a thriving entrepreneurial ecosystem and build stronger communities.
Investing in Projects, People and Places
'Make it in Michigan' is a robust business strategy designed to invest in people and revitalize communities in every region of the state through good-paying jobs, upskilling the workforce and reinforcing supply chains. This strategy, alongside the efforts of Michigan's Tribal Business Development Office, provides ample resources for tribal-owned businesses. "After all, Michigan Tribes primarily make things here in Michigan and are key economic drivers in their respective regions," says Durkee.
The strategy has a multi-pronged approach aiming to achieve several objectives:
Position Michigan as a leading state for talent, characterized by low unemployment, higher labor force participation and robust talent attraction initiatives.
Boost Michigan's competitiveness in key sectors like research and development, advanced manufacturing and clean tech – sectors that will fuel long-term economic strength.
Transform Michigan into an 'Arsenal of Innovation,' fostering entrepreneurs and startups with resources and opportunities to grow and expand.
Build Michigan as a state full of attractive, vibrant communities, with investments to build housing, expand access and lower the cost of childcare, connect homes and businesses to high-speed internet, redevelop vacant or blighted properties and breathe new life into main streets and downtowns.
Ultimately, the strategy comes down to a tripartite focus – Projects, People and Places. The state is determined to win Projects that will catalyze the return of manufacturing and supply chains, to invest in People, empower them to maximize their potential from pre-K through postsecondary and to revitalize Places, enhancing their allure for residents, workers and investors.
Small businesses can benefit from each of these key focuses. The state's project wins will result in a stronger and more robust economy, boosting local spending across the board. Michigan's approach to people, coupled with incentives and resources for reskilling and secondary education opportunities, will create a strong workforce and encourage innovation. Lastly, the state is focusing on how we can enhance the communities and main streets that our small businesses call home.
Investing Millions in Small Business Support
In yet another major act of dedication for its small businesses, the Michigan Strategic Fund recently approved two programs, the Small Business Support Hubs and Michigan Innovate Capital Fund Program, which will help small businesses, entrepreneurs and local communities. The Small Business Support Hubs program is designed to aid local small businesses significantly affected by the COVID-19 pandemic. Utilizing a one-time allocation of $75 million from the American Rescue Plan Act, the program will enhance support to small businesses across Michigan, including operational funding, programming, business support services and direct grants for entrepreneurial hubs. The aim is to foster an inclusive and accessible entrepreneurial ecosystem, especially in diverse, rural and underserved communities.
Additionally, the Michigan Innovate Capital Fund Program provides incentives to nonprofit organizations that run funds for investing in emerging technologies at the pre-seed and startup stages. Eligibility for the program requires organizations to display a commitment and capacity to invest in high-growth, technology-centric companies, primarily in the initial phase of commercialization. Like the Small Business Support Hubs, this fund will prioritize nonprofits in underserved locations that are addressing gaps in underrepresented industries.
Both the Small Business Support Hubs and Michigan Innovate Capital Fund Program align with the support needed for the Tribes' current business endeavors. "The Tribes in Michigan have been executing more complex and larger-scale investment projects over the past several years," says Durkee. "This has led to the tribes building a more diversified portfolio of businesses, real estate holdings and mixed-use developments."
A Big Future for Small Businesses
Small businesses are at the heart of every community, and to help these businesses stabilize, sustain and grow, Michigan will continue to provide a robust suite of support, resources and programs. Time will tell how Michiganders utilize the tools available to them, but the message is clear: Michigan is dedicated to its small businesses by not only maintaining its existing momentum but also setting the pace for a brighter future.
Learn how the Michigan Economic Development Corporation provides support and resources to Michigan's 12 Federally recognized Indian tribes at https://www.michiganbusiness.org/about-medc/tribal-partners/.