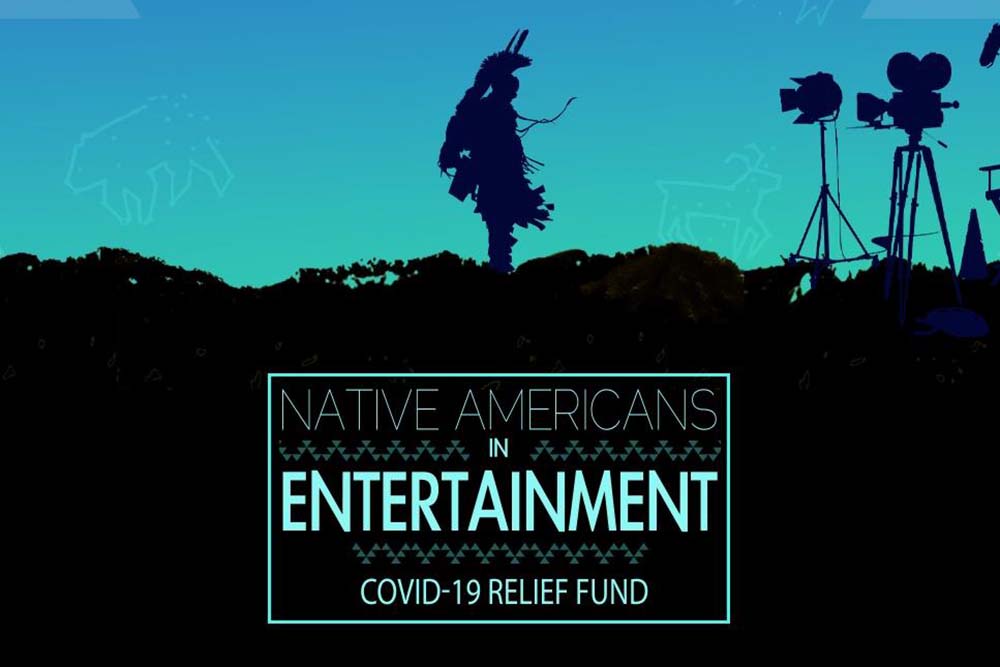 Details

Arts and Culture
LOS ANGELES — The Native American Media Alliance, in partnership with Netflix, has established the COVID-19 Relief Fund for Native Americans working in the entertainment industry.
With funding provided by streaming service Netflix, NAMA will award approximately 200 grants for $2,000 each to Native Americans in a wide range of entertainment industry jobs. (See the details and application here.)
There is no official application deadline. Grantees will be chosen on a first-come first-serve basis, according to Ian Skorodin, director of strategy for the Native American Media Alliance.
"We work very closely with the Native American community in entertainment and they have been hard hit by the COVID-19 pandemic. A lot of productions have been shut down and are slowly beginning to open, but that comes with challenges as many jobs are still not available," said Skorodin (Choctaw Nation of Oklahoma). "Many crew members, assistants, and other workers, who have been living paycheck to paycheck, are struggling to maintain basic living standards and are not able to find work.
"This new program will help our community by providing some relief for those in need."
Skorodin added that while the entertainment industry at large is reeling from the pandemic, Native Americans in film and television are likely to encounter even more barriers to making a living in the current climate of production cancellations and delays.
"In general, a lot of Native people are on reservations or in isolated rural areas and film and television work can be even harder to come by or more competitive, so that can present a challenge right there," he said. "Getting the work in film and TV is always a challenge, but then to have it be canceled or postponed makes things even more difficult, especially if you're not in a large urban setting. That's one factor that the Native community has to address when it comes to film and television production."
A new initiative of the Los Angeles-based nonprofit Barcid Foundation and a partner of the Motion Picture Association, NAMA was formed in 2019.
Skorodin said its purpose is to provide industry access for the Native American community, and ensure that the entertainment industry is getting genuine and authentic Native American voices and content.
NAMA provides a range of services, including cultural sensitivity training, safe space options for Native American entertainment industry workers, and The Native Writes database, where Native screenwriters can get their scripts critiqued by professionals from ITV Studios America, Gunpowder & Sky and Westward Productions.
NAMA's sister initiative is LA Skins Fest, a 15-year-old Native American arts organization and film festival offering programs like feature film and TV writers labs, and workshops for actors and animators.
Skorodin said a portion of LA Skins Fest programming will migrate over to NAMA in the near future.
Both NAMA and LA Skins Fest are overseen by the Barcid Foundation, a Los Angeles.-based nonprofit fostering understanding of the culture, traditions and issues of contemporary Native Americans through professional development.
As for Netflix's role in the COVID-19 Relief Fund, it's a result of the solid relationship between LA Skins Fest and the streaming giant.
"We work with a lot of networks and studios and we've worked with Netflix in the past," Skorodin said. "We've maintained a strong relationship with them over the years and had some events with them as well. We like it when the entertainment industry is supportive and acknowledges our community."
As the grants start flowing through Indian Country, Skorodin hopes NAMA and Netflix can reduce some of the stress for workers needing a lifeline while they wait for the business to bounce back from the pandemic.
"Hopefully, we can make that bridge happen and provide some resources for our community members who are really suffering right now," he said.
Want more news about the $130 billion tribal economy?
Tribal Business News publishes thoroughly reported and well-crafted stories about Native businesses and entrepreneurs, growth and expansion strategies, best practices, economic data, government policy and other relevant business news. Tribal Business News is required reading for tribal council members and leaders of Native businesses, as well as state and federal legislators, policymakers, economic developers, entrepreneurs, bankers, lawyers and anyone interested in doing business in Indian Country.
Sign up for our free newsletter to track Native business and the tribal economy. Or sign up for a premium digital subscription ($99/year or $10/month— cancel anytime) to gain full 24/7/365 access to our business news reporting. Megwetch.