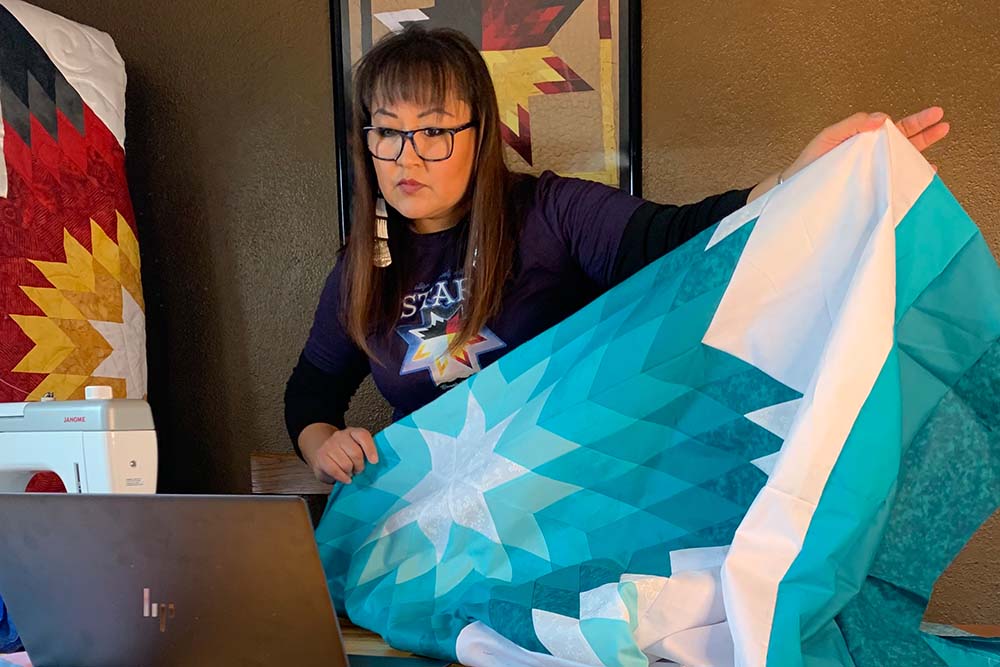 Details

Arts and Culture
Next time you're browsing Airbnb.com, pre-booking that $250 Park Avenue brownstone or $400 Maui oceanfront villa for a post-pandemic escape, you may want to consider a different kind of getaway.
For $8, you can take an unmasked trip through the mind and designs of an Indigenous fashion icon in the making, live from Montana's Rocky Boy Reservation.

Last month, fourth-generation Chippewa, Cree and Blackfeet beader and sewer Rebekah Jarvey debuted her Airbnb Online Experience: Indigenous Fashion With Expert Artisan. Along the way, she detailed the sartorial differences between her Chippewa and Cree ancestors that shed light on her strong and distinctive style.
"The Chippewa women were flashier, mainly because they came in contact with the Europeans first and did trades first, so they got the good materials first," she explained during the Experience. "They were definitely fashionistas first. They used a lot of velvet and beads in their dresses and their skirts and they did hand embroidery."
In the course of an hour, the designer exuberantly delivered a lesson in fashion, family, and Indigenous geography, constructed as expertly as her trademark ribbon skirts.
Jarvey complemented the experience with visuals including maps of Montana showing the location of the Rocky Boy Reservation, images of her grandmothers' beadwork, clips from her recent Honor Our Legacy online fashion show and an appearance from her son Royce, who got to show off his own beadwork.
This opportunity to witness two generations of Indigenous talents practicing and taking pride in their craft is part of Airbnb's strategy to remain viable during the COVID-19 pandemic, which has curtailed its normal rental activity.
In April, the company introduced Airbnb Online Experiences. Similar to Masterclasses, the Experiences allow experts in a variety of fields to lead participants through their knowledge niche, mainly via lectures and demonstrations, all while trying to be as entertaining as possible. Current offerings range from a magical Harry Potter tour of London to painting with red wine to singing with a Broadway star.
The virtually Experiences can be accessed from anywhere in the world by up to 10 people per session.
"I'm always looking for opportunities to grow and expand and hit that different target market," Jarvey said. "Right now, my social media audience is mostly Native American people. With the Airbnb experience, I'm hoping to grow my audience."
Since the Online Experiences rolled out, thousands are taking advantage of the new platform to make money and find new fans during the pandemic.
Jarvey is one of six Indigenous entrepreneurs from Montana, North Dakota and South Dakota who are poised to get a slice of the Airbnb Online Experience pie. Beginning last summer, the cohort underwent 10 months of training and mentorship in a pilot program developed by Virginia Tech and George Washington University.
Stacey LaCompte, Indigenous communications and tribal advocate for StrengthenND, as well as communications coordinator for the Dakotas at the George Washington University International Institute of Tourism Studies, said COVID-19 was a major prompt for the program.
She added that the pilot program is mostly funded through the Native American Tourism and Improving Visitor Experience Act, which was passed in 2016 to bolster entrepreneurism and tourism in Indian Country.
"Our entrepreneurs were struggling to survive. Indian Country is in high demand, but we can't have people coming in with the pandemic and everything else going on. So how else do we still feed the demand and also feed our entrepreneurs? How do we get them into the virtual world?" said LaCompte (Standing Rock Sioux). "We have to provide them product development, virtual training, Zoom training, all of this stuff. Let's get our entrepreneurs online and let's make them go viral."
Virginia Tech Professor of Hospitality and Tourism Kristin Lamoureux, the pilot program director for Montana, explained how the Online Experiences tie into tourism.
"These are the products and the services in the tourism world. Anything the consumer can participate in is a product, whether it's a hiking trail or a restaurant or visiting a craft shop," Lamoreux said. "These are the experiences that one could have if they were to travel to Rocky Boy in Montana" or another region where the entrepreneurs live.
Two of the participating Indigenous entrepreneurs are tour guides whose businesses temporarily buckled because of COVID-19. The other three are a master star quilter who was the second to launch on Airbnb Online Experiences, an expert in birch and willow bark art, and a purveyor of traditional teas and medicines who ends her experiences by having a cup of tea with her attendees.
"You just feel like, 'Here I am. I'm literally in your kitchen and we're sharing a cup of tea,'" Lamoureux said. "This is the future. We now know that we can live in our homes for months without (going out), but we can still come together and learn about each other and our cultures and our different ways."
For the Indigenous entrepreneurs, promoting their brands and sparking sales are part of the allure of Airbnb Online Experiences, but there's also a deeper, non-material reason they're interested.
"We Indigenous people have such a unique lifestyle and we could share so much with the singing, the dancing, the art, the ceremonies. There's just so much we have to offer," Jarvey said. "Everything we do is beautiful and creative. 'Being Indigenous is so beautiful' is my slogan, and I like to share why I say it and why I believe it. "
OVERCOMING FEARS
When deciding how to most powerfully promote Indigenous entrepreneurs in the digital world, the pilot program directors considered a few platforms, including Eventbrite, which now offers online events. However, Airbnb won out for several reasons, according to Lamoureux.
"They were very supportive of working to help this population. They didn't have any Native American online experiences in the United States so they were really, really helpful," Lamoureux said. "They were generous with their time. They actually took part in one of our training sessions to give some advice to the entrepreneurs."
To select two entrepreneurs each from Montana, North Dakota and South Dakota, the program reached out to organizations working with regional tribes on business and sustainability.
While seeking Montana entrepreneurs, LaCompte connected with her colleague Barb Stiffarm, executive director of Opportunity Link, a Havre, Mont.-based nonprofit assisting 11 counties and three reservations in north-central Montana with resources for self-sufficiency.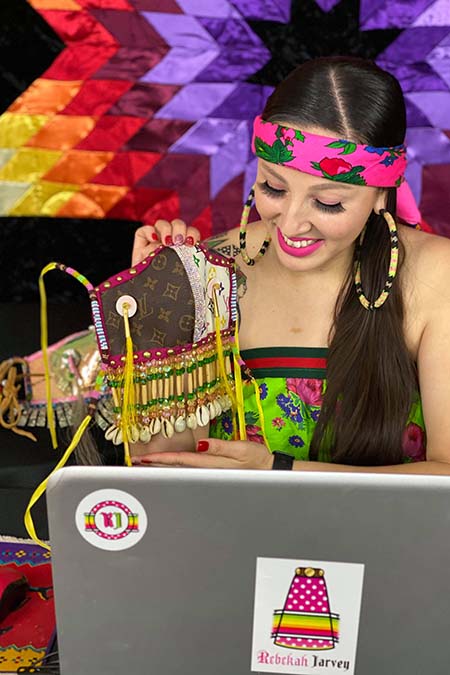 Chippewa Cree designer Rebekah Jarvey and her son Royce team up during the Online Airbnb Experience, titled Indigenous Fashion with Expert Artisan. (Rebekah Jarvey)Stiffarm was well acquainted with Jarvey and her reputation as Rocky Boy's first lady of fashion. In addition to managing her own line of clothing, masks and accessories, Jarvey organizes the annual Honor Our Legacy Fashion Show, teaches classes and participates in fashion events and panels around the country.
Her profile shot up sharply last summer when her "Night and Day" face mask — which mixes vintage Louis Vuitton bags with beaded ropes, horsehair fringe and more traditional touches — went viral and was featured in numerous publications.
Translating all of Jarvey's generational knowledge, personal experience and skills into an entertaining and easily digestible 60-minute, socially distanced self-promotion wasn't easy.
"At first, we were really scared to do this because you have to talk about yourself, and what we're taught is to be humble, and respectful and modest and not brag yourself up. That was hard for us as a group to brag ourselves up," Jarvey said of her fellow presenters. "That's not part of who we are. That's not in our culture. We are all Plains tribes and we were pretty much taught similar stuff, so that was one of the hardest things for us to do."
THE ART OF SELF-MARKETING
Overcoming the aversion to self-promotion was LaCompte's mission. She said it proved as pivotal to the program as the preparatory steps, including worksheets, templates for organizing presentations, practices and run-throughs, and going on Airbnb Experiences as a group to get a feel for the formula.
A Native liaison also participated in the training to ensure the traditional values and cultures of the entrepreneurs were understood and respected during the process.
"There's a different art to teaching these kinds of courses to Indigenous people," LaCompte said. "It was hard for them because now they realized that they were going to be going to Airbnb, which is international and going to the bigger world. Getting them to talk about themselves was the biggest thing."
Another integral part of the presentation was breaking down the basics of each entrepreneur's geographical location with maps and arrows, and delivering a brief history of their homelands.
"What the instructors stressed most was that the majority of people in the United States probably does not know where Cheyenne River Indian Reservation is," said quilter Bonnie Le Beaux (Navajo and Lakota), who resides on that particular South Dakota reservation and was the second Indigenous entrepreneur to launch her Online Experience on Airbnb. "That's what we played off of when we were putting all of this together. We had to really go down into the details of, who are you, where are you, where are these Indians."
When an entrepreneur is ready to go live, he or she has to decide how much to charge for the Online Experience. Jarvey started at $8, and LeBeaux, who debuted a week after Jarvey, set hers at $12.
LaCompte explained their initial prices are low so they can grab an audience more easily
while they're new to the site and lacking reviews and exposure.
Once an entrepreneur conducts several Online Experiences and has amassed a collection of fans and positive reviews, their Experience gets featured more prominently and becomes easier to find among the sea of offerings, LaCompte said.
"And then we can promote them and advertise them, and they can jack their prices up," she added.
STAR QUILT EXPERIENCE
Kicking off each presentation with a quick, effective introduction establishing the entrepreneur's Indigenous identity also formed a key part of the Online Experiences, and instantly informs the audience that each tribe is unique and Native Americans aren't interchangeable.
"Le miyé Wígmunke Wasté Win (It's me, Pretty Rainbow Woman.) My name is Bonnie LeBeaux," the star quilter said to her four attendees, while kicking off her Experience: Lakota Star Quilts with Master Quilter.
"I am Lakota on my father's side and I'm Navajo on my mother's side and I live in south central, South Dakota. I've been doing star quilts for over 25 years now and my logo is 'Align Yourself with the Stars.'"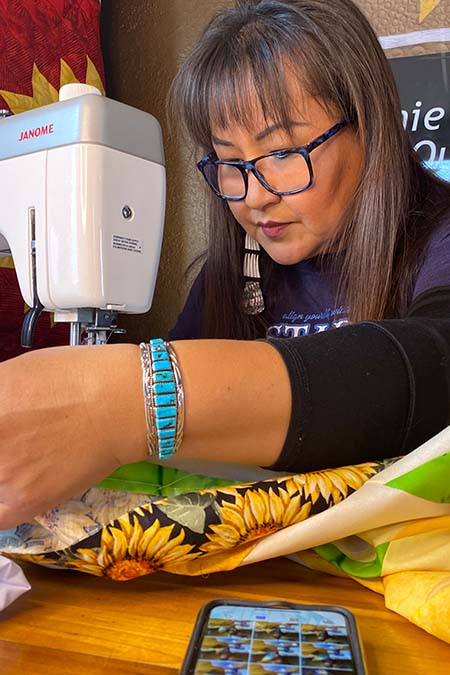 Lakota and Navajo artist Bonnie LeBeaux is the host of the Airbnb Online Experience Lakota Star Quilts with Master Quilter. (Bonnie LeBeaux)Streaming live from the Cheyenne Indian River Reservation in Eagle Butte, S.D., LeBeaux led her audience on a tour of the traditional textiles given to mark milestones and show appreciation and gratitude.
"I like to tease by the time you're an old, old man, then you should have a whole stack of quilts if you're living right," LeBeaux said during the Online Experience.
LeBeaux illustrated her star quilt story by displaying some of her own stunning work and sharing enlightening images like vintage late-1800s photographs of young Native women in a boarding school using sewing machines for the first time, and generation-spanning shots of her family, including a few of her 101-year-old paternal great grandmother Marcella, still busy sewing.
"She has been sewing for decades. When I was little, she would sit at a table and make baby quilts and prom dresses for my aunties," LeBeaux said. "She had these nice, shiny satiny fabrics. … You'd see these piles of folded fabric and lace all laid out on the floor, and then they're all cut up, and then a few days later it's a dress. I was just always so amazed at how she would just cut it all up and sew it back together."
LeBeaux was recruited for the pilot project by LaCompte, a longtime fan of her work who has ordered many quilts over the years. LeBeaux admits she was wary at first, and like the majority of the participating entrepreneurs, initially had no idea that Airbnb even offered Online Experiences.
LeBeaux now admits she was right to trust LaCompte's instincts and plunge into the pilot program.
"I am just so grateful for this opportunity with the mentors and being invited into a training like this. I would have never done it on my own," LeBeaux said. "Everybody was just so helpful and giving of their time and their talents and they just made this experience come to life."
Like Jarvey, LeBeaux is more set on spreading awareness and appreciation of individualized Indigenous stories and culture, as opposed to blatantly pushing her products.
"I'm just so passionate about making quilts and the colors and the textures, and it's exciting for me to talk about what's on my mind. My family and my close friends, they all know my story, so it's nothing new to them," LeBeaux said. "To have this kind of platform and just to share your story with somebody who doesn't know, what's more exciting than that?"
Want more news about the $130 billion tribal economy?
Tribal Business News publishes thoroughly reported and well-crafted stories about Native businesses and entrepreneurs, growth and expansion strategies, best practices, economic data, government policy and other relevant business news. Tribal Business News is required reading for tribal council members and leaders of Native businesses, as well as state and federal legislators, policymakers, economic developers, entrepreneurs, bankers, lawyers and anyone interested in doing business in Indian Country.
Sign up for our free newsletter to track Native business and the tribal economy. Or sign up for a premium digital subscription ($99/year or $10/month— cancel anytime) to gain full 24/7/365 access to our business news reporting. Megwetch.