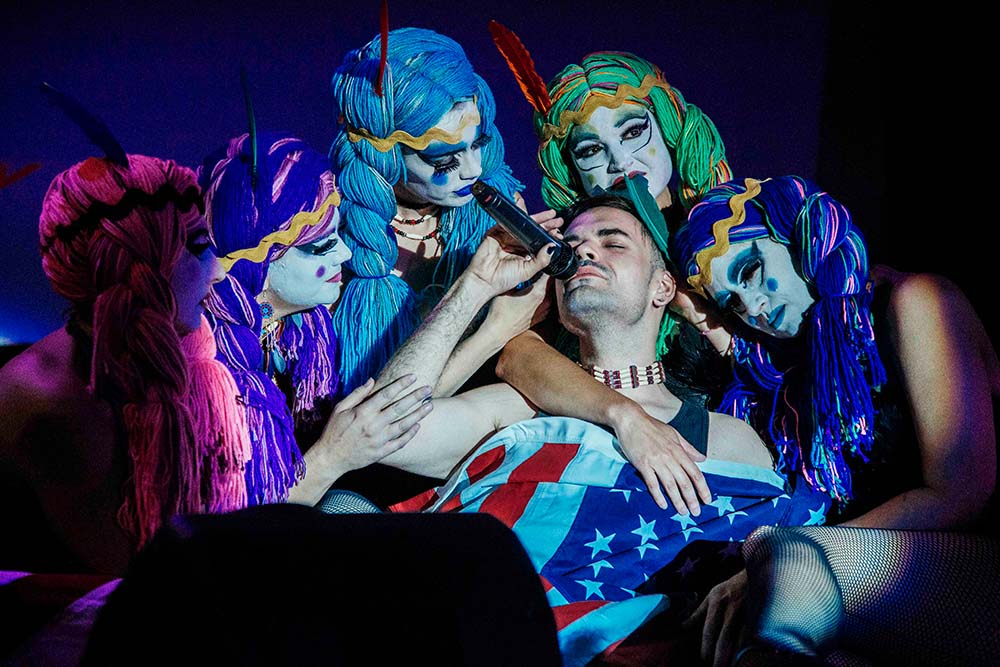 Details

Arts and Culture
Anthony Hudson and the "scary clown" alter-ego Carla Rossi weren't made for Zoom.
Every month, they terrify and delight audiences of up to 400 people during Queer Horror at Hollywood Theatre in Portland, Ore. Between those shows, Hudson, a member of the Confederated Tribes of Grand Ronde, tours the country with the show "Looking for Tiger Lily."
When the pandemic closed theaters and forced performers either to go online or into oblivion, Hudson had to think and act quickly and creatively. Hudson approached the dilemma from a cinematic angle.
"I've seen colleagues and friends doing virtual play readings or live stream performances, but that kind of connection doesn't work as well for me," Hudson said. "I need to be able to create a more steady income for myself, and I think I can do that through creating online content and intentionally creating videos that were made for the screen."
Now, Hudson has the support and resources to put the big picture-pivot into motion.
Earlier this month, the First Peoples Fund, a South Dakota-based nonprofit supporting and honoring Indigenous artists and culture-bearers, awarded Artist in Business Leadership Fellowships to Hudson and 10 other artist entrepreneurs spanning a range of disciplines.
The year-long fellowships are intended to nurture, guide and grow Native artists and their businesses. They include a $7,500 award, professional training tailored to each individual artist, technical support, networking opportunities, mentorship and more.
"Over the last year, we've encountered artists who have really exhibited a spirit of resilience and leadership while adapting to the new marketplace experience, and Anthony is a great example of that," said Maya Austin (Pascua Yaqui and Blackfeet), director and program weaver at First Peoples Fund, who oversees the fellowships with Rachael Nez (Navajo), the fellowship program manager.
"We looked for artists who demonstrate a strong practice that passes on the traditions and the lifeways of their people, a strong commitment to building their own creative skills, business and professional development, and an interest in strengthening their Native communities by sharing their skills and talents," Austin said.
In addition to the Artist in Business Leadership Fellows, First Peoples Fund also chose 12 Cultural Capital Fellows and five Community Spirit Award winners.
Austin noted the pandemic has caused the organization to make some adjustments to the fellowships this year. Normally, all the fellows convene in person at some point, but this year, they'll have to meet via Zoom. Other aspects, such as one-on-one mentoring, will also be conducted through virtual video conferencing.
'Investing in the tools'
Despite the socially distanced differences, Hudson is eager to get on with the business of making compelling online content that complements the existing theater work and drives it forward. About 75 percent of Hudson's income stems from touring and performing and the other 25 percent comes from a job as a film programmer.
With the cash award, Hudson will purchase updated equipment, build video production skills, and also enlist the assistance of a professional videographer who can transform pre-existing footage from the Queer Horror shows into a more immersive and cinematic experience. Hudson also eventually plans to make a movie starring Carla performing before an audience of none in the same theater where Queer Horror takes place.
"It's a lot of investing in the tools to create the kind of engagement that I can feel proud of versus something that looks like I filmed it with my phone," Hudson said. "I've been using antique video editing equipment from when I started art school 13 years ago. It's very old and very, very slow. It would be nice to make a video and edit it without having to wait a day for it."
According to Hudson, the Artist in Business Leadership Fellowship — as well as a Native Arts and Culture Foundation Fellowship in 2018 — have been career-invogorating.
"Everything shifted. It hasn't been until the last two years that my work's really begun to get supported," Hudson said. "Everything I did up until then was from an Indigi-queer DIY perspective."
Until 2016, Hudson was primarily known throughout Portland for programming Queer Horror and hosting as the alter ego drag incarnation Carla Rossi.
Four years ago, Hudson broke out nationally with the touring show "Looking for Tiger Lily," which explores Hudson's life experiences and challenges, and examines the intersections of queer and Indigenous identity.
"Before that, I was basically anonymous. People only knew Carla. So I did a show about myself without the drag," Hudson said. "It's about this whole sense of identity and the schism that I feel. It all traces back to Peter Pan and watching white people play Natives when I was a kid and not understanding what I was seeing."
The career advancements allowed Hudson to expand community engagement, particularly work with youth dealing with identity issues. Hudons requires any presenter who books "Tiger Lily" to include some complementary community outreach element.
"I am so stoked about this fellowship. It means everything to me," said Hudson, who is already acquainted with several of the fellowship recipients. "It's that sense of community, like we're all moving forward together. It's just awesome to celebrate each other."
Building new relationships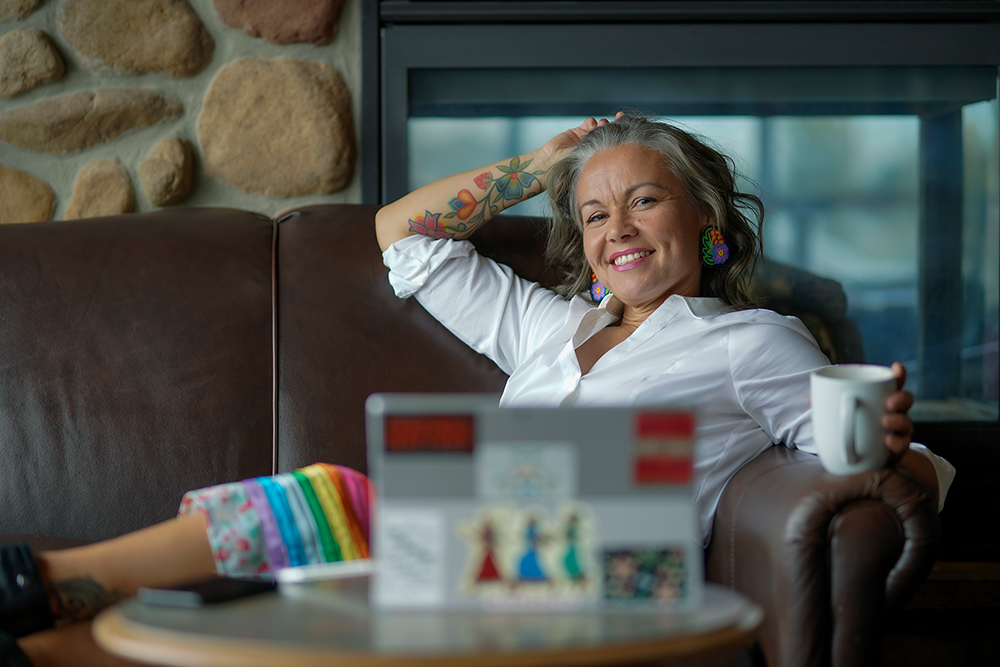 Anishinaabe artist and entrepreneur Sarah Agaton Howes of Heart Berry is the recipient of an Artist in Business Leadership Fellowship from First Peoples Fund. (Heart Berry)
Over on the art and fashion end of the Artist in Business Leadership fellowship spectrum, Anishinaabe artist and designer Sarah Agaton Howes will use the money and resources to help her brand Heart Berry reach new heights.
Howes, who imbues items including wool blankets, jewelry, T-shirts, hoodies and scarves with traditional Woodland floral patterns and prints, already has a devoted following. Although based on the Fond Du Lac Reservation in Minnesota, Howes engages in e-commerce sales via the Heart Berry website, and also reaches a wide customer base through her nearly seven-year partnership with the far-reaching Indigenous design collective Eighth Generation, a Seattle-based venture of the Snoqualmie Tribe.
"My plan always is to keep learning and growing and building the skills that I have," said Howes, who is also a teacher and a community organizer. "I always like to build new relationships and to learn new things. Who knows what's possible?"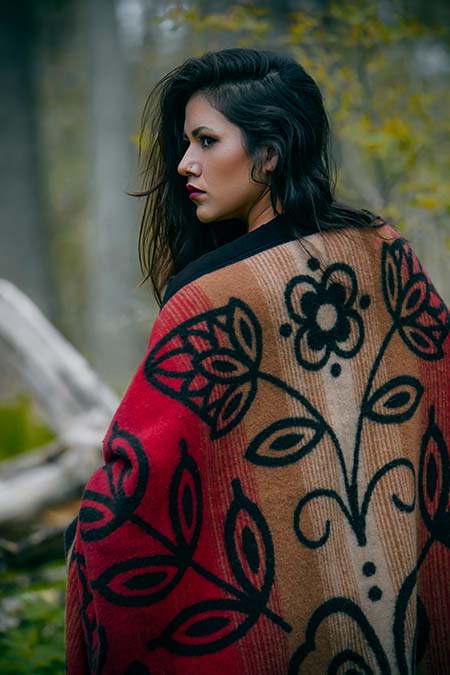 A throw blanket from Heart Berry, owned by Anishinaabe artist and entrepreneur Sarah Agaton Howes. Howes is the recipient of an Artist in Business Leadership Fellowship from First Peoples Fund. (Heart Berry)Austin at First Peoples Fund noted that the fellowship can also be a major boon for businesses like Heart Berry that are already beyond the initial startup phase.
"Even for folks who may have experience in business and marketing their work, the fellowship award, coupled with individualized professional development and training, can really help them and take it to the next level," Austin said.
Howes intends to push the boundaries of her creativity and pattern-making potential with the Artist in Business Leadership Fellowship by investing time and money in mastering the Adobe Creative Suite.
"I'm mostly going to focus on Illustrator and Photoshop, but I also want to learn more in general," she said. "My plan is to take classes and to spend time really digging in and learning more skills with that, because you can just go anywhere with those programs. It's incredible what you can do."
Howes said she's going into this fellowship with an open mind and is ready to absorb all the knowledge and inspiration she can.
"I think it's just incredible and I'm super excited to be in a space with other Natives who are visionaries and are thinking big and thinking about new ways of operating," she said. "It's an incredible gift to be able to be a part of spaces like that. It just opens up your mind to what is possible."
'In the family'
Chippewa Cree and Blackfeet artist and fashion designer Rebekah Jarvey, who melds street style with Native flair, is using her fellowship to fuel an entire movement.
Jarvey, a fourth-generation cultural artist, teacher, fashion show producer, and constantly innovating entrepreneur who made a national name for herself during the pandemic with her stunning designer masks, will bring her #NativeWoke campaign concept to fruition with the fellowship.
"The mission is to inspire the Native American community to wear masks, social distance and help keep our people safe," she said. "It's crucial we act now and fight together."
Jarvey plans to make dedicated #NativeWoke merchandise like stickers and T-shirts, and will donate half of the proceeds to COVID-19 relief.
She added that this opportunity from First Peoples Fund also will help her make important connections, facilitate her learning and growth as an artist and fortify her influence in the community.
The education and enrichment also continues once the fellowships are completed. Austin said many of the fellows come back to First Peoples Fund to be trained to coach future Native art and business leaders.
"They go ahead and teach the next generation of artists," said Austin, who also noted that the fellows gain access to invaluable resources that will benefit them for years to come. "They're connected to an alumni network of over 25 years of different fellows. They're in the family."