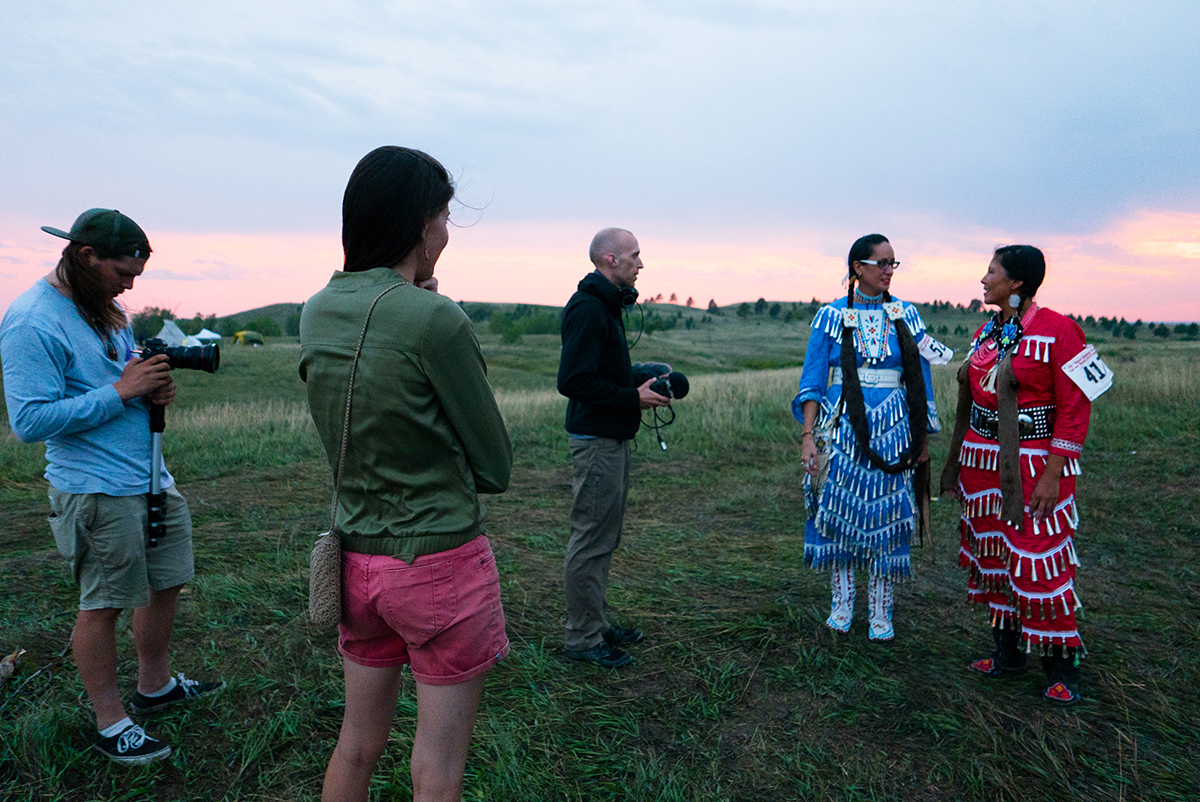 Details

Arts and Culture
Vision Maker Media, a Lincoln, Nebraska-based nonprofit dedicated to telling authentic Native American stories on screen and supporting Native filmmakers, will receive a $500,000 funding increase from The Corporation For Public Broadcasting starting this fiscal year.
Some of the most prominent Native American leaders in the country are praising the creative opportunities the funding presents for Indigenous talent and Indian Country in general.
"Vision Maker Media's funding increase for the fiscal year of 2021 will help them continue to create jobs in Indian Country and share important Native stories," Congresswoman and Secretary of the Interior nominee Deb Haaland said in a statement. "As Native traditions and customs are at risk during a global pandemic, our stories and histories are more important than ever. I can't wait to see what Vision Maker Media produces in the coming years."
The $500,000 raises CPB's annual support to more than $1,850,000.
While it's always a good time to receive a big financial boost, "it resonates more now just because of all of the increased racial injustice and social equity issues that have been going around in our country over the past few years," Vision Maker Executive Director Francene Blythe-Lewis (Diné, Sisseton-Wahpeton Dakota, Eastern Band Cherokee) told Tribal Business News.
"The funding helps us to contribute to the healing recovery and unity of respecting and appreciating different cultures and different perspectives," Blythe-Lewis said.
Vision Maker, which celebrates its 45th anniversary this year, holds an annual Indigenous Film Festival and offers workshops, mentorship programs, and more tools for professional development.
Two of Vision Maker's most-recent high-profile productions are "Manzanar Diverted: When Water Meets Dust," a documentary about the environmental and political past of the World War II internment camp, and "Sisters Rising," a documentary executive produced by Tantoo Cardinal about six Native women fighting for tribal and personal sovereignty and working to save Indigenous women from sexual assault.
Blythe-Lewis said Vision Maker will use the new CPB funding primarily to train and nurture the next generation of Native filmmakers.
"We're going to be working with Native youth organizations and communities around the country to work with youth 15 to 24 years of age, and bring a mentor from our pool of Native filmmakers to help them learn about a career in filmmaking or a career path that can lead toward public media and broadcasting," she said.
Vision Maker will also invest in its public media project fund to acquire and produce new media content for public broadcast, and in getting the nonprofit properly positioned to keep pace with new technology and remote work both internally and externally, Blythe-Lewis said.
The organization will direct money to refining Vision Maker's equipment and software, training staff to work with the new tools and helping filmmakers develop new ways to be seen and heard.
"We're working to upgrade our systems and get cloud storage software and programs to accommodate our work," Blythe-Lewis said. "Right now, we're doing research on developing podcasts."
Blythe-Lewis said the extra funds also strengthen the bond between Vision Maker and the CPB.
"The increase is one of trust and confidence in CPB in the work Vision Maker has already been doing over the past 45 years, and that we have the credibility to continue to bring Native stories to public broadcasting," Blythe-Lewis said. "This kind of support strengthens our understanding of their faith in what we're doing and that we're on the right track."
The $500,000 funding increase is one of five that CPB is making to members of the National Multicultural Alliance (NMCA), which also includes the Center for Asian American Media, Latino Public Broadcasting, Black Public Media, and Pacific Islanders in Communications.
"CPB's commitment and funding for diverse filmmakers and storytellers spans decades and has resulted in content that educates, informs and inspires mutual understanding and respect," CPB President and CEO Pat Harrison said in a statement. "Our increased support for the National Multicultural Alliance will build on that foundation and ensure that public media's content reflects the broadest range of cultural and social perspectives. The NMCA comprises individual organizations that encourage and fund diverse storytellers whose voices and experiences might never be heard without their support."
Want more news about the $130 billion tribal economy?
Tribal Business News publishes thoroughly reported and well-crafted stories about Native businesses and entrepreneurs, growth and expansion strategies, best practices, economic data, government policy and other relevant business news. Tribal Business News is required reading for tribal council members and leaders of Native businesses, as well as state and federal legislators, policymakers, economic developers, entrepreneurs, bankers, lawyers and anyone interested in doing business in Indian Country.
Sign up for our free newsletter to track Native business and the tribal economy. Or sign up for a premium digital subscription ($99/year or $10/month— cancel anytime) to gain full 24/7/365 access to our business news reporting. Megwetch.