With this year's art market season promising to be as wild and unpredictable as the last, artists and museum and market professionals are plunging in with a year's worth of experience in pivoting, navigating and developing virtual events. At this pivotal moment, Tribal Business News is checking in with five veteran art market organizers and artists about their expectations and approaches to this year's Native art market season. In today's installment, we talk with Tlingit artist Corey Stein, who is known for her cool and quirky beaded paintings, sculptures and dolls.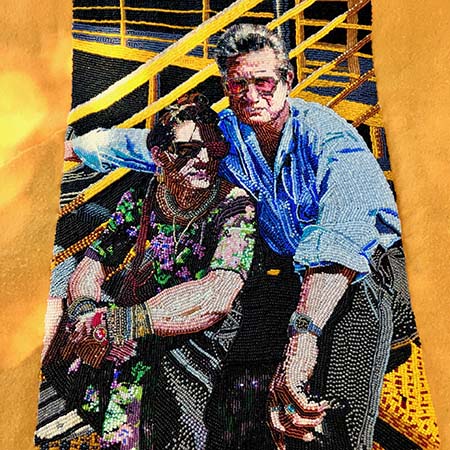 Corey Stein
Tribal affiliation: Tlingit
Specialties: Beaded paintings, dolls and multimedia sculpture
Usual market circuit: Heard Museum Guild Indian Fair and Market, American Indian Arts Marketplace at the Autry Museum of the American West in Los Angeles, Celebration in Juneau, Alaska
What's your mindset right now and how are you approaching this year?
I'm feeling like it's a group freak out, but I'm thinking it's going to be OK. The bad part is, it's happening to all of us, but the good part also is it's happening to all of us. I think this is a year for people to crank out a lot of work. For me personally, there are still a lot of competitions to participate in and grant proposals I've got to fill out while all this is going on.
Why is it so important to pursue grants?
The good thing about grants is, even if you get rejected, people still see your application and work and sometimes they will be curating another show and they will pull you into it because they saw your work when they were on the board of review of judges for the grant. They'll say something like, 'Oh, I remember Joe Schmoe's work. It was great. You know, I voted for him to get the grant, but he didn't get it. But now I'm curating a museum show and I can include him.'
What are some marketing lessons you learned last year that you're applying to this new art market season?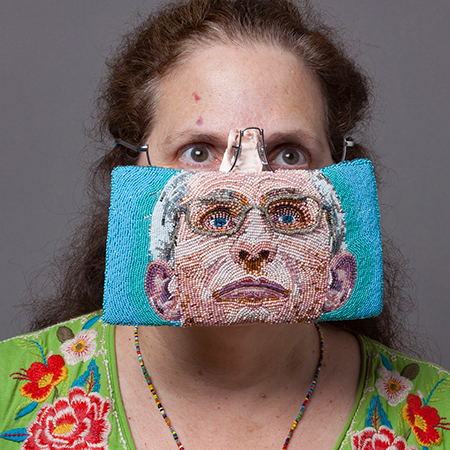 Tlingit artist Corey Stein modeling the Dr. Anthony Fauci mask she made in spring of 2020. (Courtesy of Corey Stein)One of the things I have learned in this past year is to make friends. You might call it kissing ass or making connections. That's huge for me. Also, I'm the older generation now, and I am learning if you can't do all the online work yourself, hire out. I have hired somebody to do my website for me and help with social media. As soon as you can afford it or barter for it, get somebody to help. Barter is always … a really good thing for little poor starving artists.
What are you doing to help support and promote your fellow Native artists right now?
I share a lot of artists' work on Facebook. I always hit that share button and then everybody who likes my stuff, likes their stuff. I also buy a lot of art. I'm on so many collectors lists that people think I'm not an artist. They think I'm a collector. When I sell a piece, I keep whatever money I need to stay alive, and then I go and buy a piece with whatever I have left over.
How has your approach to making art evolved in the age of online markets?
I've been able to do a lot of work — some stuff that takes longer, like sculptures, and then some small stuff that I'm cranking out for small prices. I'm doing both. You have all this time at home, so you can make big pieces and you don't get distracted because you can't go anywhere to get distracted. And I've been making little dolls because they're like $100 compared to like $3,000. The stuff people buy now is little crafty stuff because it's more affordable. I like making things like that because it's kind of like toy design — and I love toys. I'm making cute little fun things that keep you from having a nervous breakdown, because you need humor to survive right now.
How do you think the art market scene will look when life gets back to normal?
In my dreams, it would be like this: In-person markets will start up again because of the social aspect. I think people will need that social part of it, because they're already going crazy. And I think a lot of people that didn't know computer stuff like me are learning a little bit about it, even if it is just to write back to people that like their work, or to figure out a way to be able to send customers pictures and show them what they're doing. I think virtual marketing is going to be a lot more popular than it used to be, but I don't think it's going to take over, because people miss the bonding that you don't get when you're not in the same place.
Want more news about the $130 billion tribal economy?
Tribal Business News publishes thoroughly reported and well-crafted stories about Native businesses and entrepreneurs, growth and expansion strategies, best practices, economic data, government policy and other relevant business news. Tribal Business News is required reading for tribal council members and leaders of Native businesses, as well as state and federal legislators, policymakers, economic developers, entrepreneurs, bankers, lawyers and anyone interested in doing business in Indian Country.
Sign up for our free newsletter to track Native business and the tribal economy. Or sign up for a premium digital subscription ($99/year or $10/month— cancel anytime) to gain full 24/7/365 access to our business news reporting. Megwetch.