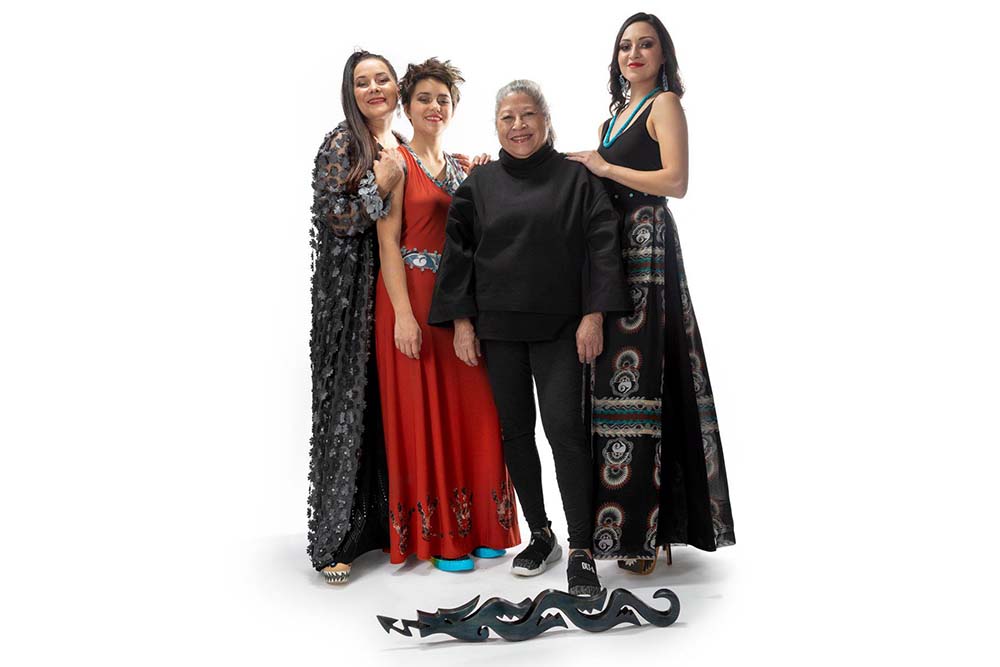 Details

Arts and Culture
With this year's art market season promising to be as wild and unpredictable as the last, artists and museum and market professionals are plunging in with a year's worth of experience in pivoting, navigating and developing virtual events. At this pivotal moment, Tribal Business News is checking in with five veteran art market organizers and artists about their expectations and approaches to this year's Native art market season. In today's installment, we talk with artist and fashion designer Michelle Tsosie Sisneros, who creates glam Pueblo couture and sleek, modern streetwear adapted from her paintings.
Michelle Tsosie Sisneros
Tribal affiliations: Santa Clara Pueblo, Navajo, Laguna Pueblo, Luiseno Mission
Specialties: Painting and fashion design
Usual market circuit: Heard Museum Guild Indian Fair and Market, Santa Fe Indian Market, Navajo Festival of Arts and Culture at the Museum of Northern Arizona
How did preparing for this weekend's virtual Heard Museum Guild Indian Fair and Market feel different compared to a normal year?
I've gotten into such a routine of how I operate that now that the Heard is coming around again it's kind of strange. They knew they were going to do a virtual show sometime ago, but for me, the excitement is really still there, because I was shipping off my entry for their juried art competition and getting my websites ready. There's still the excitement of creating something really spectacular and making sure it gets there on time.
How have you positioned yourself throughout your career to survive unexpected crises?
I've been at this for a long, long time, and for me, being very versatile and learning how to structure my business has been vital to my well being as a professional artist. I have always found other projects that I'm able to do because of the nature of my art. I'm very lucky because I paint and I design clothes, so I fit into these different little places. Just kind of magically out of the sky, all these fun projects come around. I don't rely exclusively on the circuit of art shows.
Prior to all of the COVID stuff happening, I had already had several projects in the works, including a huge mural project at the Pueblo Cultural Center in Albuquerque. What really hurt me the most was the closure of all the museums, because I sell work in their gift shops, like my scarves, my prints, my cards — everything that brings in a steady income all year. My business was definitely impacted, and I really had to switch gears.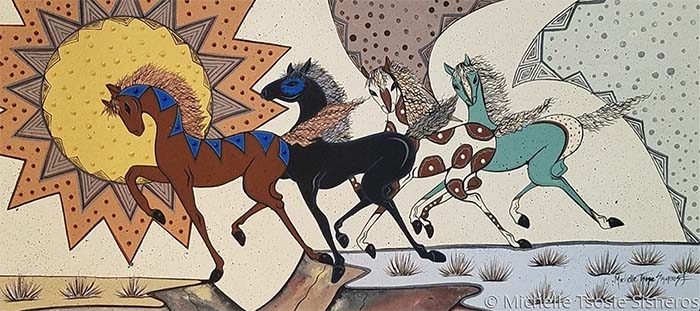 "Pow Wow Ponies" by Heard Museum Guild Indian Fair and Market artist Michelle Tsosie Sisneros (Santa Clara Pueblo/Navajo/Laguna Pueblo/Luiseno Mission). (Courtesy of Michelle Tsosie Sisneros)
How did you manage to switch gears and adapt to the new virtual art market world?
Last year, after the dust settled and May turned into June and Santa Fe Indian Market was kind of toying with putting together their virtual market, I was scared. I'm pretty computer literate, but not totally computer literate. I already had a website that was very old and it was completely built from the ground up by my husband, who's a computer geek. Websites that you have to build from scratch are excruciating to maintain. But then Santa Fe Indian Market provided their artists with websites from a company called artspan that really knows how to deal with artists and websites. It was so easy to get a beautiful website up and running because they already have the websites ready, and all you have to do is put your artwork into it.
I got rid of the website my husband was building because Indian Market came along and solved the whole problem. I really liked the way the market's Executive Director Kim Peone navigated all of us that wanted to take the ride with her through the virtual world. It has really given me that much more ammunition to drive my business, because it's all virtual now, and I've done quite well with it.
What are some other useful online marketing tools that have helped you through?
I've used Instagram and YouTube and Facebook as tools. Last year, I made a YouTube video where I'm virtually welcoming people into my studio and my world. I put beautiful music to a slideshow of my paintings that evolved into my fashion designs, and I told a story about each one.
I also work with Square services. It's a credit card processing service, but they offer all kinds of marketing services and education, and they're very easy to work with. You can really use it to your advantage and a lot of artists and business people don't look into what all these services can bring you. For a very small fee, I'm able to publish a monthly newsletter to keep up with my customers whenever I have something new. I have a mailing list of hundreds of collectors now.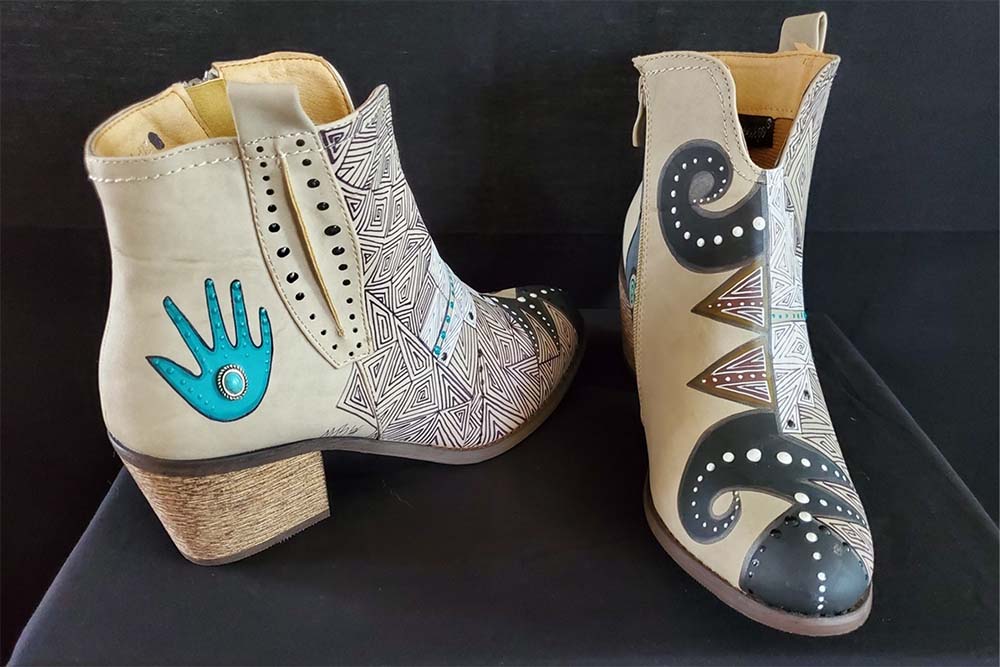 Handprint booties by Heard Museum Guild Indian Fair and Market artist Michelle Tsosie Sisneros (Santa Clara Pueblo/Navajo/Laguna Pueblo/Luiseno Mission). (Courtesy of Michelle Tsosie Sisneros)
How have you been balancing and adjusting your marketing and making during this time?
I've always felt that artistry is one thing, but I'm a businesswoman too. I'm in the business to sell my art, so I have to really take days where that's kind of all I do — just making sure I get all of my ducks in a row and get my posts up. Like now I'm posting a bunch of pieces that I'm doing for the Heard show and I'll be on Facebook every day for a couple of weeks.
I've also chosen to work on items that I know I can sell and make money off of. That doesn't mean that I don't want to do my masterpieces and my big couture things. I want to do those too, but I want to make sure that my bills are paid and food's on the table before I try to go after big sales. I haven't been selling really high dollar amounts. I think people are really afraid to spend a few thousand dollars on a painting or a couture design.
When the pandemic is under control, what do you think the new normal for art markets will look like?
The new normal is going to bring us a mixed bag of things. I think that the virtual world is here to stay and that the physical markets will also return. It's going to take a long time for the markets to get back into a place of true solid ground, and crowds are going to be thinned down, and people will be afraid. But I always have total positivity and I have great hope. I'm praying that we can all be back together again.
The one thing about art markets that I miss terribly is being with my friends and meeting new people. I miss that terribly. But on the other hand, it's been actually kind of nice that I can do everything out of my studio and I don't feel the pressure these days of having to haul my truckload full of stuff here, there and everywhere.
Want more news about the $130 billion tribal economy?
Tribal Business News publishes thoroughly reported and well-crafted stories about Native businesses and entrepreneurs, growth and expansion strategies, best practices, economic data, government policy and other relevant business news. Tribal Business News is required reading for tribal council members and leaders of Native businesses, as well as state and federal legislators, policymakers, economic developers, entrepreneurs, bankers, lawyers and anyone interested in doing business in Indian Country.
Sign up for our free newsletter to track Native business and the tribal economy. Or sign up for a premium digital subscription ($99/year or $10/month— cancel anytime) to gain full 24/7/365 access to our business news reporting. Megwetch.