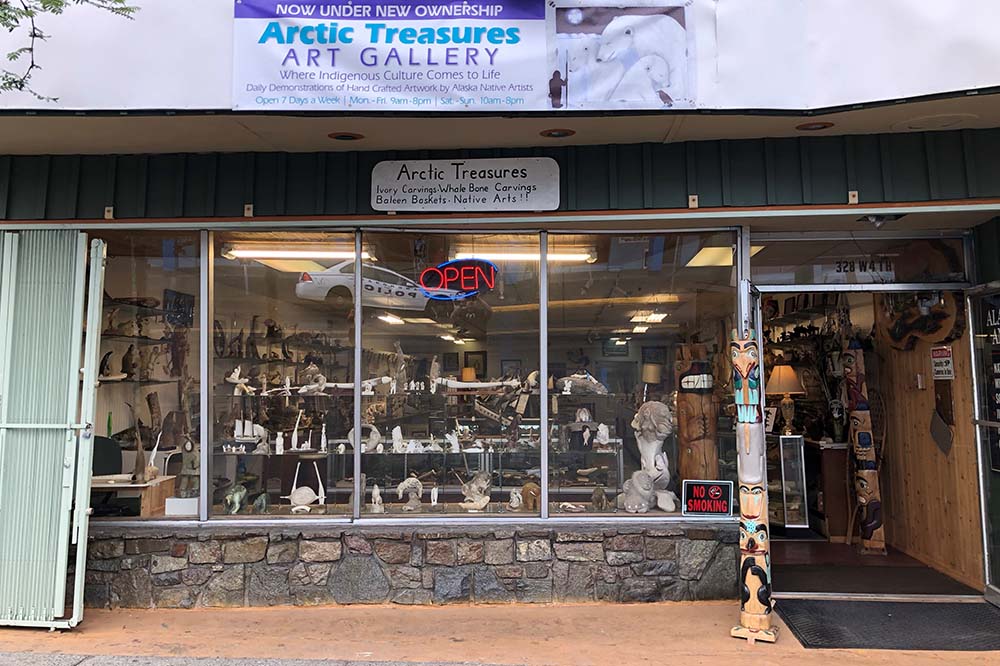 Details

Arts and Culture
ANCHORAGE, Alaska — Native art forgery and appropriation have cheated authentic creators out of compensation and cheapened the value of Indigenous art for ages.
The latest case in that long history of Native art fraud involves Lee John Screnock, the former owner of Arctic Treasures in downtown Anchorage, Alaska. From an unknown time in the 2000s until 2018, Screnock's store is alleged to have illegally sold marine mammal products, including polar bear skulls and walrus bones and ivory, all while misrepresenting his ivory sculpture creations as Alaska Native-made.
Screnock continued to do so despite multiple visits and warnings from the U.S. Fish and Wildlife Service, starting in 2015, according to federal court records.
Earlier this month in the U.S. District Court for the District of Alaska, Screnock was sentenced to five years probation, banned from selling wildlife products during the probation period, and ordered to pay the Department of the Interior's Indian Arts and Crafts Board $2,500 in restitution.
The federal government prosecuted Screnock for violations of the Marine Mammal Act and the Indian Arts and Crafts Act. The Marine Mammal Act states that only Natives can use and sell marine mammal products for arts and crafts. The Indian Arts and Crafts Act is a truth-in-advertising law designed to protect the livelihoods of Native artists by forbidding non-Natives from representing their work as Native-made.
The penalty for violating the Indian Arts and Crafts Act is a fine of up to $250,000 and/or five years in prison for offenders who displayed or sold more than $1,000 worth of fraudulent items. A repeat offender may be sentenced to 15 years in prison and fined up to $5 million, no matter what the value of the illegal goods offered for sale.
However, Screnock's sentence has Alaska Native artists and cultural experts contemplating the frequency and detrimental effects of Native art fraud, why penalties aren't harsher, and what can be done to stop it.
"It's not a new story for Native people not just in Alaska, but around the world. There are thousands of these cases, and I hope people realize that this isn't just one man," said Holly Nordlum, an Anchorage-based Inupiaq artist and graphic designer and owner of Naniq Design. "This is what colonizers do. There are corporations doing this, legitimate ones who steal from us all the time. To me, this isn't about this one man. It's about a system.
"Stealing from us is detrimental to our culture and another form of erasure."
Screnock's case is one of erasure and replacement, per court records.
According to Screnock's sentencing memorandum written by his public defender lawyer Gretchen Staft, Screnock was surrounded by Alaska Native artists, and even ran a carving program for Native artists who were formerly incarcerated, homeless, and/or struggling with addiction. One master carver friend gave him the nickname Savuk, meaning "worker," and Screnock began signing his own ivory sculptures with the name.
When undercover USFWS agents came to Arctic Treasures, they asked Screnock if the Savuk-signed pieces were created by an Alaska Native. Screnock answered in the affirmative, according to court documents, adding that "Savuk" was from Point Hope on St. Lawrence Island.
In the original complaint, federal prosecutors said Screnock "falsely suggested the goods were Indian produced, or an Indian product, or product of a particular Indian or Indian tribe ... when he had in fact carved the items himself, knowing he was not a member of any Federally recognized tribe."
In the sentencing memorandum, Screnock's lawyer emphasized the culturally positive side of her client's history.
"It is surprising that a person who has been so committed to uplifting and supporting the Native artist community would make such mistakes. Mr. Screnock's health, memory and cognition has been deteriorating over recent years and it is possible these were contributing factors. Mr. Screnock acknowledges he 'got lazy' over those years," according to the memorandum.
'SLAP ON THE WRIST'
Despite the defense, Alaska Native artists who spoke with Tribal Business News believe his penalty should have been stricter.
"It's a slap on the wrist. He should do jail time. What the message needs to be is that Native art is of significant value and forgeries of it should be penalized the same way forgeries of major art forms and artworks are," said Alutiiq mask artist Perry Eaton, the former director of the Alaska Native Heritage Center in Anchorage, who has been following the Screnock case. "There's a lot more people than him doing this. The money is so good and the downside is pretty light. So until you get serious with the penalties, you're not going to really have a deterrent."
Eaton maintains that the modest penalties for Native art fraud stem from a systemic devaluation and dismissal of Indigenous art by the justice system and the mainstream commercial art world, all of which can be traced back to colonization.
He said when Indigenous art first made its way to Europe, it was seen as primitive trinkets, curios and souvenirs from colonized territories, and the reductive perception has persisted.
"Whether you're forging a Picasso or a St. Lawrence Island Native carving, there's really no difference," Eaton said. "The difference is the cultural value, and the double standard within the American system does not allow for the appropriate penalty. This perception of superiority of culture doesn't allow equal treatment to things like forgery."
ONGOING ISSUE
Forgery and counterfeit scams of Alaska Native art are relatively common in the state.
In 2016, five Southeast Alaska shop owners and one employee were alleged to have sold misrepresented bone carvings and more Native artworks. An Associated Press report on the indictments indicated that one of the items advertised as Native-made at Lynch and Kennedy Dry Goods, a Skagway art shop, was manufactured in Cambodia.
The owner of the store, who was charged with two federal misdemeanor counts for knowingly misrepresenting goods as Alaska Native-made, was found not guilty; the other accused parties took plea deals.
When alleged Native art fraud is part of a major multi-person conspiracy, sometimes prosecutions do stick, although jail time is rare, according to industry experts.
Last year, three people in Arizona were sentenced for fraudulently representing and selling imported jewelry from the Philippines as Native-made, according to a statement from the USFWS and Department of Homeland Security.
The conspirators were each sentenced to 36 months of probation, ordered to pay a total of $30,000 in restitution to the store, and pay a $5,000 fine to the Indian Arts and Crafts Board (IACB), the agency tasked with enforcing the Indian Arts and Crafts Act and promoting economic development opportunities via Native arts.
In fact, only two people have ever served jail time for violating the Indian Arts and Crafts Act, said Ken Van Wey, program specialist at the IACB.
The offenders who were incarcerated are Nael Ali, the former owner of two Albuquerque jewelry stores who served six months in prison and was ordered to pay $9,000 in restitution, as well as jewelry wholesaler Mohammad Abed Manasra, who served two days and paid a $500 fine.
They were involved in what has been described as the world's largest Native American fraud case, a multi-million dollar, international operation manufacturing, importing and misrepresenting pieces made in the Philippines.
In 2015, Ali was indicted for "conspiring to import and fraudulently sell Filipino-made jewelry as Native American-made," according to a statement at the time from the Department of Justice. In 2017, Ali pleaded guilty; he was sentenced the following year.
Van Wey at IACB believes harsher sentences will be handed out in the future.
"We'd all like to see somebody serve more than six months. It's just a matter of time before that happens," he said. "We've got to be optimistic. We're going to build on these successes."
EDUCATION IS KEY
When art fraud is pervasive and largely unpunished, it not only threatens the livelihoods of the artists themselves, it can also upset the economic ecosystem of an entire small tribal community, Eaton said. Profits from traditional artforms like ivory and bone carving — "one of the few really good revenue sources" in many communities — are essential to members' subsistence and survival.
"In the villages of Savoonga and Gambell on St. Lawrence Island, they literally survive on their ivory and whalebone carvings," Eaton said. "That's their export — that's it. A lot of that money just goes to cash and the cash goes straight back into the village. When you have somebody selling forgeries, they're subtracting from their potential."
To root out offenders, the IACB strongly encourages people to report cases of potential art fraud. Indian Arts and Crafts Board Director Meridith Stanton said the agency receives nearly 60 complaints a month.
Tipsters can submit complaints via a toll free number, email or fax, and can be anonymous, Stanton said.
Uncovering and penalizing Native art fraud is instrumental to the board's mission. Stanton said the agency is very active in getting the word out to communities and consumers about the protections in the Indian Arts and Crafts Act.
The board funds a portion of its anti-counterfeit efforts with the restitution payments offenders are ordered to make.
"We put that back into community and consumer outreach and education, or by promoting authentic Indian art, and in various ways, whether it's digital ads or webinars, to help Indian artists learn about intellectual property rights protections and different ways of marketing their work," Stanton said.
Keeping Native art alive as a vibrant cultural and economic engine, and passing the traditions and skills from one generation becomes increasingly difficult with the glut of counterfeit competition, Stanton said.
"If counterfeits are out-selling authentic Alaska Native and American Indian art, then that means that dollars that should be going into the pockets of Indian and Alaska Native artists are going into the pockets of people making money off of the back of Indian artists and basically stealing from them," Stanton said. "If Native artists can't compete in the marketplace with the counterfeits, they're going to stop making the work. It's just not cost effective for them."
Stanton provided an example of how Native artists can be ejected from a market because of counterfeits. She said if a Native artist normally sells a bracelet for several hundred dollars and counterfeit copies are being sold at retail for a fraction of that price, the Native artist simply can't compete.
Moreover, the damage isn't solely financial, Stanton said.
"Frankly, it's not only hurting the individuals, tribes and villages economically, but culturally, too," she said. "Art is woven into their daily lives and how they live their lives."
'FRUSTRATES ME DEEPLY'
For Native artists, the scourge of art fraud is about more than money. Beyond the threat to their livelihoods, they say it's a deeply insulting degradation of all the effort, pride, generational knowledge, and crucial connection to the land that goes into collecting natural materials and creating authentic pieces.
"I traveled the four seasons with my parents hunting, trapping and gathering. We value what we hunt or trap traditionally and we use all the parts of our hunted game for clothing or footwear," said artist and Athabascan elder Shirley Jimerson. "This story where a non-Indigenous person selling goods under an assumed name only got probation, that's a travesty in itself."
Jimerson, a culture-bearer, teacher, and artist who has been creating beadwork, baskets and more forms of traditional art since she was a child, noted that even Native artists have to follow strict regulations and restrictions when it comes to harvesting marine mammals for their work.
For Jimerson, the fact that non-Native merchants and artists get away with illegally selling items made with parts from marine mammals while Native artists adhere to the rules makes the fraud sting even more.
"The Marine Mammal Protection Act was presented to protect us from someone like (Screnock). He should have been jailed," Jimerson said. "I have friends who hunt sea otter and have to follow stringent laws imposed on them to keep folks out like this man. There are federal agents who keep a sharp eye out for our Indigenous brothers and sisters who do art with the materials natural to our world."
Alutiiq artist Hannah Agasuuq Sholl, a practitioner of arts including skin-sewing and painting, wants people committing Native art fraud to ask themselves some key questions.
"Have your people been on this land since time immemorial? Has your tribal sovereignty allowed you to retain access to resources that your ancestors held a deep relationship with for thousands of years?" said Sholl, who has art work in the Alutiiq Museum in Kodiak, Alaska. "Do you yourself feel a connection to the materials, as though your fingertips are being guided by knowledge stored away in your DNA?"
Sholl also acknowledged Native art fraud is a complex issue requiring attention and action from both sellers and buyers.
"As for the specific case, it makes me sad, but it also frustrates me deeply that this goes on so frequently and is unacknowledged," she said. "No one is completely blameless. I believe we all could do a little better to prevent this issue from continuing to steal Indigenous livelihood while provoking anger and division. As buyers, we are responsible for asking the questions.
"As Indigenous artists, we are responsible for educating and protecting, and for respecting the boundaries and being honest with those who we are working with or selling to."
The future implications for cultural erasure from the distortion and exploitation of Native art are disturbing to Iñupiaq cultural commentator Alice Qanniq Glenn. A contributor to Alaska Public Media and host of the popular podcast Coffee and Quaq, which explores contemporary Alaska Native life, Qannig recently hosted a podcast titled Art and Cultural Appropriation.
"What if a forged piece of art gets back into the hands of Native people or into museums within a hundred years or so, and it's just this farce and it's a fake and there's no real connection or real authenticity to it?" Qanniq told Tribal Business News. "In colonization, we couldn't continue some of our art practices, and now we're having non-Natives come in and recreate those things without us, when maybe some of us haven't fully caught up in a way that we would like to."
POSITIVE ENDING?
Even though Screnock isn't facing the consequences many Native arts advocates believe he deserves, they suggest a redemptive final chapter can be found in the case.
Arctic Treasures remains open, although Screnock is no longer associated with the business.
In 2018, he sold it to formerly incarcerated Inupiaq artist Leon Kinneeveauk, who was part of Screnock's carving workshop program.
In a letter to the judge included in Screnock's sentencing memo, Kinneeveauk expressed his gratitude for the chance to own Arctic Treasures.
"John gave me the opportunity to purchase his business, which was a dream come true," Kinneeveauk wrote. "I have since built the (carving) program to provide space for 20 carvers who struggle with addiction, homelessness and re-entry from incarceration."
In continuing the carving workshop, Kinneeveauk also has expanded it into a nonprofit called Alaska Art Alliance, which collaborates with organizations including Alaska Native Heritage Center.
"I'm very proud to work with Leon and the rest of the carvers at Alaska Art Alliance," said Emily Edenshaw, executive director at Alaska Native Heritage Center. "They do a lot of great work with and for ANHC."
Native artists also don't want Kinneeveauk and Arctic Treasures to be stigmatized as a result of Screnock's actions.
"Arctic Treasures is now owned by an amazing human being who is doing amazing work," said Nordlum, the Inupiaq artist and owner of Naniq Design. "I would never want to discourage people from visiting Leon's shop or buying from him because the work he's doing is so important."