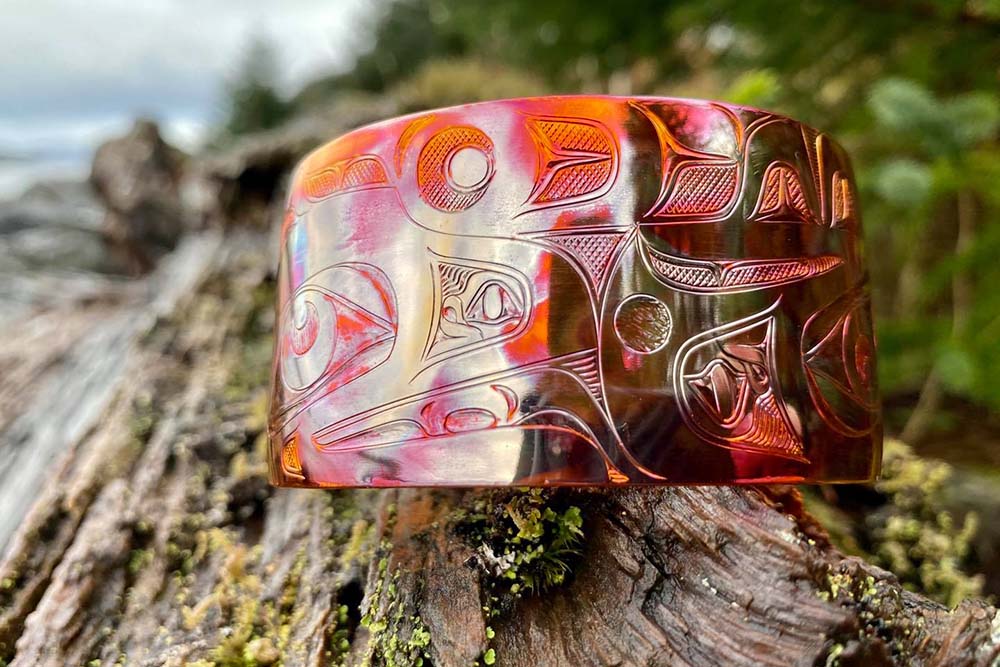 Details

Arts and Culture
Last summer, the normally swarming ports of Southeast Alaska were stripped of the cruise ships that are an essential part of the state's economic ecosystem.
The absence of the ships proved devastating for Alaska Native artists, entrepreneurs and tourism professionals, who rely on seasonal tourist dollars to bring in the lion's share of their yearly income.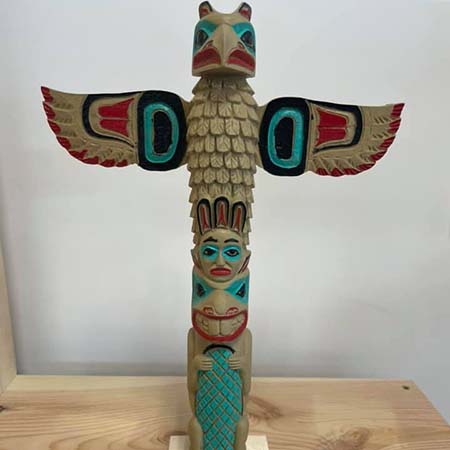 A mini totem by Tlingit master carver Doug Chilton. (Courtesy photo)Until recently, it looked like this summer was going to be the same scene of empty ports and lost profits. But then came the Alaska Tourism Restoration Act (ATRA), which President Joe Biden signed into law on May 24.
The bill paves the way for foreign-owned cruise ships to sail through the state for the remainder of the 2021 tourist season.
During a hearing last month, Alaska Senator Lisa Murkowski, vice chairman of the Senate Committee on Indian Affairs, argued for the bill and expanded on just how hard Alaska tourism was hit last year, as well as the implications for the Alaska Native community.
"In Alaska, we know firsthand the importance of tourism to our state's economy," Murkowski said at the hearing. "In 2020 alone, the cancellation of the cruise ship season has caused an estimated revenue loss of over $90 million to the state, $98 million to local governments, and over $1 billion in lost revenue for local businesses."
ATRA sets the stage for economic recovery by enabling foreign-owned and staffed cruise ships that sail in the U.S. to bypass a key restriction in the Passenger Vessel Services Act (PVSA). The 19th century law has required those ships bringing passengers from Washington State to Alaska to include a stop at a non-U.S. port, which traditionally has been achieved via Canada.
However, Canada's ports currently are closed to cruise ships through February 2022, which made the future for Alaska tourism seem very bleak.
"When Canada closed their ports and refused to work with us, families and small businesses in Southeast Alaska were devastated," Alaska Congressman Don Young said in a statement. "If ships couldn't stop in Canada to satisfy the PVSA, they couldn't sail to Alaska. Our tourism economy depends on the summer cruise season. Families in Southeast have been kept awake at night from stress driven by uncertainty surrounding the upcoming season."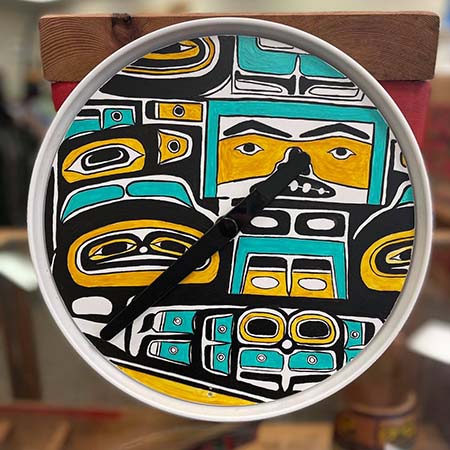 A formline clock from The Cedar Box, a Tlingit-owned gift shop in Petersburg, Alaska. (Courtesy photo)Will Ware, co-owner of The Cedar Box, a Native art and gift store in the Southeast Alaska village of Petersburg, was among the worried entrepreneurs who depend on the cruise ship traffic. Although he and his wife both have jobs outside the store, the situation still proved nerve-wracking.
"We were expecting another year, just like last year, with no visitors coming to our communities and region; another year of let's just keep our head above water," he said
"This gives us a sense of hope. Any kind of news in regards to reviving our visitor industry gives us a nice sense of light at the end of the tunnel."
Ware added that The Cedar Box, which carries work from Alaska Native artists from all over the Southeast region, probably could have made it through another cruise-less season, but it would have been tough.
"It would have required some very creative financing," said Ware, who is also Chief Development Officer at Central Council Tlingit & Haida Indian Tribes of Alaska. "But now we're optimistic for this year. We're optimistic that we're going to move some product."
Over in Juneau, Tlingit master carver and teacher Doug Chilton is excited about the upcoming return of the cruise ships.
"During the summer, my main focus is the tourism industry," said Chilton,
who transitioned from being a wholesale artist to retail artist last winter when he opened his store, Indigenous Art, in Juneau's Mendenhall Mall. "It's going to be an incredible, incredible thing for the ships to be back."
According to Chilton, there are even more reasons for Alaska Native artists and businesspeople to feel reassured about the future. He noted that he's seen an increase in independent travelers to the region who come in by plane or other modes of transportation.
Unangan and Tlingit artist Nicholas Galanin, who lives in the popular Southeast cruise destination Sitka, is also looking forward to the return of Alaska tourism.
"I think it's great news for all of Alaska," Galanin said. "Last year was hard for everybody and it was scary. … I do feel like we've made it through the worst of it."
Galanin, whose wife co-owns the Sitka boutique Galanin & Klein, which sells Alaska Native-made art and accessories, said he doesn't rely entirely on tourists for sales. Even so, he still saw his sales drop 40 percent last year.
He said several stores in which he sells his work stopped purchasing because of the uncertainty.
"I was majorly affected, but I made it through. I never stopped doing art," he said. "I didn't have to sell any of my equipment. I didn't lose my business space. I was lucky."
Galanin said his situation may have become more dire if it weren't for dedicated and supportive customers.
"Locals and friends just coming together to support Alaska Native businesses and artists made a huge impact," he said. "They made a really big difference and it was really cool and empowering to see that unity."