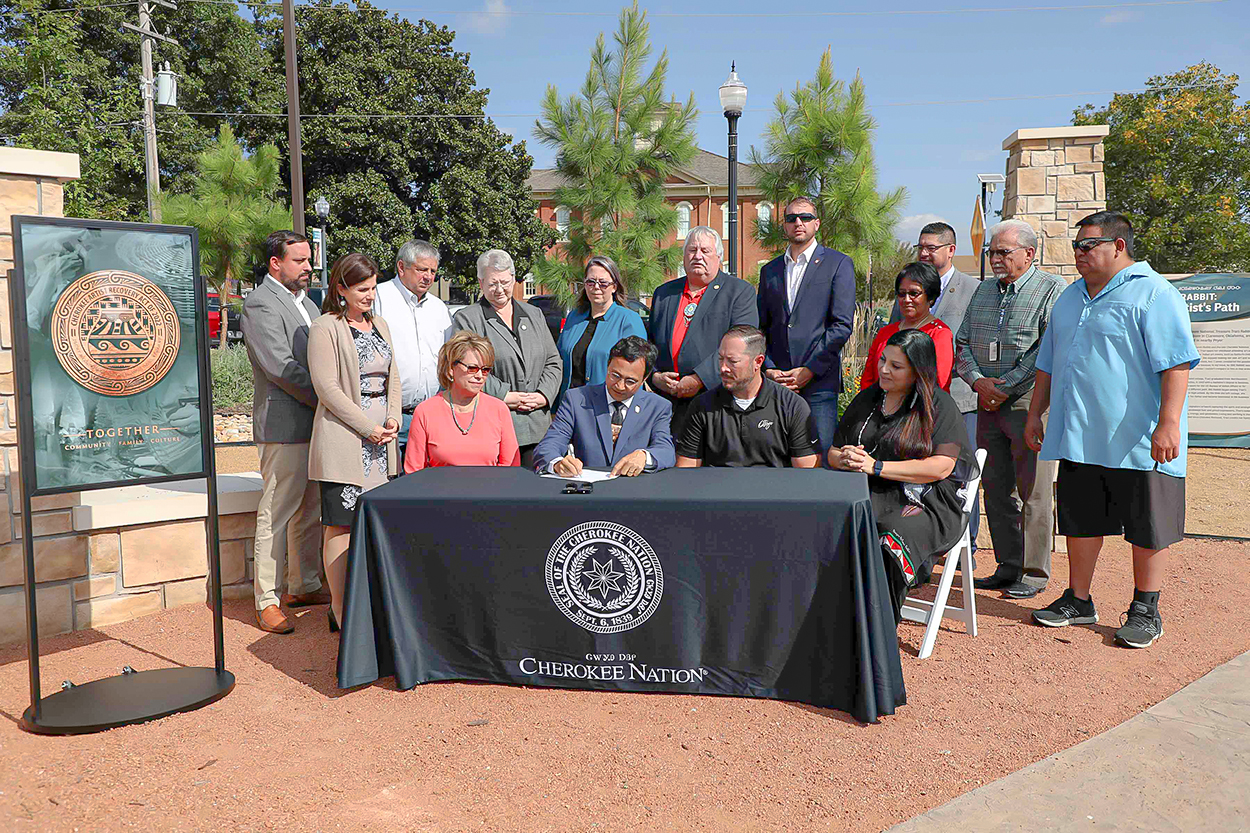 Details

Arts and Culture
TAHLEQUAH, Okla. — Cherokee potter Allen Jacobs used to make his living selling his creations at art shows across Oklahoma and the southwestern United States.
After arts shows got canceled or postponed because of the pandemic, Jacobs found it difficult to set up an online shop for his wares and had to find other work just to make ends meet.
Without revenue from shows like the Southwestern Association for American Indian Arts' Sante Fe Indian Art Market, which pulls in an estimated $160 million total per year for attending artists, Jacobs found himself losing potentially thousands per month.
"I haven't spun in a while — there wasn't any reason to because I couldn't go anywhere to sell my work," Jacobs told Tribal Business News.
A new Cherokee Nation initiative aims to help establish a market for Cherokee art as well as support artists who've been affected by the pandemic-related industry disruptions. The tribe's Artist Recovery Act, which was signed into law last month, serves as the centerpiece for a renewed cultural push.
The act appropriates $3 million to support purchasing art from Cherokee artists, rebuilding and improving art galleries and teaching spaces, providing mentorship and teaching opportunities and encouraging artists to work together.
Never miss the biggest stories and breaking news about the tribal economy. Sign up to get our reporting sent straight to your inbox every Monday morning.
Specifically, $1.5 million will help create a new Cherokee art collection and establish a comprehensive database of Cherokee artists. Artists participating in the programs must be citizens of the Cherokee Nation.
The Cherokee Nation prides itself on sharing its culture through a variety of expressions, said Deputy Chief Bryan Warner.
"At the heart of it is education," Warner said. "It's about educating people about our culture. There's a big push behind it, whether that's in film or on a canvas or in pottery."
The new funding stacks with the existing Cherokee Arts and Facilities Act, which requires 1 percent of construction and rehabilitation budgets for Cherokee Nation facilities be spent on "culturally appropriate artwork" from tribal citizens.
"This is an amazing opportunity to not just help our Cherokee artists but to create new avenues for others to learn traditional art forms and help to carry on those traditions for future generations," Warner said. "It's an important part of helping people in Indian Country express themselves."
Cherokee artists designated as Cherokee Nation Treasures have supported the tribe's Artist Recovery Act, which they say will help teach a new generation of artists.
"The funding of additional and new classes so we can create these future artists and National Treasures is vitally important," District 2 Councilor and Cherokee National Treasure Candessa Tehee said in a statement. "I really hope the Artist Recovery Act is one step toward healing some of those traumas and losses incurred during the pandemic."
Deputy Speaker of the Council Victoria Vazquez shared a similar sentiment.
"As a Cherokee National Treasure and artist myself, I know how difficult it would be if I were trying to make a living with my art during the COVID-19 pandemic," Vazquez said. "I think this is going to be a great help to those who suffered through that. I'm hoping to see more artists reach out and have a visible presence online or attend shows as a result of the Artist Recovery Act."
Jacobs believes the tribe's initiatives will make a difference.
"If they're reaching out and have this budget to buy Cherokee art, I think it's going to help a lot of people like me who have had a hard time adjusting to the post-pandemic art world," Jacobs said.
Importantly, Jacobs said the initiative will remove some financial risk for artists when they buy materials because they're ensured access to a market. That was a key sticking point for Jacobs in the early days of the pandemic, when he would create new pieces that sat on his shelf as art shows disappeared and shipping logistics stopped him from selling online.
"I would make these things and then they'd announce another closure, and pretty soon I had this garage full of stuff I couldn't sell or had to sell at way lower prices to get it off my shelves," Jacobs said. "Eventually, I just stopped because I couldn't be sure when I'd get a chance to go to another art show. Even after the pandemic eased up, I felt so gunshy about trying to break back into the market that I just didn't pick it back up again."
Jacobs occasionally made pieces for himself or as gifts for family and friends, but his once prodigious business had become an indulgent hobby rather than how he made his living.
"I almost felt guilty anytime I went back into the shop and made something because I knew I could be spending that time working. I knew I'd gone out and bought materials that I didn't really have the money for," Jacobs said. "It was almost like I'd lost my nerve."
Now, between the prospective database and a promise to infuse Cherokee art markets, Jacobs said he feels hopeful about his chances of getting back into the pottery business. He already has "two or three new pieces" sitting on his garage shelf.
"This is a really big deal for Cherokee artists," Jacobs said. "I'm really happy they're doing this."