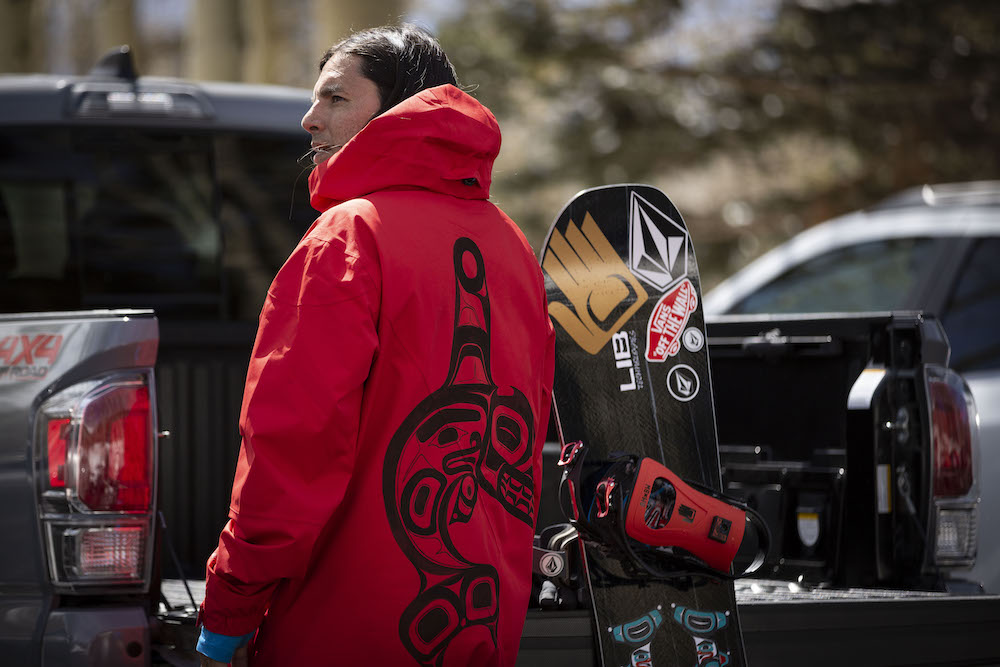 Details

Arts and Culture
James Johnson's career is snowballing.
After years of perfecting the ancient, ovoid-based Tlingit formline style, the carver and designer from the Eagle Killerwhale clan has etched out a niche in the cool world of winter sports.
Through collaborations with national brands — including Vans, Volcom, Lib Tech Snowboards and Yeti — Johnson's art adorns snowboards, shoes, hoodies, outdoor gear and apparel sold all over the world. His designs feature stories told by formline ravens, eagles, salmon and other creatures crucial to Tlingit culture.
"I wanted to take the art to new places, and working with these brands is like a dream come true," said Johnson, who was born and raised in Juneau and currently lives in Phoenix. "I grew up in Alaska snowboarding, mountain biking, climbing ... all that stuff."
In the midst of all his collaborative projects, Johnson, who has carvings in the collections of museums including the Art Institute of Chicago, and has won many prizes at major Indigenous art markets, also finds time to continue practicing traditional carving and taking commissions from all over the world. When Tribal Business News spoke to him, he had just completed a wolf headdress for this past weekend's Heard Museum Guild Indian Fair and Market in Phoenix.
As for his partnerships on the collaboration side, when Johnson teams up with a brand, it's never about simply pushing a product.
"What I do is so much bigger than just sitting there trying to create something that looks beautiful," he said. "It's a culture you're carrying forward. It's a history."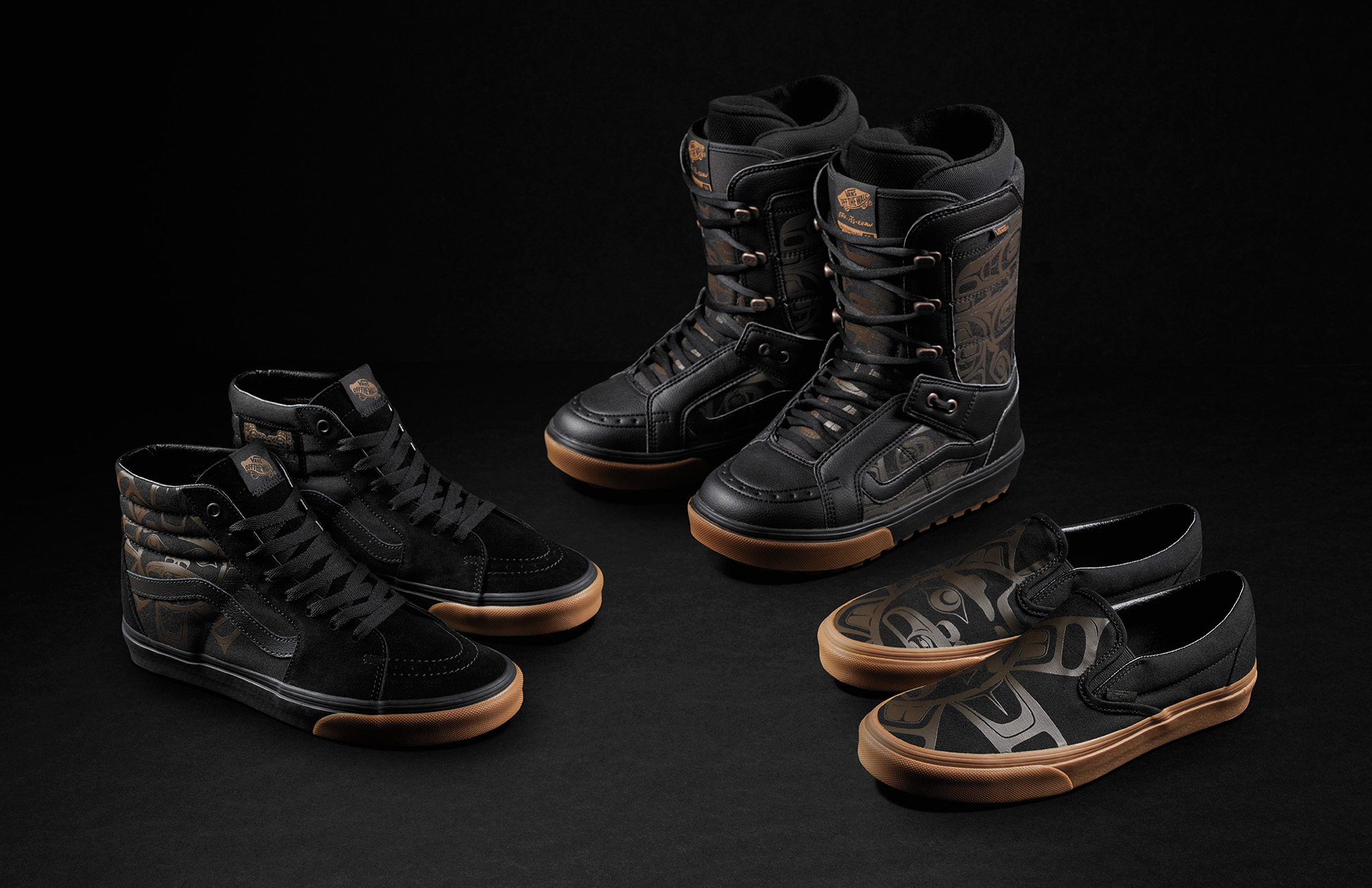 A collection of Vans footwear designed by Tlingit artist James Johnson. (Photo: Courtesy of Vans)Johnson partners with brands he enjoys and believes in, and that also gives him the freedom to educate consumers and companies about Tlingit culture on his own terms. He's particularly grateful for the leeway snowboard maker Lib Tech has allowed him in sharing his culture.
"They give me room at the bottom of the board where I can write whatever I want about the graphic, my culture and my people, which is really admirable," Johnson said. "Someone could see that board in New Zealand, or somewhere else in the world, and think it's a cool graphic. Then they read the paragraph and learn about Tlingit culture and history. It puts the art form out there on this incredible platform."
Johnson's main form of educating companies in Tlingit culture is through lectures. A confident public speaker, he has appeared before audiences that may intimidate an artist without his boldness and confidence.
In 2022, when Johnson was chosen to create downloadable formline themes for Google in honor of Native American Heritage Month, he delivered a lecture to the whole Google employee base.
"You get those opportunities, and you have to say yes," Johnson said. "You have to trust yourself and your ability. You don't flinch, you don't second guess. You say yes and go do it."
Not every brand that approaches Johnson meets his high standards. Knowing when to say no — no matter how lucrative the deal — is key to his overall vision.
"I'm at the point where I've turned down a bunch of high-profile companies," he said. "People would probably say I'm crazy to turn them down, but I don't care what you're going to pay me if it jeopardizes the integrity of the artform, or it doesn't align with my lifestyle or my views. I'm fortunate to be at the point where I can be choosy like that. "
Arriving at his current career high required quite a climb.
"It was a long road to get to where I am today," said Johnson, who began carving back in 2008. Prior to that, Johnson had a completely different career loading crabs onto Alaska fishing boats.
"That was tough work," Johnson said, recalling how it also motivated him to pursue his art. "You really have to go after what you want to do in your life, and take that initiative. I'm fortunate that I found carving and the art form. I think it chose me to be honest. I taught myself everything."
During the lean years while he was honing his skills, Johnson's family helped out in wonderful ways. His late father showed his support by sending 300-pound yellow cedar logs from Alaska for Johnson to use in his carving.
After four years of steady practice and study, Johnson entered a piece in the juried art show that is part of Alaska's biennial celebration. Johnson's work caught the eye of master Tlingit carver Nathan Jackson.
Johnson made the most of the legendary artist's attention, and asked Jackson to critique his current work. Jackson saw serious potential, but knew Johnson still had a way to go before becoming great.
"He was really blunt and he really helped me get on the right path," Johnson said. "He told me to focus on the form line. The better you are at drawing formline, and seeing the balance and composition, the better you will be at carving.
Johnson took that critique to heart and spent years just studying and drawing formline. It wasn't until about 5 years later that things started clicking for him.
Around the same time Johnson sought Jackson's advice, the Johnsons welcomed a new family member. Elias Johnson, now 11, was born with cystic fibrosis, a genetic condition affecting breathing and digestion.
"He's my main motivation for everything that I do," Johnson said. "It's not about me anymore. It's about providing him the best life that he could have. We actually just carved our first eagle spoon together last December, so that's amazing. If I could pass on what I do to him, then he could carry it forward. That would be incredible."
Johnson's labor perfecting his technique began to bear fruit in 2017, when he was asked to do a solo show at Jackson, Wyo.-based Asymbol Gallery, which is owned by professional snowboarder Travis Rice.
"Travis Rice is arguably the world's best snowboarder, and doing a solo show at his gallery gets you a lot of notoriety," Johnson said. "I was fortunate that he liked my work. And that led to more opportunities."
The networking and exposure from the Asymbol show resulted in a request for Johnson to do a live carving presentation at the massive, multi-day SIA (Snowsports Industries America) Retailer Show in Denver. The show was a networking paradise full of reps from industry it-brands like Yeti and Vans, that are actively seeking Indigenous talent.
There, Johnson connected with a Vans rep who loved his work and promised to contact him for a future collaboration. The rep made good on his word and Vans reached out to Johnson a couple years later. The result is the Raven Collection, which was released last fall. The collection includes a snowboard boot, high-top skate shoes, a slip-on shoe, and a t-shirt and hoodie that tell the Tlingit story of Raven releasing the sun.
Vans donated a portion of the proceeds to the Alaska Native Youth Snow Sports Program, which provides kids with everything they need to take part in snow sports, from gear to transportation.
"The money that we donated will help fund that program for years, which is awesome,"Johnson said. "We just had our first event, in January at the Eagle Crest Ski Area in Juneau. The Vans collection was successful, but I'm even more proud about giving back and helping get kids on the mountain for that snow program."