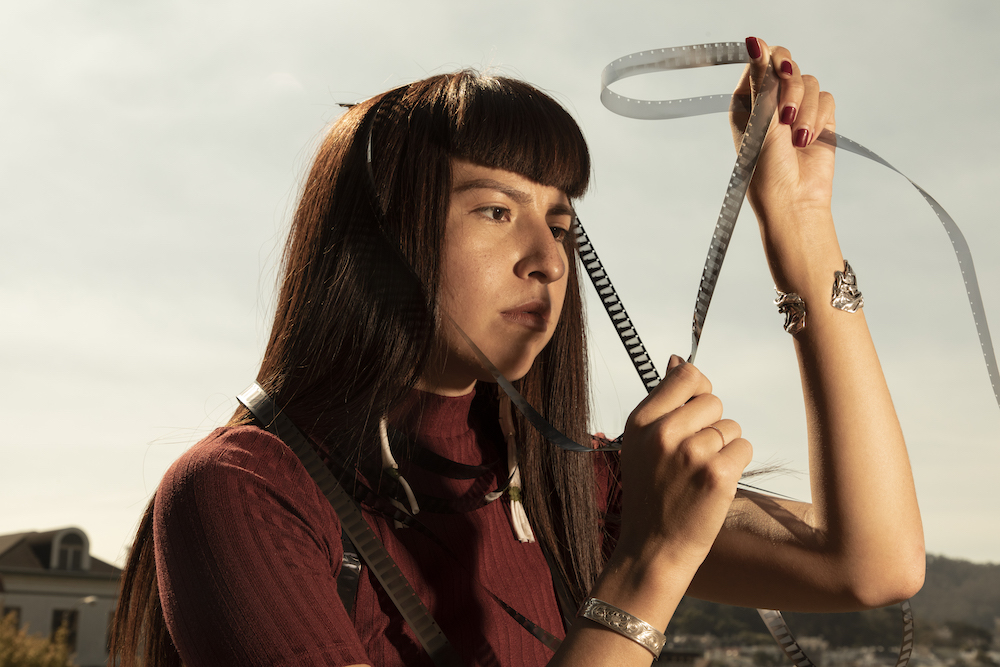 Details

Arts and Culture
An Airbnb doubles as the lair of a proud Native dominatrix in Peshawn Bread's first film, The Daily Life of Mistress Red.
Bread's clever choice of location is one of many resourceful moves the Comanche, Kiowa and Cherokee filmmaker used to whip the campy 10-minute mockumentary, which twists and toys with concepts of colonization and domination, into shape. Although Bread received $20,000 to make the film as part of the Sundance Native Filmmakers Lab, it still took more than a few pinches of ingenuity and imagination to make Mistress Red roar.
"Twenty thousand is technically not a lot of money because you have to do locations, you have to feed people, pay people…But I was really fortunate to have a lot of people volunteer their time for my short (film)," said Bread, who uses they/them pronouns. "I crunched numbers and we really budgeted. We used an Airbnb for location and for hotel and catering. Being Native is one of the best things ever in film, because we know how to save a buck and we know how to feed a big group of people."
The Daily Life of Mistress Red hit the festival circuit last year, screening at events including the LA Skins Fest, Imaginative Film Festival and the Santa Fe International Film Festival.
The tour of Bread's first film is a landmark moment for them, who had already worked on several projects by other directors before heading their own production.
By taking full advantage of fellowships, programs, grants and more resources available to young Indigenous filmmakers, and balancing their own projects with work for major studios, Bread has set the scene for a career that matches their stylish, charismatic and unconventional persona.
"My projects tend to reflect every bit of my nerdy self and the things I was interested in growing up, such as comedy, fantasy, and even cosplaying," said Bread, who has a BFA in screenwriting from the Academy of Art University in San Francisco. "I will always be a huge nerd and I want more indigenous representation in these fields. We don't just belong in documentaries and poverty porn films. We belong everywhere. We're commonly left out and I'll make sure we're visible!"
The first major movie Bread worked on was Drunktown's Finest (2014). Directed by Navajo filmmaker Sydney Freeland, it's the story of three young Navajos—including a trans woman with modeling ambitions—seeking better lives beyond the reservation.
"That was my first time being on a big set because it was a feature film and I was Freeland's assistant and I learned so much by being on set," Bread said. "I loved the flow of film and how people were working together and collaborating on a vision. It was so beautiful. "
As for their current projects, Bread is a consultant on the new Marvel /Disney + TV series Echo, which follows the deaf, Indigenous superhero played by Alaqua Cox (Menominee/Mohican).
Bread also served as director's assistant and community coordinator on the first season of moody, mysterious Amazon sci-fi western Outer Range, earning a promotion to associate producer for the upcoming second season. Outer Range has a prominent Native edge, and stars Ojibwe actress Tamara Podemski as gay Indigenous sheriff Joy Hawk.
While working on Outer Range, which is filmed in New Mexico and California, Bread got a plum opportunity to create a scene that combined her lifetime of experience on the powwow trail as well as her talents for community engagement and event coordination.
"We put together a whole powwow in Albuquerque. It looked so real. We got local powwow dancers and vendors as well as dancers, singers and a drum group from the tribe that the show is representing, the Wind River Shoshone," Bread said. "Native vendors set up and we paid them 500 bucks a day to set up their booths. And they actually sold their items. We had food vendors there and they were feeding the dancers and everybody that showed up and it was incredible. When you look at it, it looks like an actual functioning powwow."
Before Marvel Came Calling
Unaware that the Marvel film universe would come calling one day, Bread was already experimenting with powerful Indigenous characters as a teenager.
"I made this campy, comedic short about a Native superhero when I was in high school," Bread said. "I posted it on YouTube and I showed it at school and a lot of people really liked it. "
The positive reactions prompted Bread to continue their fledgling film career.
Bread, who was also performing spoken-word poetry at the time, decided to transfer her poetic skills into screenwriting. They found a guide to screenwriting written by author and speaker Syd Field, and set her focus on practicing the craft.
They also started seizing career-enhancing opportunities offered by Native organizations committed to nurturing and empowering young filmmakers.
In 2013, While Bread was still in high school, they took part in the Sundance Indigenous Program's Screenwriters Lab. Two years later, during Bread's first year at the Academy of Art University in San Francisco, they were awarded a Sundance Full Circle Fellowship.
"It's a fellowship for emerging filmmakers who want to learn the process. They send you to different film festivals or they send you to work on a Sundance short to get experience," Bread said. "I went to the Sundance Film Festival in Park City, Utah and I loved it."
The Sundance lab and fellowship equipped Bread with connections, skills and experience that flowed into further opportunities.
"I would recommend doing fellowships and grants through different Native film festivals like Imaginative and Sundance," Bread said. "Native American Media Alliance is also really good. They have different fellowships and labs and programs, and they have a showrunner program. They're deeply involved in Hollywood and they're incredible. I would also reach out to the Cherokee Film Office. They are a huge resource and they have a list of Native crew and talent."
Bread also devotes their own time and energy to making sure every Native with dreams of being involved in the film world finds work.
"I compiled a list on Google docs of Native artisans for people in different departments such as costumes, props, set decoration, hair and makeup, to use. I constantly edit and it's open for everybody and it's free," Bread said. " It's something that I did for Echo and then I just kept adding people and I've sent it to so many different productions to use. I'm always accepting submissions for it too. People can just message me on Instagram, tell me what category they would like to be under. And that's it. I am a firm believer of uplifting and bringing native artists into film!"
Some of the Native film artists Bread brings on board also happen to be family members. Bread's mother is Comanche/Blackfeet producer Jhane Myers, who produced last year's science fiction hit Prey. Myers also produced Mistress Red.
"My mom and I bounce off of each other creatively all the time and talk about ideas and things going on," Bread said. "Someone recently asked me what my mom thinks of my work. I told them I got her to produce Mistress Red. My mom read the script and said, 'man, this is raunchy. Let's do it!' "