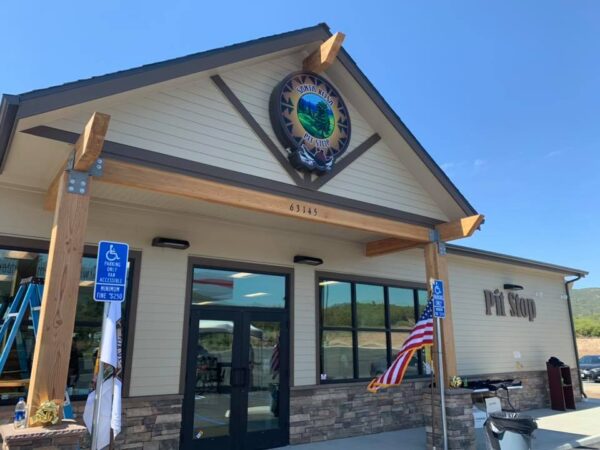 Details

By

Tribal Business News Staff

Economic Development
MOUNTAIN CENTER, Calif. — The Santa Rosa Band of Cahuilla Indians has opened its first convenience store in a bid to help boost the Tribe's economy.
Located along a remote stretch of Highway 74 in Southern California, the 3,600-square-foot Santa Rosa Pít Stop convenience store and gas station came about after nearly a decade of planning, according to Tribal Council member Steven Estrada, who spoke at the June 3 opening ceremony for the project, which was streamed live over the internet.
"It has been a very long road for us," Estrada said during the event, noting the Tribal Council first indicated its support for a gas station during a 2011 strategic planning process.
The 141-member Santa Rosa Band does not operate a casino. Through its Santa Rosa Cahuilla Corp., the Tribe leases tracts of land in its 11,630-acre reservation, including on Toro Peak for various federal, state and local agencies' radio communications towers, according to its website.
Estrada said the convenience store project relied in part on funding the Santa Rosa Band received over the years via the Indian Gaming Revenue Sharing Trust Fund (RSTF), which is funded by other tribes that operate casinos.
Since the inception of the RSTF in 2001, the Santa Rosa Band has received more than $20.2 million in allocations, according to data from the California Gambling Control Commission.
"We're thankful for the support of not only our tribal members, but the tribes that are surrounding us," Estrada said. "A lot of this goes back to the RSTF allocations from the gaming tribes. Santa Rosa was able to save enough funds from those allocations to put toward the capital cost of this project."
The Santa Rosa Pít Stop project, which broke ground in October 2019, now employs 10 people and is run by an all-woman team of managers.
Native-owned Oak & Stone Consultants LLC of Pauma Valley, Calif. served as the owner's representative on the project, which was financed by Gilroy, Calif.-based Pinnacle Bank. Ottawa, Kan.-based Sunflower Consulting Group also advised on the project.
The business offers an opportunity for the Santa Rosa Band to increase its revenues to fund government services and infrastructure, according to store manager and Tribal Council member Mayme Modesto.
"We don't have the economic development that the other tribes have been very successful in, with their gaming," Modesto said in a Desert Sun report. "We really had to push this project forward because we need to start bringing in income to help our government — to pay for our roads, pay for our water usage."
During the opening ceremony, Modesto called the project "more beautiful than we could have ever imagined."
"With a team of extremely talented and experienced individuals, we have completed our project," she said, noting the business "will forever change the path of the Tribe for providing the financial income to support the Santa Rosa government."
Want more news about the $130 billion tribal economy?
Tribal Business News publishes thoroughly reported and well-crafted stories about Native businesses and entrepreneurs, growth and expansion strategies, best practices, economic data, government policy and other relevant business news. Tribal Business News is required reading for tribal council members and leaders of Native businesses, as well as state and federal legislators, policymakers, economic developers, entrepreneurs, bankers, lawyers and anyone interested in doing business in Indian Country.
Sign up for our free newsletter to track Native business and the tribal economy. Or sign up for a premium digital subscription ($99/year or $10/month— cancel anytime) to gain full 24/7/365 access to our business news reporting. Megwetch.