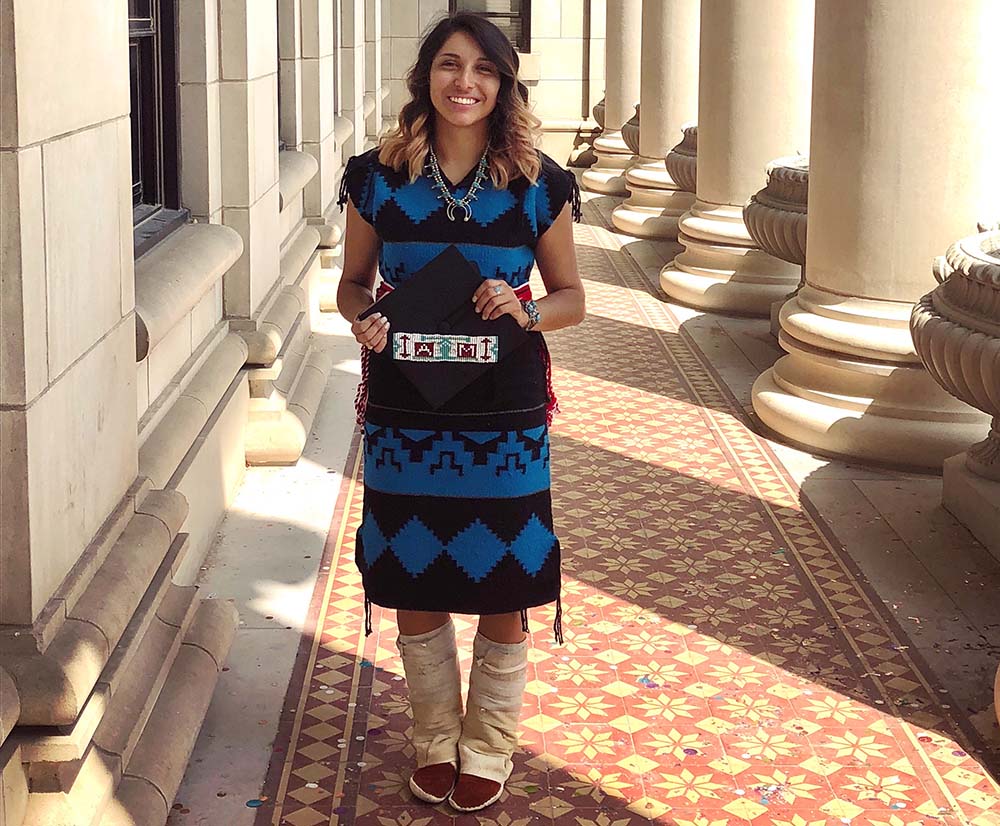 Details

Economic Development
AUBURN HILLS, Mich. — Global automaker Stellantis N.V. has been named one of the top 50 STEM workplaces for Indigenous people.
The honor, which was announced in April in the spring edition of the Winds of Change magazine from the American Indian Science and Engineering Society, recognizes companies that prioritize diversity recruitment efforts in STEM fields that intentionally seek out Native Americans.
For Stellantis, those efforts are the charge of the First Nations Business Resource Group, one of 11 such groups at the company that are dedicated to incorporating and representing minorities across the company's workforce, said company spokesman Michael Palese.
"These groups play a vital role in ensuring our employees understand and respect different cultures," Palese said.
That group works to build an inclusive and respectful work culture at Stellantis for its Native employees, said First Nations Business Resource Group President Kaitlyn Mulkey, a controls engineer for the automaker. The group has 20 active members, Mulkey said, 10 of whom are Native people representing eight tribes from across the country.
Together, the group participates in activities such as planting an herb garden on company grounds, a book club, and a powwow hosted in the company's tech headquarters in Auburn Hills, Mich., a suburb of Detroit.
"I think a lot of people got to learn through that," Mulkey said. "We've started learning a lot about our own cultures and we've had a lot of people join us along the way."
The powwow has been put on hold because of the pandemic, Mulkey said, but participation has grown for digital events.
"It's a little sad because we can't see each other in person, but honestly I think it's increased participation," Mulkey said.
In addition to team-building activities and cultural education, the First Nations Business Resource Group focuses on recruiting Native employees entering new engineering careers, Mulkey said.
Their primary vector for recruitment is the AISES National Conference, where Stellantis has had a presence since 2018. Several interns hired through the AISES conference have become full-time workers, Mulkey noted. The group's latest recruitment efforts trend more local, reaching out to communities in the Upper Peninsula of Michigan.
Among the 2021 honorees, 90 percent said they recruit Indigenous employees at colleges and universities, 65 percent target Native-specific job boards, and 46 percent place ads in publications relevant to Native Americans, according to the Winds of Change report.
For 68 percent of the named employers, Native Americans represented 0.9 percent or less of their total workforce. Only 7 percent of the honorees had a workforce where Indigenous employees were 5 percent or more of the total headcount.
Additionally, 85 percent of the companies on the list had one or more Native Americans in management positions.
Other manufacturers named top STEM employers for Indigenous people included fellow automaker General Motors, as well as 3M Co., GE Aviation, Northrop Grumman Corp. and Raytheon Co.
At Stellantis, hiring Indigenous workers is especially important given the nature of manufacturing and the effect it can have on the environment, Mulkey said.
"A lot of our work is in sectors that have to do with fuel economy and regulations. I think it's important to get Indigenous perspectives on that," Mulkey said. "I think in trying to reduce greenhouse gases, it helps our company have perspective they wouldn't have regularly."
The perspective sorely is generally lacking in the industry, according to research. A 2021 report by Pew Research Center notes that Native Americans, Native Hawaiians, Pacific Islanders, and people who identify with two or more racial groups collectively comprise 3 percent of STEM employees.
The barriers to STEM for Indigenous students range from cultural to mundane. A September 2020 report published in the STEM Education Journal noted that Native American STEM employees reported "academic and social isolation" while working in places that viewed their cultures as "primitive," for example.
Mulkey said the barriers could be as simple as accessing the education necessary to enter the field, however.
"I know my own reservation, the Navajo Reservation, it's the size of Virginia, but there's only five to seven grocery stores. Only half of the reservation has Wi-Fi connectivity," Mulkey said. "I have friends on the Rez and I know their kids are struggling right now with distance learning. I just kind of worry when we're already behind."
Mulkey also cited low graduation rates — and by extension, access to college — as a major obstacle facing Native Americans entering STEM. Data support her assertion: A report by the Boston Museum of Science notes that less than 17 percent of Native Americans continue their education after high school.
Mulkey reiterated that regardless of the barriers, having Native employees was important for any STEM-focused company.
"As Indigenous people, we belong to the land, so we're trying our best to protect it, and I think we can extend that into the automotive industry," Mulkey said. "We are very proud that our company has been recognized for its commitment to creating a work culture that is respectful and inclusive of Indigenous people."
Want more news about the $130 billion tribal economy?
Tribal Business News publishes thoroughly reported and well-crafted stories about Native businesses and entrepreneurs, growth and expansion strategies, best practices, economic data, government policy and other relevant business news. Tribal Business News is required reading for tribal council members and leaders of Native businesses, as well as state and federal legislators, policymakers, economic developers, entrepreneurs, bankers, lawyers and anyone interested in doing business in Indian Country.
Sign up for our free newsletter to track Native business and the tribal economy. Or sign up for a discounted subscription ($99/year — use coupon code "TBN21") to gain full 24/7/365 access to our business news reporting. Megwetch.