Here is a round up of business news from around Indian Country.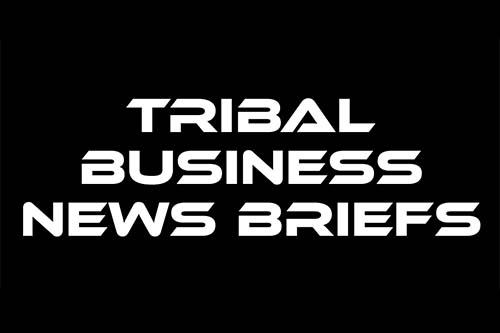 Real estate
• The Native American Rights Fund donated 20 acres of ancestral land in Missouri back to Osage Nation at a deed transfer ceremony on Sept. 15, 2021. NARF received the parcel as part of a contribution from the estate of donor Nelvada Dean and contacted Osage Nation after noting the site included the tribe's ancestral land. "As soon as we received the gift and confirmed it held Osage burial mounds, we began the work to return it to the Osage Nation," NARF Executive Director John Echohawk said in a statement. NARF and the tribe worked from 2013 to 2021 to complete the transfer from the donor's estate to NARF and then from NARF to Osage Nation.
Funding
• The New Mexico Foundation is accepting proposals for the Native American Recovery Fund Zone, which is aimed at supporting grassroots, Native-led projects and organizations addressing long-term needs for the state's Native American communities. A partnership of local and regional funders, the grants aim to support projects involved in family economic security, local health systems, local food systems, youth opportunities and water resilience. Beyond offering financial support, the funders also pledge to bring together community leaders over a three-year period to develop community-based approaches to the challenges, according to a statement. The grants will offer $25,000 in the first year followed by additional funding for implementation. The program has up to $5.5 million available, according to a report in Albuquerque Business First. Applications are due by Oct. 14 and awards will be announced on Nov. 1. Click here for more information.
Federal 8(a) contracting
• Pembroke, N.C.-based Lumbee Tribe Enterprises LLC, a division of Lumbee Tribe Holdings Inc., was awarded a five-year, $10 million contract with the U.S. Marine Corps to provide technical management, coordination of task activities, and administrative support in support of the Joint All-Domain Command and Control (JADC2) at Camp Pendleton. Under the contract, Lumbee Tribe Enterprises will perform technical assessments and data collection activities, monitor test execution, and verify system compliance to military standards for the Marine Corps Services Command, according to a statement. "This contract award is a result of new, sustainable and strategic teamwork by our dedicated teammates to deliver solutions with valued partners like La Jolla Logic, Inc., San Diego and another LTH subsidiary, Lumbee IT Solutions, LLC (LITS)," Lumbee Tribe Enterprises Deputy Vice President of Operations Caleb Malcolm said in a statement.
Gaming
• The Stillaguamish Tribe of Indians has partnered with London-based International Game Technology PLC to offer sports betting at the tribe's Angel of the Winds Casino Resort in Arlington, Wash. The casino operations will use IGT's PlaySports platform for retail and on-premise mobile sports betting, according to a statement. "IGT's comprehensive PlaySports solution, paired with the company's extensive experience and expertise, will enable us to offer a world-class sports betting operation for many years to come," casino CEO Travis O'Neil said in a statement.
• The Suquamish Tribe's Port Madison Enterprises has formed an exclusive partnership with FanDuel Group for retail sports betting at the tribe's Suquamish Clearwater Casino Resort in Suquamish, Wash. The casino's FanDuel Sportsbook will include three betting windows and 12 self-serve kiosks. Three additional self-serve kiosks will be available in the casino's Rock Music and Sports Lounge. "We are looking forward to offering sports wagering at our property for the first time and to making the Suquamish Clearwater Casino Resort Washington's premier destination for sports betting and the best game-day experience for all of our casino guests," Port Madison Enterprises Board President Greg George said in a statement. Tribal Chairman Leonard Forsman noted the sports betting revenue will go to fund government services that benefit the tribal and non-tribal communities.
• Mohegan Gaming & Entertainment, an enterprise of the Mohegan Tribe, partnered with FanDuel Group to launch retail sports betting at the Mohegan Sun Casino in Uncasville, Conn. The Mohegan Sun FanDuel Sportsbook is temporarily located in the casino's Bow & Arrow Sports Bar. Connecticut Gov. Ned Lamont attended the ribbon cutting ceremony on Sept. 30 and placed a ceremonial first bet. The sportsbook features four live betting windows and nearly 50 self-service betting terminals. The partners plan to open a permanent 11,000-square-foot sportsbook during the winter. "To now be able to offer sports betting for Mohegan Sun guests is quite a thrill and a milestone that was a long time in the making," Jeff Hamilton, president and general manager of Mohegan Sun, said in a statement. "This gaming expansion will bring jobs, excitement and other positive economic impacts to Mohegan Sun and across Connecticut, and we can't wait to hit the ground running."
• The Mashantucket Pequot Tribal Nation and DraftKings Inc. (Nasdaq: DKNG) launched retail sports betting at the tribe's Foxwoods Resort Casino on Sept. 30. The partners opened a temporary DraftKings Sportsbook at the Ultimate Race Book in Rainmaker Casino at Foxwoods and placed kiosks throughout the resort, and plan in the coming weeks to announce a permanent retail sports book that's currently being constructed. The partners plan to expand into off-reservation online sports betting and iGaming in early October, pending regulatory approvals.
Government
• Two Alaska Native women — Elizabeth Qaulluq Cravalho and Deborah Vo — were among the six people selected by President Biden to join the U.S. Arctic Research Commission. Cravalho currently serves as vice president of lands for NANA Regional Corporation, where she's also a shareholder. In her role, she is responsible for the environmental protection and enhancement of NANA lands for subsistence use by shareholders and local communities. Cravalho previously worked in external affairs at NANA and served on the Alaska Arctic Policy Commission and was a board member of the Alaska Humanities Forum. She will represent industry on the USARC. Originally from St. Mary's on the Lower Yukon River, Vo is a program officer at Rasmuson Foundation who previously worked as special assistant for rural affairs to U.S. Sen. Lisa Murkowski. Vo was formerly the city manager of St. Mary's and served as a tribal administrator, a health planner facilitating tribal management of statewide Alaska Native health services, and executive director of the Alaska Inter-Tribal Council. She represents Indigenous voices on the USARC. The USARC Commissioners are tasked with providing guidance and unbiased assessments of actions to maintain the U.S. position "as an Arctic nation guided by science," according to a statement.
• Twenty-three tribes and tribally designated housing entities spanning 12 states will share in $3.4 million in Tribal HUD-Veterans Affairs Supportive Housing grants, according to a statement. The program provides housing and supportive services to Native American veterans who are experiencing or at risk of experiencing homelessness by combining rental assistance from HUD with case management and clinical services provided by the VA. Additionally, HUD awarded $1 million in expansion grants to five other tribal entities in Montana, Idaho, North Carolina, Oklahoma and Alaska to help the organizations house another 95 veterans. "It is exciting to see the growth of this program that serves American Indian and Alaska Native Veterans struggling with homelessness," VA Secretary Denis McDonough said in a statement. "The expansion of existing programs and inclusion of additional Tribal locations means that Veterans will have access to housing and case management supportive services close to home. These services reinforce the value of caring for our Veterans who courageously served our great nation."
Education
• The Dollar General Literacy Foundation has awarded a $300,000 grant to the American Indian College Fund for the Native Students Stepping Forward: Dollar General High School Equivalency Completion program. The program will offer "affordable, culturally based high school equivalency learning services" via six tribal colleges or universities located on or near reservations. The partners estimate the program will serve approximately 400 students. An earlier partnership between the College Fund and the Dollar General Literacy Foundation has resulted in 257 students graduating from high school equivalency programs, according to a statement. "The College Fund and the Dollar General Literacy Foundation share a vision of educational and career success by meeting people where they are," American Indian College Fund President and CEO Cheryl Crazy Bull said in a statement. "Their commitment to literacy and high school equivalency programming changes lives and we appreciate their investment."
Want more news about the $130 billion tribal economy?
Tribal Business News publishes thoroughly reported and well-crafted stories about Native businesses and entrepreneurs, growth and expansion strategies, best practices, economic data, government policy and other relevant business news. Tribal Business News is required reading for tribal council members and leaders of Native businesses, as well as state and federal legislators, policymakers, economic developers, entrepreneurs, bankers, lawyers and anyone interested in doing business in Indian Country.
Sign up for our free newsletter to track Native business and the tribal economy. Or sign up for a discounted subscription ($99/year — use coupon code "TBN21") to gain full 24/7/365 access to our business news reporting. Megwetch.