Joe Valandra saw an opportunity to help tribal communities develop their own broadband projects and bring needed services to areas across Indian Country.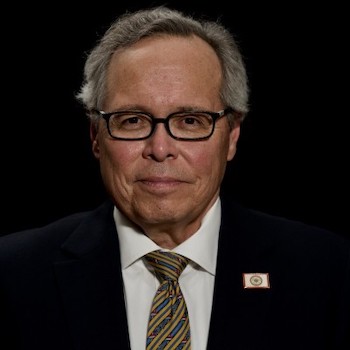 The opportunity was so strong, Valandra stepped away from his position as executive director of the Native American Contractors Association to take on a senior vice president role at Tribal Communications LLC, a Jackson, Miss.-based consulting and design firm that specializes in providing broadband and wireless services to tribal communities.
Tribal Communications aims to equip tribes with the groundwork and designs necessary to create and maintain their own networks instead of working with third-party providers.
Valandra, a Rosebud Sioux tribal member, spoke with Tribal Business News to discuss his new role and his perspective on tribal broadband, an issue currently drawing historic amounts of funding and attention in the era of COVID-19.
What brought you to the team at Tribal Communications?
I share their vision and their passion for bridging the digital divide for Indian Country. I've worked on several broadband projects over the last several years. I like the people, I like the business model. This sort of renews my passion for these kinds of projects in Indian Country.
What are your plans for the new role?
It's to make sure that the commitment of Tribal Communications is to work with tribes from day one: from the planning standpoint, from the initial funding standpoint, to the day the work is completed. Our goal is that this ends up being tribally owned, that the tribal communities we work with at the end of the day will own and control their tribal network. I think if they see the commitment we have to that, that will make a huge difference in Indian Country.

What makes local ownership important?
To control the economic development, to control the type of projects that are invested … it's about sovereignty and good community development. A community needs to control its resources, and controlling broadband is the only way that ensures that community needs are met.
What does getting tribes to the point of developing and owning their own ISP look like?
Our business model encompasses everything from designing and delivering the network, helping obtain the funding, being an advocate in Washington and state capitals and wherever else is necessary, so that the goals and benefits of broadband expansion are clearly understood. We're there to help projects be 'shovel ready.'
We'll do all the design work, all the planning, but we're also able to set up the operations of the network, the back office, the distribution. We're able to help with every bit of that because of our experience. The tribal communities that we partner with, when the day comes to turn it on, so to speak, they'll be in a position to run it all, or we'll be there to make sure it's running smoothly as long as need be.
Our goal is to have them take that over with our help or eventually, on their own. We're taking it from the conceptual stage to the day-to-day stage.
What's the biggest challenge involved in getting tribes online?
One of the technical aspects of this is that there's a big gap in Indian Country, specifically in middle mile development, getting from the main trunk of the fiber that is the backbone of the broadband network to the communities themselves. That might be two miles, ten miles, a hundred miles or more — that gap is the middle mile. It takes a lot of planning, a lot of resources to get to that point. We're focused on that.
How well equipped are tribes to effectively deploy this historic amount of broadband funding that's flowing into Indian Country?
I'm optimistic that we're going to do well with these funds. The broadband funding is really just getting going. The Department of Commerce did a number of $50,000 grants for planning broadband, and the applications for those showed the demand out there.
(The funding) needs to be ongoing. There is $3 to $4 billion that's been allocated over the next three or four years. That's a good amount of money, but more will be needed. There's so much more to do.
What will increased broadband access mean for Indian Country?
Broadband means so many things. It means economic development, it means delivery of health care through telemedicine. I don't know about you, but I'm lucky to live in a place where I just take this stuff for granted. All those things will come to pass in Indian Country. I believe it will have a generational impact that we probably haven't fully realized.
Want more news about the $130 billion tribal economy?
Tribal Business News publishes thoroughly reported and well-crafted stories about Native businesses and entrepreneurs, growth and expansion strategies, best practices, economic data, government policy and other relevant business news. Tribal Business News is required reading for tribal council members and leaders of Native businesses, as well as state and federal legislators, policymakers, economic developers, entrepreneurs, bankers, lawyers and anyone interested in doing business in Indian Country.
Sign up for our free newsletter to track Native business and the tribal economy. Or sign up for a premium digital subscription ($99/year or $10/month— cancel anytime) to gain full 24/7/365 access to our business news reporting. Megwetch.