Here is a round up of business news from around Indian Country.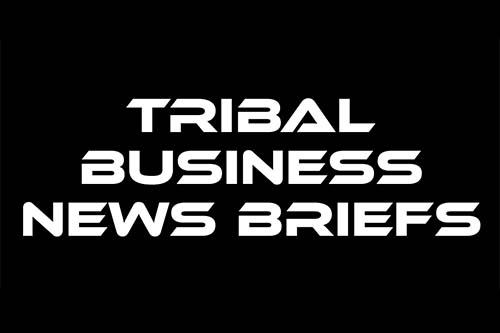 Consultation
• The Department of the Interior announced that it would hold nation-to-nation consultations with tribes as part of the implementation of the Bipartisan Infrastructure Law, which will invest more than $13 billion into tribal communities. The funding is aimed at bolstering community resilience, replacing aging infrastructure, expanding access to clean drinking water and increasing access to broadband internet. Interior received $466 million for the Bureau of Indian Affairs to implement infrastructure and climate resiliency initiatives, plus $2.5 billion to fulfill water rights claims. The consultations, which are closed to the public, are scheduled for Jan. 26-28. Tribes also can email comments to [email protected] by Feb. 4, 2022.
Funding
• Rapid City, S.D.-based NDN Collective has been selected by St. Paul, Minn-based Bush Foundation to receive a $50 million grant to redistribute to Indigenous communities in Minnesota, South Dakota and North Dakota. Tribal Business News first reported in March on the Bush Foundation's plans to invest $100 million in Indigenous and Black communities. Nexus Community Partners also was selected for a similar grant. The organizations expect to begin planning for grant programs in January 2022 with grantmaking starting later in the year, according to a statement. "This grant is an opportunity to begin to Indigenize and redefine the meaning of wealth," NDN Collective President and CEO Nick Tilsen said. "We will be planning and executing strategies that will directly impact the lives of Indigenous people." NDN Collective has received funds from the Bush Foundation for the last three years. "This is about rematriating wealth that has been built off of Indigenous assets back into Indigenous hands with Indigenous people making decisions," NDN Foundation Managing Director Gaby Strong said in a statement. "It's about resourcing our people in a way that honors community self-determination; resources that are designed by our people for our people, grounded in our values and life experiences and advancing our priorities and solutions for change and prosperity."
Gaming
• The Tacoma, Wash.-based Emerald Queen Casino, the gaming enterprise of the Puyallup Tribe of Indians, partnered with BetMGM to open the BetMGM Sportsbook @ EQC on Dec. 21. The sportsbook features a 500-foot video screen and numerous televisions, six ticket windows and 30 self-serve betting kiosks. "EQC has really gone above and beyond in making BetMGM Sportsbook @ EQC the premier destination for sports betting in the Northwest," the Puyallup Tribal Council said in a statement. The tribe operates two casinos and hotels in Fife and Tacoma.
Advocacy
• Rob Capriccioso, the former senior editor at Tribal Business News, has joined the Substack newsletter platform and is launching IndigenousWire on Jan. 3, according to a statement. The newsletter and blog will focus on tribal policy and political issues that often go under-reported or are misunderstood by mainstream media outlets. An enrolled citizen of the Sault Ste. Marie Tribe of Chippewa Indians, Capriccioso also formerly served as the Washington, D.C. bureau chief at Indian Country Today.
Economic development
• Chukchansi Economic Development Authority has inked a 10-year deal to retain the naming rights for Chukchansi Park in downtown Fresno, Calif., the stadium for the Fresno Grizzlies, a Minor League Baseball team affiliated with the Colorado Rockies, according to a report in The Business Journal. The tribe has had naming rights for the facility since 2006. "I'm thrilled to announce the 10-year extension of the Chukchansi Tribe's partnership with the Fresno Grizzlies and the City of Fresno," Chukchansi Tribal Council Vice Chairman Joshua Herr said in the report. "This agreement has provided tremendous value to our Tribe over the years and has supported the economic growth of the region. We're grateful for the opportunities this partnership has brought to our Tribal Community and look forward to many more successful years cheering the Grizzlies on at Chukchansi Park."
Small business
• The Montana Department of Commerce awarded $320,000 in grants to 24 Native-owned small businesses from each of the state's eight federally recognized American Indian tribes. The grants ranged from $12,000 to $14,000 and can be used for various types of equipment purchases, expansions and facilities, according to a statement. Grant recipients by tribe were:
Blackfeet: Casey's RV Park, Glacier Elkhorn Cabins, Sparkles Beauty Salon
Chippewa Cree: Central Machine, Double E, Log Creeations
Confederated Salish and Kootenai: All American Autoworks, Arrow Rock, Hair to the Throne
Crow: Juiced Up, Real Bird Trail Rides, TruColors P&C
Fort Belknap: Crasco & Crasco Construction, Marlin's Heating, Rezolution
Fort Peck: 365 Design, Lien Windshield, RX Carwash
Little Shell: 406 Custom Auto, Indian Paintbrush, Plains Soul
Northern Cheyenne: Bark Park, Hot Rock Healing, Warrior Trail
Legal
• Honolulu, Hawaii-based Native Hawaiian Legal Corporation name Makalika Naholowaʻa has the nonprofit's new executive director. Naholowaʻa will work with the organization's staff to deliver legal services to Native Hawaiian people and lead its operations, including long-term planning, financial management, communications, governmental and community relations, and fundraising and development. Previously, Naholowaʻa held numerous positions at Microsoft Corp., including as the chief of staff for the general counsel. Naholowaʻa also had prior stints at Seattle, Wash.-based law firm Perkins Coie LLP.
Want more news about the $130 billion tribal economy?
Tribal Business News publishes thoroughly reported and well-crafted stories about Native businesses and entrepreneurs, growth and expansion strategies, best practices, economic data, government policy and other relevant business news. Tribal Business News is required reading for tribal council members and leaders of Native businesses, as well as state and federal legislators, policymakers, economic developers, entrepreneurs, bankers, lawyers and anyone interested in doing business in Indian Country.
Sign up for our free newsletter to track Native business and the tribal economy. Or sign up for a premium digital subscription ($99/year or $10/month— cancel anytime) to gain full 24/7/365 access to our business news reporting. Megwetch.