Here's a round up of business news from around Indian Country.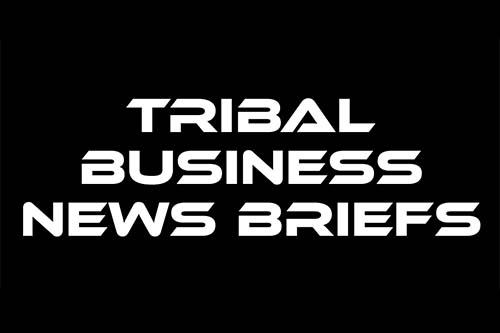 Economic development
• Danny Hilliary was appointed as president of corporate development for the Chickasaw Nation, Gov. Bill Anoatubby announced in December. Hilliard had served as vice president of tribal corporate development since 2015. As president, Hilliard will oversee the tribe's diversification efforts, the Department of Commerce tourism organization and Chickasaw Nation Small Business Development Center. Previously, Hilliard was the vice president for external relations and strategic planning at the University of Oklahoma and served as executive officer of the Oklahoma University System Research Cabinet. Hilliard also served for 14 years as an elected member of the Oklahoma House of Representatives, including a term as Speaker of the House. "I am extremely honored and deeply appreciate having the opportunity to work with the Chickasaw Nation team and to work under the incredible leadership of Governor Anoatubby," Hilliard said in a statement. "Having the opportunity to serve the Chickasaw citizens is indeed a humbling and rewarding experience that I have truly enjoyed during the past five years."
• Los Angeles-based SpinLaunch continues to evaluate a site in Unalaska owned by Ounalashka Corp., the Alaska Native village corporation benefitting more than 500 ​​Unangan shareholders, for a potential satellite launch facility, according to a KTOO report. The company uses kinetic energy rather than rockets to launch its satellites. Officials first visited Unalaska in mid 2020 to consider a 20-acre site near Ugadaga Bay Trail, the route of a historic trading path. According to the report, Ounalashka Corp. has remained "light-lipped" about the project.
• The San Carlos Apache Tribal Gaming Enterprise has closed the San Carlos, Ariz.-based Apache Stronghold golf course after 22 years, citing declining revenues and "substantial capital needs," according to a report in Copper Country News. The tribe is evaluating other uses for the property that fit the land. "While it was a very difficult decision to close the course, we are also excited about opportunities for future uses of this extraordinary outdoor area," San Carlos Apache Tribal Gaming Enterprise CEO Matt Olin said in the report. "We are in the process of hiring a firm to conduct and complete an Exploratory and Master Land Use Plan, which will incorporate some of the ideas for uses of this beautiful area."
Federal 8(a) contracting
• Alaska Native-owned Koniag Government Services is partnering with Annapolis, Md.-based Significance Inc., a woman-owned small business, to broaden the firms' Defense Agencies Initiative support to the Department of Defense, according to a statement. The Defense Agencies Initiative is aimed at modernizing the Defense Agencies' financial management capabilities. Koniag and Significance have been working separately on DAI projects since 2018. "Significance is a perfect partner for us as we work to make DAI post-deployment sustainment as cost-effective and time-efficient as possible," Tom Ulsas, Senior Vice President with KGS, said in a statement. "Not only do we complement each other with our incredible amount of DAI expertise, but our two companies have similar values and cultures. Our combined strength will be instrumental in making this partnership a success for us and valuable to our customers." The new partnership is structured as a prime/subcontractor relationship, according to a spokesperson for Significance. KGS is owned by Koniag Inc., an Alaska Native Regional Corporation formed on behalf of approximately 4,300 Alutiiq shareholders who originated from the Kodiak Archipelago.
Real estate
• The Thunder Valley Community Development Corporation, based on the Pine Ridge Indian Reservation in South Dakota, has purchased a 48-acre parcel in nearby Whiteclay, Neb. where the organization plans to collaborate with a partner to create a "restorative health care campus," according to a Nebraska Public Media report. The new facility reportedly could focus on substance abuse services, transitional housing, and trauma care.
Philanthropy
• The nonprofit Bright Path Strong, which was founded to embody the giving spirit of Sac and Fox and Potawatomi athlete Jim Thorpe, has donated a water-generating machine to the Oglala Sioux Tribe on the Pine Ridge Reservation in South Dakota. The GEN-M machine, made by Israel-based Watergen Inc., pulls humidity from the air and filters it into drinking water. The machine can generate up to 233 gallons of water per day. "Growing up, I heard my father tell stories about his friend Jim Thorpe's generosity and compassion toward fellow Native communities," Bright Path Strong co-founder Nedra Darling, a citizen of the Prairie Band Potawatomi Nation, said in a statement. "Jim Thorpe was kind, humble and giving of himself. Bringing water to Pine Ridge is something Jim would have absolutely been a part of, especially this time of year." The donation stemmed from a challenge issued by the nonprofit earlier this year that was matched by Watergen and Native-owned distribution company 4D Products & Services LLC, according to a statement. "With this gift, Bright Path Strong has brought a next-generation product to our tribe when it comes to water needs. We hope to bring this product to all nine districts," Oglala Sioux Tribe President Kevin Killer said in a statement.
Want more news about the $130 billion tribal economy?
Tribal Business News publishes thoroughly reported and well-crafted stories about Native businesses and entrepreneurs, growth and expansion strategies, best practices, economic data, government policy and other relevant business news. Tribal Business News is required reading for tribal council members and leaders of Native businesses, as well as state and federal legislators, policymakers, economic developers, entrepreneurs, bankers, lawyers and anyone interested in doing business in Indian Country.
Sign up for our free newsletter to track Native business and the tribal economy. Or sign up for a premium digital subscription ($99/year or $10/month— cancel anytime) to gain full 24/7/365 access to our business news reporting. Megwetch.