Here is a round up of business news from around Indian Country.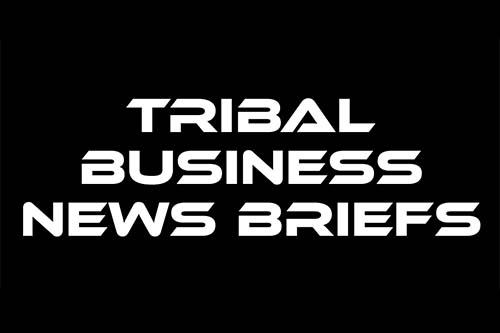 Broadband
• A broadband grant program under the U.S. Department of Agriculture's Rural Utilities Service has extended its application deadline from Feb. 22 to March 9. ReConnect Round 3 provides $1.15 billion in infrastructure funds to rural areas lacking sufficient broadband access. Eligible projects include new facilities, land development, or the creation of fixed wireless service, as well as acquiring existing infrastructure as part of a larger plan. The program, divided into separate grants and loans, contains a $350 million set aside for Indigenous communities with no matching requirement. Each individual applicant may apply for up to $25 million, or $35 million in areas designated by the USDA Economic Research Service as Frontier and Remote Area Level 4. (Applicants can determine if they meet those requirements here.) "We are really excited about this because we heard from tribal stakeholders and representatives saying that matching grants were prohibitive," said USDA Senior Policy Advisor Edyael Casaperalta during a White House briefing last week. Tribes may apply for any of the four sub-programs, including the set aside. Other funding includes a matched grant, a loan, or a combination of the two. Information on applications and requirements can be found at the ReConnect website.
Economic development
• The Eyak Corporation has hired Thomas Mack as its new CEO. Mack will start at the organization on March 1 after a 15-year stint at The Aleut Corporation, where he served as president and, for the last four years, as president and CEO. At Aleut Corp., Mack grew the company to $273 million with seven business lines, thirty-one subsidiaries, and more than 1,000 employees. Mack takes over as outgoing CEO Rod Worl retires after 17 years with Eyak Corp., a period during which he expanded shareholder dividends and distributions and worked to diversify the company's holdings. Mack grew up in King Cove, Alaska, and is a shareholder of the King Cove Corp. and The Aleut Corp. "I am humbled and honored to build on what Rod Worl, the Board and staff have built at TEC," Mack stated. "My goals will be to continue building new opportunities and increasing benefits for our present and future Shareholders. TEC is well-positioned for a strong future, and I am grateful for the chance to be a part of it."
Federal contracting
• Anaheim, Calif.-based Indian Energy LLC, a 100-percent Native American owned firm specializing in microgrid development, was awarded a cooperative research and development agreement (CRADA) by the Naval Facilities Engineering and Expeditionary Warfare Center. The CRADA is intended to develop reliable, affordable and safe energy storage technologies that could become scalable microgrids and serve as a generator or storage system capable of providing grid reliability services. These systems are currently being tested and adopted for operational use by U.S. Marines at Marine Corps Air Station Miramar, where Indian Energy's systems will be integrated into the microgrid for testing and evaluation. "This effort is another recent example of a growing history of successful partnerships between the Navy and Native American-owned businesses," Indian Energy CEO Allen Cadreau said in a statement. "In addition, this brings together the long standing relationship between NAVFAC and the California Energy Commission and provides a clear path toward the success of all parties on their climate and resiliency goals. We could not be more honored to be able to support our state and federal partners in this way."
Investment
• Brentwood, Tenn.-based Relevance Ventures, a Native American-owned venture capital firm, invested $4 million in seed funding in San Francisco-based Ombre, a wellness company that provides at-home microbiome tests, probiotic subscriptions, lifestyle, and diet recommendations. To date, the company has raised $13.3 million in total funds. Ombre intends to use the new funding to improve its products, supply chain and services, including home tests, gut health reports, probiotic formulations and the in-app experience. In addition, Chris Crawford, senior investment manager at Relevance Ventures, will join Ombre's board of directors.
Finance
• The Cherokee Nation was awarded the Certificate of Achievement for Excellence in Financial Reporting by the Government Finance Officers Association for the 20th straight year, according to a statement. The certificate aims to encourage state and local governments to prepare transparent annual financial reports and serves as the highest honor in governmental accounting and financial reporting. "It is no surprise that the Cherokee Nation, which has long had a reputation for being good stewards of our finances, has received this award for two decades. It continues to be an honor for Cherokee Nation to be recognized for the exceptional financial reporting carried out by our financial resources department," Principal Chief Chuck Hoskin Jr. said in a statement. "We are proud of their commitment to being good stewards of our finances, even more so during these past few years when they have faced the added workload caused by the Cherokee Nation's COVID-19 Respond, Recover and Rebuild relief funding. They have never wavered in their responsibilities and this award once again confirms that they are among the best not just in Indian Country, but across the United States."
Gaming
• Las Vegas, Nev.-based Passport Technology, a provider of payment technology and customer engagement for the gaming industry, installed its cash access service, check warranty, jackpot dispensing, AML/Title 31 compliance, and cage automation solutions at Lucky Eagle Casino & Hotel, the Rochester, Wash.-based gaming venture of the Chehalis Tribal Enterprise. "This 'all-in-one' technology is in perfect alignment with Lucky Eagle's mission to provide an exceptional gaming and service experience to every guest every time," Lucky Eagle CEO JaNessa Bumgarner said in a statement. "Passport's collaborative approach and growth in Washington state ensure our guests will have access to the best products and services."
Agriculture
• Simon Martinez, general manager of the Ute Mountain Ute Tribe Farm and Ranch Enterprise, was one of four appointees to the Colorado Agricultural Commission. The Ute Tribe Farm includes 110 center pivot sprinklers that irrigate 7,700 acres of farmland. The tribe grows and harvests alfalfa hay, non-GMO corn products and range feed for a 650 cow/calf operation. Martinez also serves as general manager for the tribe's Bow & Arrow Brand LLC and is vice president of the Dolores Water Conservancy District. His term on the commission expires in 2025.