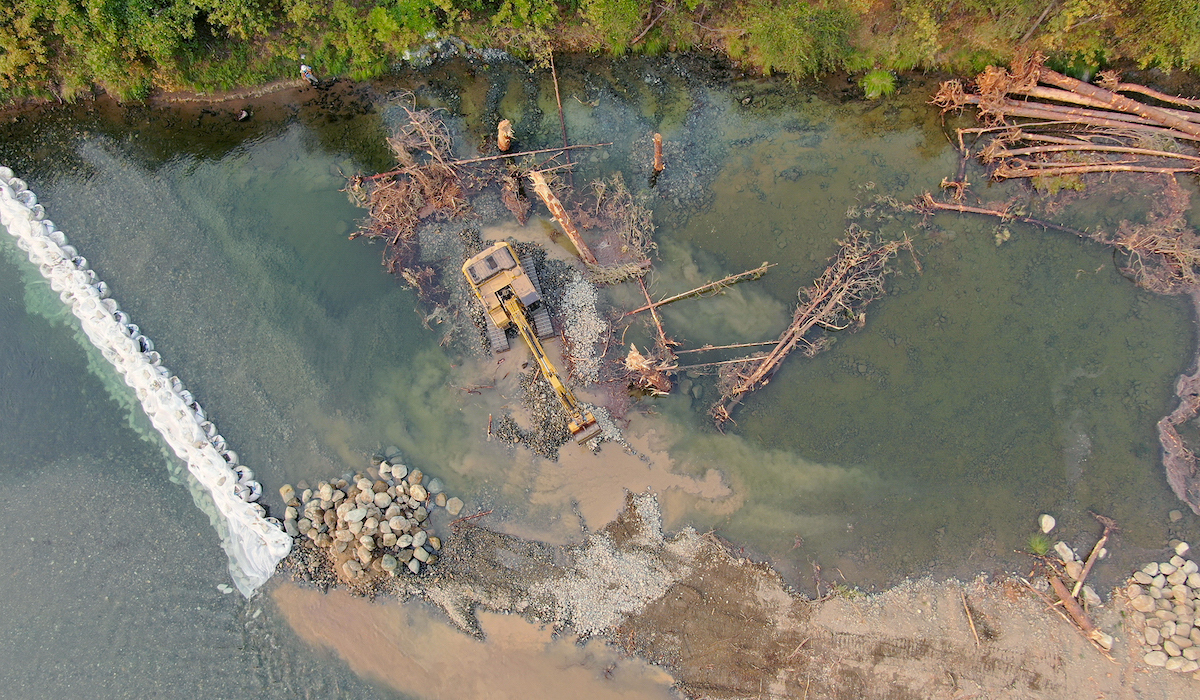 Details

Economic Development
KLAMATH, Calif. — The Yurok Tribe received the last outstanding $5 million in funding that will enable it to buy an imaging and mapping aircraft for its new Condor Aviation enterprise.
The business, a partnership between the tribe's Fisheries Department and the Yurok Tribe Construction Corp., aims to use a new, fixed-wing aircraft for high-resolution aerial imaging and elevation maps. Condor Aviation will build the "custom made" aircraft after receiving a $5 million American Rescue Plan Act-funded grant from the Commerce Department's Economic Development Administration.
By bringing in-house the aerial survey work that the tribe previously subcontracted to other companies, Condor Aviation will help the tribe improve watershed and forest restoration efforts. The enterprise also will enable the tribe to establish a new revenue stream by contracting Condor Aviation's services to others in need of imagery work.
"It was our goal to build the capacity to do our own work. We know that no one cares as much about this work as we do, no one else has that life-or-death stake that we do (in our own land)," said Yurok Vice Chairman Frankie Myers, who serves as a president of Yurok Construction. "This was just the next logical step for us. There was some work to be done, we could do it, we continued to build our capacity, and so we are now self-performing. Condor Aviation makes us whole now."
Never miss the biggest stories and breaking news about the tribal economy. Sign up to get our reporting sent straight to your inbox every Monday morning.
The aircraft will make use of both high-resolution cameras and Light Detection and Ranging (LiDAR) systems to create accurate three-dimensional maps and collect an "infinitely broad range" of data regarding forest and river environments.
The information will improve the efficacy of the Yurok Tribe's restoration projects on its longstanding work to reestablish salmon populations or returning condors to the area, Myers said. Collected data can shape the design of long-term projects and determine how the tribe manages natural resources, as well as outline the effects of climate change.
"It's extremely important to own your data, to collect your own data. This understanding of our territory was one of the first things that was stolen from us," Myers told Tribal Business News. "As Indigenous people, we 100 percent understand the value and importance of collecting data on the land around us. It just hits home that this is us collecting data on our own landscape and what it looks like and what needs to be done to repair it."
Through that understanding, the Yurok Tribe can fulfill a cultural obligation to counterbalance a century of extractive use of the territory.
"A lot of our culture and ceremonies are based on this idea that a world without land management is unbalanced, and humans are an essential part of the ecosystem, and we always have been," Myers said. "What we've done in the last decade and a half is create these systems for these endeavors that work toward building an economy of restoration."
As examples of these restorative practices, Myers cited prairie restoration, in which the tribe removed or culled invasive timber species, and forest thinning, which focuses timber harvesting on overgrown areas.
Through enterprises like Condor Aviation, the Yurok Tribe also can prove that turning a profit using sustainable, healthy practices is possible, Myers said. Starting from a perspective that prioritizes environmental health, rather than profit motive, can still provide economic benefits.
Condor Aviation will also go beyond environmental work. Myers noted the new enterprise will provide contract services for government agencies, nonprofits and private businesses in Northern California. As well, it will serve as a springboard for new economic development and employment opportunities for Yurok citizens in the technology or aviation industry. The company expects to create 20 new jobs.
In announcing the grant, Assistant Secretary of Commerce for Economic Development Alejandra Castillo noted the funding will help tribes recover from the pandemic and bolster their economic resilience.
"The Economic Development Administration is pleased to partner with the Yurok Tribe to further their efforts to maximize use and management of their natural resources," Castillo said in a statement.
As well, the new company brings the tribe's restorative and economic enterprises together in a way that can provide more resources for tribal citizens while improving environmental outcomes, Myers said, noting that Condor Aviation helps to leverage all of the tribe's goals at once in a way that other tribes could potentially model.
"That's what's so exciting about this: We've really built this for so long, and we really need all those pieces to have Condor Aviation," Myers said. "We're finally at this place where we have this new venture that brings everything together in this really cool way, and it shows how if Yurok can pull off something like this, anyone can."