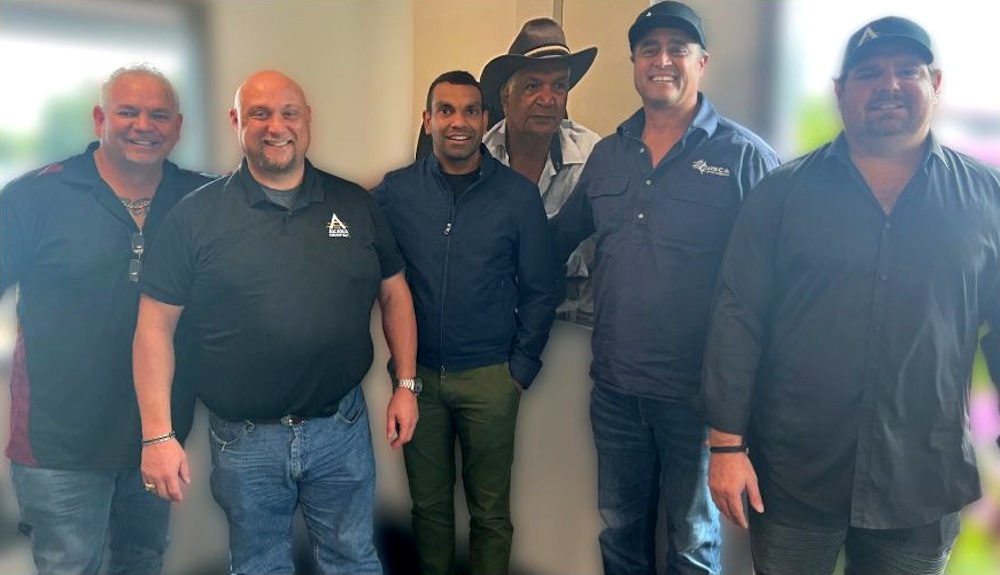 Details

Economic Development
HOUSTON, Texas — Native-owned agricultural equipment supplier Akana Group found kindred spirits in an Aboriginal construction and civil development contractor that executives met in Northern Territory, Australia during the recent First Nations Trade Mission.
Executives at Houston-based Akana Group met with their counterparts at Rusca Group over the two-week trade mission, which focused on connecting U.S.-based Native-owned businesses with Indigenous-owned potential business partners in Australia.
The Native American contingent included 10 delegates, including Akana Group Managing Director Chad Johnson, who discovered representatives from the Rusca Group shared common interests and values. Particularly, Akana Group's program for training agriculture equipment operators lined up with Rusca Group's mentorship efforts, he said.
"Sometimes, you run into companies or people that just seem to 'get it.' There's so much synergy between the two, you'd almost use the term 'cut from the same cloth.' Their intentions line up a lot with what we do," Johnson told Tribal Business News. "It just worked out really nice. Even our colors kind of match, and I was chuckling about that."
Never miss the biggest stories and breaking news about the tribal economy. Sign up to get our reporting sent straight to your inbox every Monday morning.
The meeting culminated in the announcement of an intent to form a joint venture between the companies. While the specifics had yet to be finalized, the JV will center on providing training and mentorship opportunities for aspiring agricultural and construction employees, according to Johnson.
"Agriculture education programs, construction education programs — they line up a lot with that, so a lot of the discussion we've had with them has been around those types of programs," Johnson said. "We've asked: 'What are we doing for our mentorship programs in our communities? Can there be an exchange program?' Maybe they've got a road or construction school program where they can do an exchange."
Johnson said the partnership remains in the early stages, but effectively, the two companies will provide "landing pads" for one another in their respective countries and pave the way for knowledge exchanges.
Once the groups' educational joint venture is underway, they have more material trades and projects planned for the future, Johnson said.
"We still are talking about how some of this may all play out with some of the timelines," Johnson said. "There's not one particular target that we're looking at; we've got some that will be early on — more on the training side — to some long-term very large projects that we're going to be working on and training folks to be prepared for those projects."
Once fully sketched out, the joint venture will provide a plan for giving better opportunities to "young folks" and "leaders" alike, he said.
The idea stemmed from a shared philosophy between the Akana group and Rusca Group around providing "generational economic impact," rather than focusing on immediate profit, Johnson said.
"These are just all the things that we're going to be working together on, even before you get into the transaction," Johnson said. "It's a good partnership because it brings together companies under that commonality of creating those opportunities for the next generational economic impact."
The companies' Indigenous roots meant that their goals aligned from the start, and allowed the executives to connect immediately.
"One thing in meeting Indigenous folks globally, especially if they have colonization impacts — whether it's boarding schools or stolen generations: We already understand that part of it, so we're able to move to some of these opportunities that I think other folks might get stuck in. We already get it," Johnson said. "When you start with that, everything else is easy. When you're already aligned with those same goals and same objectives, it works really well."
Johnson called the burgeoning partnership between Akana Group and Rusca Group an important indication that trade doesn't have to begin with exchanging material goods between two collaborators.
Relationships around the world can begin with exchanges of knowledge, market research or market access, well before money is on the table, he added.
"You have intellectual property, you have information, you want to partner with businesses that have access to the U.S. market — that's trade," Johnson said. "Trade is in our DNA, just like being stewards of the land. This is something we've been doing since the beginning of time."
The partnership also served as an example of growing efforts in Indian Country — especially among tribal enterprises — to diversify their income revenues and insulate those revenues from economic shock.
Tribes that are ready to take the leap into trading beyond the U.S. could open brand new routes and revenue streams.
"It really comes down to if the business is ready," Johnson said. "If you're ready and willing to go down the path, there's opportunities there. It's just like any other type of diversification program.
"There are a lot of opportunities out there. You could be a conduit for businesses to access the U.S. market. There's a lot of ways to talk about trade. There's a lot of ways to be involved in the global market."