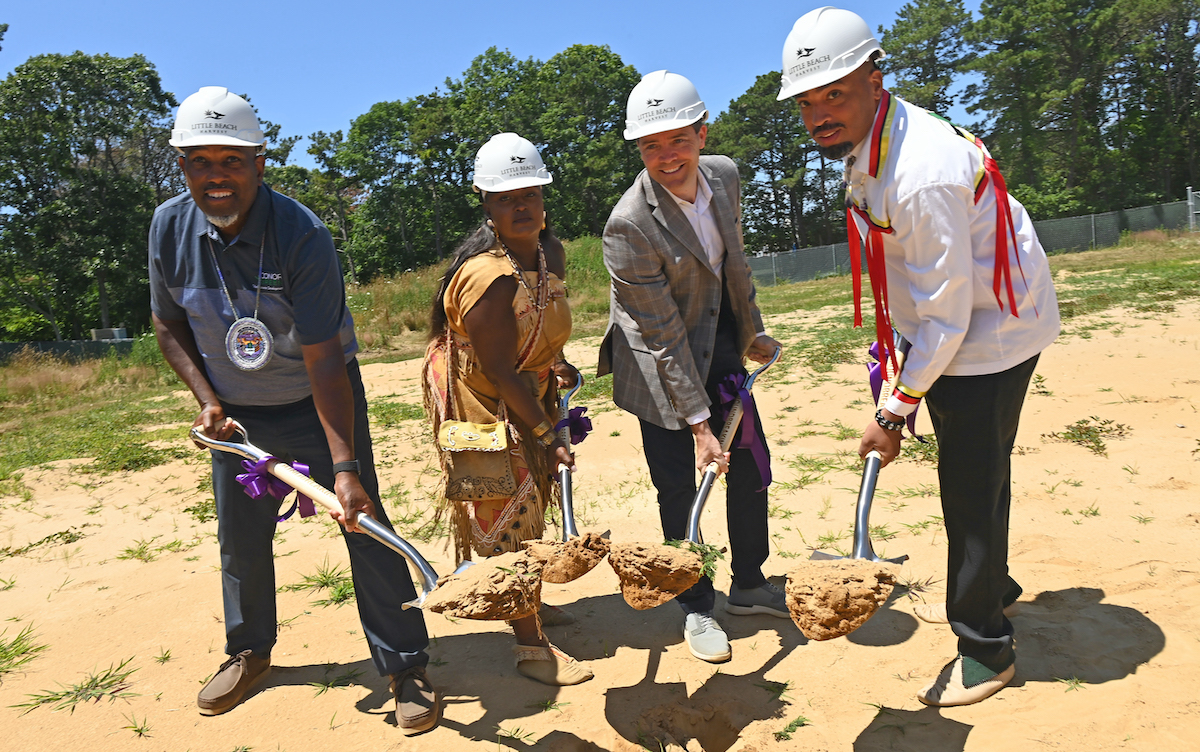 Details

Economic Development
SOUTHAMPTON, N.Y. — The groundbreaking ceremony for the Little Beach Harvest dispensary and wellness center represents an "exciting" next step in the Shinnecock Nation's foray into the cannabis industry.
The mid-July ceremony brought together cannabis business consultants TILT Holdings Inc., the Shinnecock Nation, and state and local partners to celebrate a project more than six years in the making.
"It was extremely exciting," Chenae Bullock, an enrolled member of the Shinnecock Nation and managing director of Little Beach Harvest, told Tribal Business News. "A lot of tribal members have said this is a long time coming. Everything seemed right, and we really had just everyone who has been supporting us on this entire project."
Never miss the biggest stories and breaking news about the tribal economy. Sign up to get our reporting sent straight to your inbox every Monday morning.
The Shinnecock Nation began exploring the cannabis market in 2016 with the passing of an ordinance legalizing medical marijuana on tribal lands. However, the tribe's entry into the market was complicated by the onset of the COVID-19 pandemic and the tribe's pivot to also allow recreational marijuana, Bullock said.
"There were years of seeking funding, lobbying, all of those challenges. Then, just as we were really starting to clear the site, the pandemic happened," Bullock said. "There were inflation costs, supply for building materials, and so we spent a lot of time making sure we got everything aligned, and to take each step one at a time so that we're finally here."
The tribe sought assistance for the initial cannabis enterprise through a partnership with Phoenix, Ariz.-based TILT Holdings that it announced last August. TILT Holdings worked in tandem with economic development firm Conor Green Consulting LLC, a Chicago-based project development firm specializing in tribal economic development through cannabis, to provide financing for the new business.
"It's incredible to think that we gathered here almost a year ago to announce our partnership. Now, we return to the Shinnecock Nation's sovereign land to kick off construction, which is truly a substantial milestone in our journey to create social equity for the Shinnecock Nation," TILT COO Dana Arvidson said in a statement. "Now, we move forward together in building out not only the physical structure of Little Beach Harvest, but our plan in bringing forward plant medicine as an economic engine for the Shinnecock."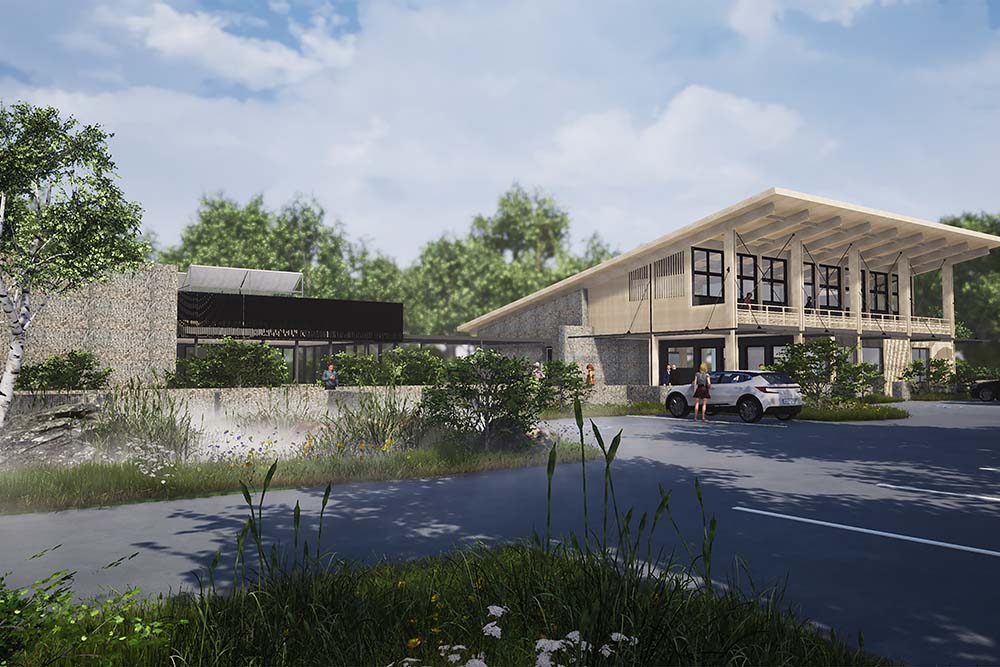 Renderings by T-Arch Studios of Little Beach Harvest, the Shinnecock Nation's cannabis enterprise, located in Southampton, N.Y. (Courtesy image)
The planned investment includes up to $18 million for facilities such as a 60,000-square-foot cultivation, processing, extraction and packaging facility, a dispensary, and a wellness lounge. The partners broke ground this month on the 5,000-square-foot dispensary with a drive-thru, which was designed by Bridgehamton, N.Y.-based T-Arch Studio. Tysons, Va.-based J2H Partners is serving as the project manager on the facility, which will be built by Pittsburgh, Pa.-based Rycon Construction Inc.
Bullock noted the tribe's pivot to legalizing recreational cannabis came in September, just one month afterward Little Beach Harvest made its initial announcement.
In addition to what Bullock called "a significant investment," the partnership with TILT has offered access to human resource development, training, compliance and marketing assistance for the Shinnecock enterprise, Bullock said.
Little Beach Harvest will use a Native preference for hiring new employees, and those employees will travel to existing TILT operations for training.
"We provide the understanding of how to operate a tribal business, and they provide a plethora of resources inside the overall industry. Their team is pretty much working closely with myself to develop what all that looks like with Little Beach Harvest," Bullock said. "We want to make sure it blends well with our culture. That's something we're working on together. They provide a tremendous amount of support."
Building a statewide market
Alongside opening its dispensary and wellness center, Shinnecock Nation also is working on an agreement with New York state to preempt potential conflicts and build a larger market for its product among other cannabis businesses in the state, according to Bullock.
The tribe sent its proposed intergovernmental agreement — and its current regulations for the tribe's Cannabis Regulatory Division — to New York's state cannabis regulators on the same day as the groundbreaking. The tribe's regulations mirror those in place at the state level, following New York's September 2021 legalization, Bullock said.
"We don't need permission (to do business). We would just like to enter into an intergovernmental agreement sp that there won't be any interference in our business," Bullock said.
Reaching an agreement with the state could help smooth over issues ahead of time regarding trading with off-reservation or non-Native enterprises, rather than waiting until potential litigation rears its head, Bullock said.
"We want to be able to do things like trade with other businesses in the state, sell our product to wholesale businesses. That's all inside of the intergovernmental agreement," she said. "That's not yet agreed upon."
While the tribe waits for a response, Bullock looks ahead to early 2023, when Little Beach Harvest plans to open its doors.
"We have a really good, well-working team. We've been working on this throughout the pandemic to ensure we're putting realistic goals on all of our achievements," Bullock said. "It's really amazing to have the partnership we have, and to be here now."
Want more news about the $130 billion tribal economy?
Tribal Business News publishes thoroughly reported and well-crafted stories about Native businesses and entrepreneurs, growth and expansion strategies, best practices, economic data, government policy and other relevant business news. Tribal Business News is required reading for tribal council members and leaders of Native businesses, as well as state and federal legislators, policymakers, economic developers, entrepreneurs, bankers, lawyers and anyone interested in doing business in Indian Country.
Sign up for our free newsletter to track Native business and the tribal economy. Or sign up for a premium digital subscription ($99/year or $10/month— cancel anytime) to gain full 24/7/365 access to our business news reporting. Megwetch.