Here is a round-up of business news briefs from around Indian Country.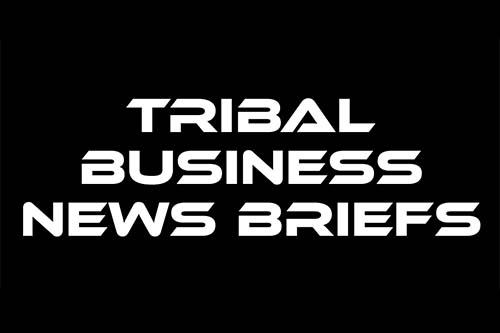 Health care
• Cherokee Nation has invested $2 million in a new mobile MRI at W.W. Hastings Hospital in Tahlequah, Okla. The new unit is part of the tribe's more than $6 million systemwide investment in diagnostic imaging equipment, according to a statement. The new equipment allows patients at W.W. Hastings to receive MRI services on-site instead of having to travel off site. Additionally, the new mobile MRI unit also serves to enhance other Cherokee Nation Health Services initiatives, including the hospital's acute stroke ready certification and stroke care provided through a partnership with Regional Brain Institute. "Cherokee Nation continues our investment in health care with this state-of-the-art, patient-centered imaging technology that represents the next generation of clinical care," Cherokee Nation Principal Chief Chuck Hoskin Jr. said in a statement. "I'm extremely proud of our efforts to ensure the story of the Cherokee people continues by improving the health and quality of life for our citizens. Our record investment in our best-in-Indian-Country health care system is positively changing the lives of Cherokee families for generations to come." Previously, Cherokee Nation approved investing $400 million for a new hospital in Tahlequah, as Tribal Business News previously reported.
Small business
• The Central Council of the Tlingit & Haida Indian Tribes of Alaska started a new program to help tribal citizens who have started a business and changed careers during the COVID-19 pandemic or plan to start a new business in 2022. The tribe is leveraging $500,000 in American Rescue Plan Act funding to create the Rescue Small Business Relief Startup Grant program. The program aims to provide a maximum of 200 grants at $2,500 each. Eligibility requirements for the grants include Tlingit & Haida citizenship, proof of a business license issued after Jan. 1, 2022, and at least 50-percent ownership in the venture. To apply for a grant, applicants must complete Native CDFI Spruce Root's Business Basics online class, which is available through November 2022. Successful applicants can use the funds for startup business expenses such as product parts, supplies, and/or inventory, according to a statement. Tribal citizens who previously received a Rescue Small Business Relief grant from the tribe are ineligible for the new program. The tribe is taking applications through Dec. 30 or when all funds have been expended. "Economic sovereignty for Tlingit & Haida remains one of our top priorities. This includes our tribal citizens who own a small business and are contributing to the economy of our communities and working hard to provide for their families," Tlingit & Haida President Richard Chalyee Éesh Peterson said in a statement. "The growth of these small businesses are the backbone of our economy and supporting them through these difficult times has been one of the core missions of Tlingit & Haida."
• The Spokane, Wash.-based Native Business Center operated by Sister Sky Inc. has launched the Washington State Native Business Directory to help drive awareness to Native-owned businesses in the state. The Washington State Department of Commerce funded the creation of the directory, which is being continually expanded. The Native Business Center team conducted outreach in June to the 29 federally recognized tribes to gather information on the Native-owned businesses, which run the gamut from art, food and beauty to construction, consultation and private investigation. At the start of August, the directory included information on 134 businesses. The Native Business Center directory can be found here.
Gaming
• The Saginaw Chippewa Indian Tribe of Michigan's Soaring Eagle Casino and Resort, located in Mount Pleasant, Mich., has partnered with the Detroit Lions of the NFL in a deal including presenting sponsorship of the team's upcoming "Inside the Den" television specials on the Lions TV Network and weekly "Inside the Pride" episodes for the 2022 season. The deal also includes the Power Hour presented by Soaring Eagle Casino and Resort at Ford Field on Detroit Lions game days, according to a statement. "Soaring Eagle Gaming is honored to join forces with the Detroit Lions in a multiyear partnership that will bring excitement to Lions fans," Soaring Eagle Gaming CEO Melinda Coffin said in a statement. "Soaring Eagle Gaming is eager to bring excitement to fans with our support of Power Hour, our Fan Cave experience and gaming related offers from all of our properties."
Higher education
• Automaker Kia America made more than $1.8 million in donations to fund scholarships for underrepresented and underprivileged students across the U.S. Among the recipients of the company's giving was the Lehi, Utah-based American Indian Services, an organization that helps Native Americans access quality education while still preserving their culture and honoring their heritage. "As a former AIS scholarship recipient, I personally know firsthand how much of a difference Kia's support will make in the lives of our students," Chauma Kee-Jansen (Assiniboine-Sioux/Navajo), executive director of American Indian Services, said in a statement. "Kia's contribution to support the next generation of Native American leaders to excel in their academic and professional goals will not only extend to individual students but will change their communities for the better. We are so grateful for Kia's support in positively changing the lives of so many Native American students, extending our legacy, and paving the way to success for so many." Other recipients included the Congressional Black Caucus Foundation, Hispanic Association of Colleges & Universities, Korean American Scholarship Foundation, Rainbow Push Coalition, the United Negro College Fund and the automaker's Great Unknowns Scholarship Fund. The company expects the funding to provide scholarships to more than 750 students.
Federal 8(a) contracting
• Tulsa, Okla.-based Cherokee Nation Strategic Programs, LLC, part of the Cherokee Federal business, was one of five awardees on an $850 million federal contract for the Defense Threat Reduction Agency. Under the indefinite delivery/indefinite quality contract, Cherokee Nation Strategic Programs will support DTRA in countering threats and vulnerabilities and bolstering national and international security via assessments, exercises, and modeling and simulations. The company services a range of government partners seeking support on military operational management, overseas diplomatic infrastructure, forensics intelligence analysis, vulnerability and suitability assessments, and security force operations and management. "It is an honor to continue supporting the Defense Threat Reduction Agency to protect Americans here at home and our international partners abroad," Cherokee Nation Strategic Programs Operations General Manager Karl Gaskins said in a statement. "For the past six years, our organization has provided subject matter experts in support of vulnerability threat assessments, and this contract serves as an excellent extension of that existing work."
• Cherokee Federal also hired Hiten Chadha as vice president and technology practice leader. Chadha has experience building, scaling and overseeing large and complex technology implementations, practices and offerings at both commercial and federal government agencies, according to a statement. Previously, Chadha served in leadership roles at Amazon Web Services and IBM, and has a background in executive management, operations and strategy. In his new role at Cherokee Federal, Chadha will oversee technology across the organization, including the development, implementation and management of I.T. solutions for government partners. "Cherokee Federal remains focused on strategic hires that grow our expertise and deepen our capabilities in areas of critical importance to our customers," Cherokee Federal President Steven Bilby said in a statement. "With experience in building complex technology solutions and leading large teams, Hiten is a natural fit for Cherokee Federal. We look forward to working alongside him to find new and innovative ways to forecast and solve customer needs."
Want more news about the $130 billion tribal economy?
Tribal Business News publishes thoroughly reported and well-crafted stories about Native businesses and entrepreneurs, growth and expansion strategies, best practices, economic data, government policy and other relevant business news. Tribal Business News is required reading for tribal council members and leaders of Native businesses, as well as state and federal legislators, policymakers, economic developers, entrepreneurs, bankers, lawyers and anyone interested in doing business in Indian Country.
Sign up for our free newsletter to track Native business and the tribal economy. Or sign up for a premium digital subscription ($99/year or $10/month— cancel anytime) to gain full 24/7/365 access to our business news reporting. Megwetch.